ClearOne View Video Wall is Visible (And Monitored) From A Distance
To help engage passerby in its Manhattan flagship location, Volvo installed a ClearOne View video delivery system in the heart of New York.
Leave a Comment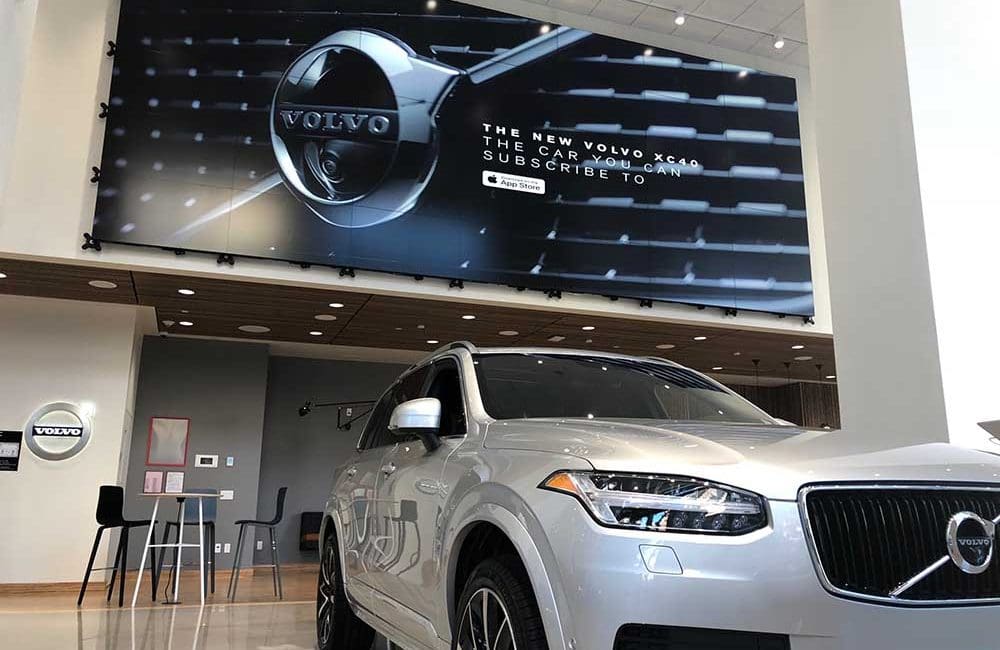 Broadcast Systems, Inc., recently installed a ClearOne View IP-Video solution at Volvo's 11th Avenue retail location in NYC.
Volvo's goal in adding the ClearOne View system was to help it create brand awareness with consumers walking past the dealership.
Nick Ehr, owner of Broadcast Systems, Inc., recalls that going into the project, Volvo knew what capabilities and aesthetic appeal it wanted from the system, but it left its design to his company and ClearOne.
"Their most visible need was the 5×7 panel video wall, which makes a huge statement because it can be seen from the sidewalk outside the storefront," he says.
"Because a 5×7 design results in a non-standard aspect ratio and pixel count, we required a scalable, flexible video distribution system, and we knew ClearOne could deliver.
Broadcast Systems Remotely Monitors ClearOne View System from Florida
One of the most important technical elements built into Volvo's View system is the remote accessibility built into the installation.
Ehr says the ClearOne View system provides the Swedish automotive company with a high level of reliability, and remote monitoring capabilities, which is important in the event something does go wrong.
The remote access also enables Broadcast Systems, Inc., to respond to any problem quickly even though it is 2,000 miles away in Florida.
"During the 18-month project period we traveled to New York each month to attend meetings and ensure every detail was considered and every concern was addressed," says Ehr.
"We loaded the software on the server, so all the ClearOne pieces talk to the server. Now I can log into it remotely to check the temperature of all the displays, and if anything does get hot, the system immediately sends us an email. We can remotely update firmware, power cycle, adjust color temperature, add sources and much more."
Systems Components
A ClearOne View Pro E120 Encoder
35 ClearOne View Pro D210 Decoders (one for each panel within the 5×7 video wall configuration)
ClearOne View Pro Panorama and Console software
Broadcast Systems, Inc., also incorporated a color-management system tool that allows its employees to adjust color temperature and image specifications for the video wall.
Having these capabilities helps the Florida-based integration company future proof the system as Volvo's needs evolve by minimizing labor and hardware requirements. As part of these provisions, the system also manages content for two additional displays in the showroom.
Read Next: Video Wall ROI: Lessons You Need to Learn So You Don't Blow It
ClearOne adds the View line of products offers a choice of rack-mount devices, decoding options and technical specifications that include H.264 compression technologies, 24-bit color, 1080p resolutions at 60 frame-per-second (fps), and advanced content control to meet a variety of AV system requirements.