You Should Pay More Attention To Victoria's Secret (For the Business Lighting!)
According to Matt Scott, president of OMEGA Audio Video, a great business lighting setup may cause spontaneous high-fives from clients.
Leave a Comment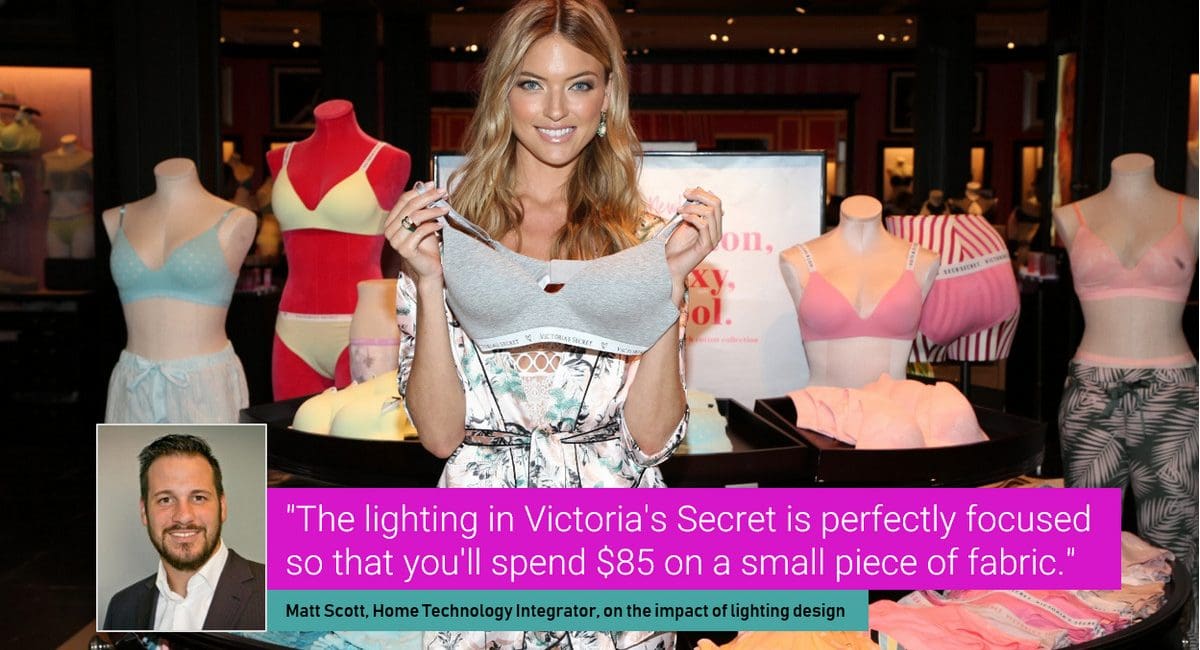 Integrator and CEDIA board member Matt Scott loves Victoria's Secret…for business reasons. The owner of Omega Audio Video in Canada goes there for the business lighting.
"The lighting in Victoria's Secret is perfectly focused so that you'll spend $85 on a small piece of fabric," he says in a recent episode of the CEDIA Tech Council podcast.
The risque retailer, he adds, uses spot business lighting to highlight the goods "in the best possible way, because it draws an emotion out of you and makes you pay attention to the space you are in."
Thankfully, these same tactics can be applied to other commercial spaces.
Business lighting can make people emotional…
Based on Scott's experience installing elaborate, purposefully designed lighting systems, he says lighting can do a whole lot more than brighten up a room.
"Lighting is something that brings such a connection and such an emotional response from people that when they see it, when it happens, when they walk into [a] room and it lights up, they are in love," he says.
Related: IKEA Customers Wander (and Shop) More Thanks to Music Pumped from Community Loudspeakers
Scott says Omega includes lighting in most proposals, whether the client asks for it or not.
"We've even done a 'puppy dog close,' and literally tell them it's going in, and if you don't like it in 30 days we'll pull it out, no cost to you," he says.
"We've never pulled one out after we put it in. Ever."
How do you teach an integrator the art of lighting? 
To be sure, there is some experience and skill involved, but a lot of it boils down to what integrators do best — asking questions about business and understanding how technology can play a role in certain functions.
"You can teach a lot," he says, "but there comes a point where some of it is artistic. Now, the nice thing is with something like lighting, in most applications, you don't have to be that artistic, you just have to pay attention."
This article premiered on our sister publication, CE Pro
If you enjoyed this article and want to receive more valuable industry content like this, click here to sign up for our digital newsletters!