Mecca Sports Bar AV Experience is Almost Like an Arena
Automation Arts led the way on setting a new standard for sports bars in the Bucks Entertainment Block next to Fiserv Forum, home of the Milwaukee Bucks.
Leave a Comment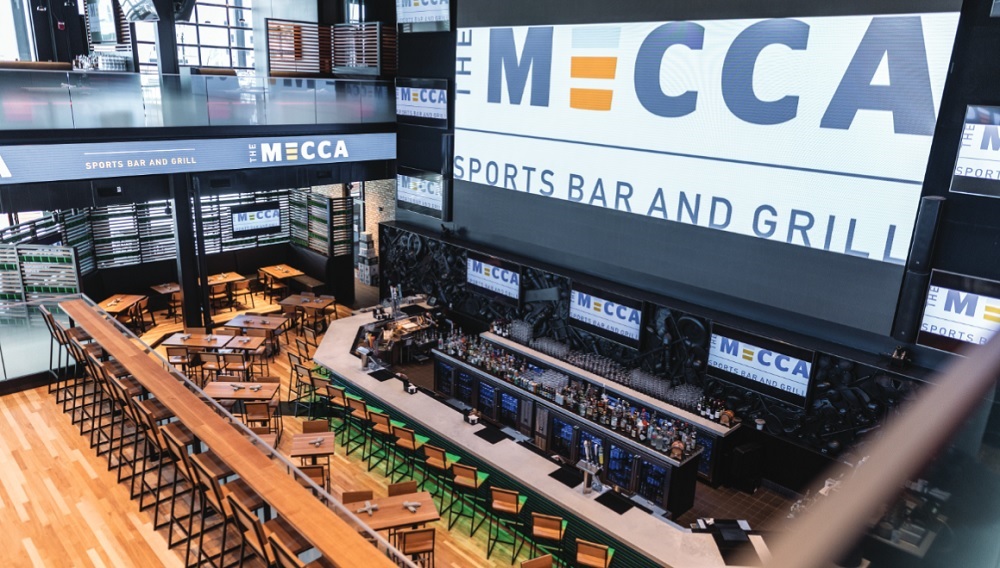 The Milwaukee Bucks have become a marquee attraction in the National Basketball Association, with one of the best players in the league and a team that will likely contend for a championship for several years to come. 
Fans who aren't lucky enough to get tickets to watch Giannis and the Bucks do their thing inside Fiserv Forum can feel like they're inside the arena across the street at The Mecca Sports Bar and Grill, the main attraction of the Bucks Entertainment Block. 
The Mecca Sports Bar and Grill is not only considered Milwaukee's best sports bar, but it also sets a new standard for all other sports bars. The 11,500-square-foot, two-story facility can accommodate more than 600 guests while offering a live, in-game experience. 
It features two full-size bars, outdoor seating on both levels and arena-style seating.
AV integrator Automation Arts set out to deliver "the most memorable arena-like AV experience possible to serve as a major attraction for Milwaukee's most hardcore sports fans."  
Everyone who enters the bar "should instantly feel exhilarated and like they're a part of the excitement." 
Automation Arts provided the technology for the Bucks' training center next to the Fiserv Forum, which made them familiar with the inner workings of the building and able to carry over some of that feeling and technology in the Mecca Sports Bar and Grill. 
After a few initial meetings, the Automation Arts team was asked to design "the most over–the–top sports bar the Midwest has ever seen." Director of engineering Mike Stocklin put together and engineered the experience patrons have today. 
The DM NVX Sports Bar AV Solution
Bucks VP of hospitality Justin Green and his team worked with Automation Arts to design and deploy a state-of-the-art AV solution. They chose Crestron's DM NVX AV-over-IP technology because of its flexibility, reliability, and ability to distribute flawless 4K video with no latency.
"We were able to design a flexible and easy-to-use solution that even someone with no AV experience can manage with confidence," said Automation Arts VP Ron Moore. 
The centerpiece of the space is a 38-foot high-definition TV flanked by nine 90-inch TVs. In total, there are 65 TVs.
Related: Watch: Crestron Shows Scheduling Panels, Crestron Mercury, DM NVX Series of DigitalMedia
An LED ribbon board wraps around the second level, displaying in-arena content such as sports scores and information on upcoming concerts. Everything is powered by DM NVX. 
For employees, being able to easily manage and monitor the content was imperative. Using the intuitive user interface running on Crestron touchscreens, employees can manage content and control the volume with the touch of a button. 
Crestron's DM NVX Director is used to configure, control and manage the network of DM NVX endpoints. Each display is equipped with its own DM NVX unit and runs on the facility's existing 1GB network. 
Some of the other AV tech highlights at the Mecca Sports Bar and Grill include: 
– 38' diagonal direct view video wall with 123' video ribbon wrapping the bar's second floor
– 30,000-watt distributed audio system supporting the interior and exterior of the building
– 55 displays throughout the bar's interior and exterior with video over Crestron NVX IP system
– DJ booth for on-site MC during local team games complete with control of "kiss cameras" 
– Two Crestron 15″ touchscreens for control all AV systems.
– Two levels of outdoor displays and audio systems
Because the Bucks were heading to the playoffs when the Mecca Sports Bar and Grill was in progress, the project had a shortened deadline of three months.  
The flexibility of the video and audio distribution lends itself many different use cases in the space, including transforming the high-end sports bar into a nightclub at about 10 p.m. thanks for the DJ booth and 30,000-watt audio system.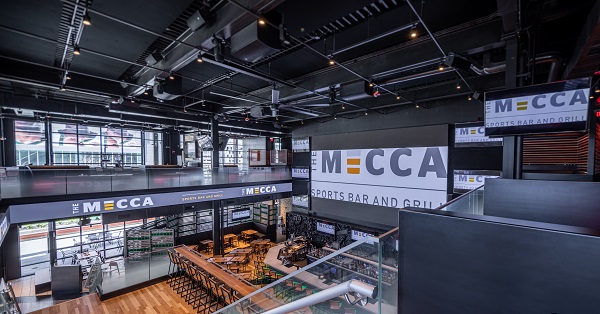 Areas of the bar can be segmented off for private events and holiday parties. The Mecca is packed to capacity during any sporting event with waiting lines up to two hours to get in.  
"By integrating state-of-the-art AV technology, we are delivering an experience like no other," says Green.
"From the second someone enters, we instantly see their eyes light up. That is exactly what we were looking to do. 
"We really wanted The Mecca to recreate the experience and excitement of being in an arena. By standardizing on Crestron DM NVX, we were able to bring our vision to life," he says. 
Featured Products
BrightSign media player 
Crestron DigitalMedia DM-NVX-350 4K60 4:4:4 HDR network AV encoder/decoder 
Crestron PRO3 3-Series control system 
Daktronics video wall 
LG commercial displays 
If you enjoyed this article and want to receive more valuable industry content like this, click here to sign up for our digital newsletters!