Trends In Corporate Office Design Right Now
Many corporate organizations have said goodbye to giving everyone their own space in a corporate office design & instead let employees decide where to work.
Leave a Comment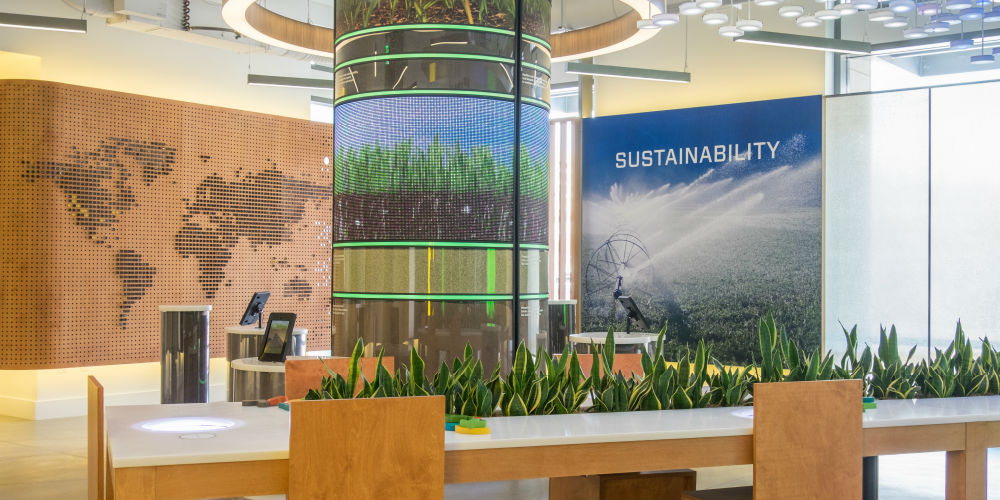 Many offices are embracing a new approach to corporate office design that takes employees away from the old days of going to the same desk in the same cubicle in the same row every day. So it follows that integrators need to familiarize themselves with the latest office designs.
No assigned seating and multiple areas around the office that foster collaboration, brainstorming and other creative thinking.
"We're in a moment of reimagining what our institutions are capable of," said Margot Douaihy, moderator of a panel discussion at the 2018 AVIXA AV Executive Conference in Tampa, Fla., that focused on strategic partnerships in the corporate market.
Kay Sargent, senior principal and director of workforce at HOK, says thinking about new designs for their own corporate headquarters will help them design better projects for their own customers.
"When you're designing for the future, you have to understand what's coming," says Sargent.
"Clients have awoken to the fact that change happens constantly. Location, location, location is now flexibility, flexibility, flexibility. If we do anything to make people unsuccessful, it can really cost that company money.
Corporate Office Experiences Don't Have to Suck
"Experiences don't have to suck. We can use technology to improve experiences. We're not doing that enough. IT, facilities, real estate and HR need to sit down at the table to make smart decisions," she says.
About 80 percent of company expenses go to its people, says Sargent, while only about 10 percent is dedicated to corporate real estate, meaning company leaders should always ask themselves, "How do we create compelling spaces where people want to come?"
Katherine Williams, senior VP of workplace strategy for JLL, says remote working and shareable spaces have transformed the office environment but not everyone has embraced the changes.
"You get a job and you're back in kindergarten with a desk with your name on it," says Sargent with a laugh. "We need a corporate office design based on a family home."
Activity-Based Working
Activity-based working is an approach that means designing an office in a way that will "empower people to choose the right space," she says.
"If you don't create a corporate office design that's tech-savvy, people won't use it," says Sargent.
"We're designing spaces that make it impossible to concentrate," she says. "You should also design a space for low and even no tech."
It takes 15 to 20 minutes to get into deep thought but we're distracted by technology every seven minutes at the most, says Sargent.
Williams knows there's still some work to be done, if you'll pardon the pun, when it comes to having some CEOs utilize the technology that's available to them.
"You really need to leverage desktop video to help with relationships," says Williams.
Simple is Almost Always Better in Corporate Office Design
For all the talk of and reliance on technology, Sargent prefers simplicity.
"Half of the tech, people don't know how to use," she says. "The auto industry is kicking our butts. Why aren't we talking about autonomous offices?" Sargent says it's important to leave room in the so-called office of tomorrow for those who are pretty happy with the offices of yesterday.
"Your option to sit at the same desk and do your work every day shouldn't preclude people who don't want to do that," she says. "The way your space is designed should be a reflection of your culture."
If it's not set up that way, says Williams, "it doesn't feel genuine. Change management is such a key piece of this."
"We're creatures of habit, but too many managers still manage by presence, no performance," says Sargent. "For companies where it does align with their culture, it's amazing to watch."'
This post premiered on our sister site, MyTechDecisions