Crawfordsville Community Schools Updates Paging & Intercom System with Bogen's Nyquist E7000
The Indiana school district was able to update its legacy intercom system with Bogen's Nyquist E7000 series IP-based communications system.
Leave a Comment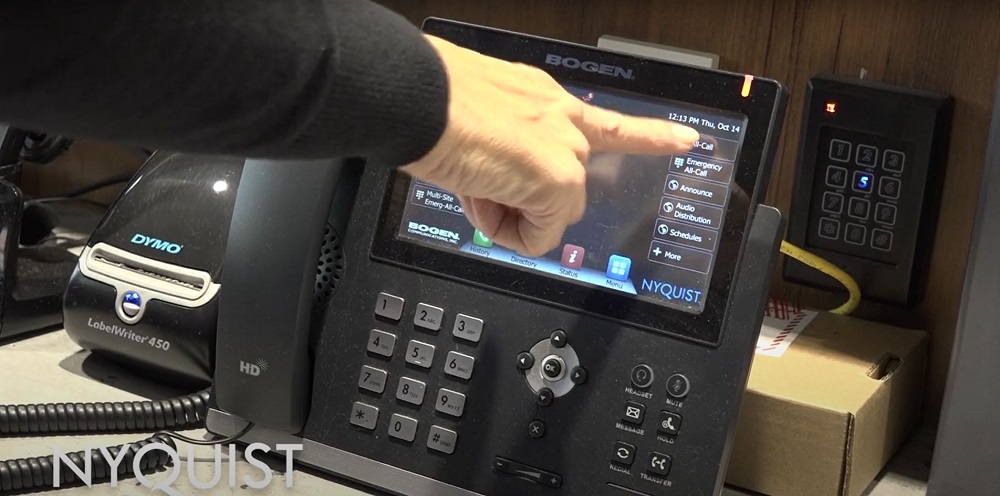 Crawfordsville Community School Corporation, home to more than 2,500 students across six school facilities, selected Fairchild Communications, a low-voltage systems integrator, to design and integrate an intercom system at two of its elementary schools.
Together, Crawfordsville Community Schools and Fairchild Communications selected Bogen Communications' Nyquist E7000 to fulfill its intercom needs. Nyquist boasts operational reliability and technology capabilities to keep facilities secure and informed, according to the company.
The project, which initially began at Hover and Nicholson Elementary Schools, required Fairfield Communications to eliminate a legacy system and integrate Nyquist E7000. Nyquist E7000 is a software-centric, IP-based paging and intercom solution that leverages the latest software technologies and third-party integrations.
With only one day of downtime, Fairfield Communications says it had the new intercom system operating efficiently at both schools.
"It was fairly effortless," says Doug Lengerich, technology director for Crawfordsville Community Schools Corporation. "The integrator knew what they were doing, and it went smoothly."
Streamlining the District's Intercom & Paging Systems
After the successful installation, Crawfordsville Community Schools decided to increase the original project scope from two to four school facilities, adding Crawfordsville High School and Hose Elementary School. Using existing speaker cabling, Bogen Communications' Nyquist provided a cost-effective way to update the schools' respective paging and intercom systems without extensive downtime and costly retrofitting. Nyquist helped streamline all four schools' intercom and paging systems while putting in place a solution for both long-term reliability and ease of use.
Nyquist touts simplified configuration and control for bell/event schedules. Its web-based user interface allows bell schedules to be controlled across the entire district from a single user interface. It also boasts dynamic, scripted automated action sequences, known as Routines. Routines can support crisis plans for emergencies such as lockdowns, severe weather events, or evacuations.
"The school appreciates that with their permission, we can remotely access their systems for diagnostics and programming. One of the main features the school principals and administrators were excited about was the simple way to adjust the bell schedule based on school schedule, to choose different bell schedules or even have them preprogrammed," says Matthew Ranft, director of sales and marketing at Fairchild Communications. "We had not originally planned to provide inputs into some of the sound systems in the existing large group areas, like the gymnasium. With the flexibility of Bogen Communications, we could provide additional inputs to allow emergency calls or tones to be heard even during loud events, adding yet another level of safety for our students and faculty. Bogen Communications provided enhancements to our technology, with minimal disruption to the schools, and the ability to use most of their existing infrastructure."
Crawfordsville Community Schools is now planning to install the Nyquist E7000 platform across all primary, intermediate and secondary schools in the district.
Another version of this article originally appeared on our sister-site Campus Safety on January 20, 2023. It has since been updated for Commercial Integrator's audience.
If you enjoyed this article and want to receive more valuable industry content like this, click here to sign up for our digital newsletters!