The State of Distance Learning Technology in 2021
We surveyed our audience and spoke with experts in higher education & K-12 technology implementation to provide insights to integrators.
Leave a Comment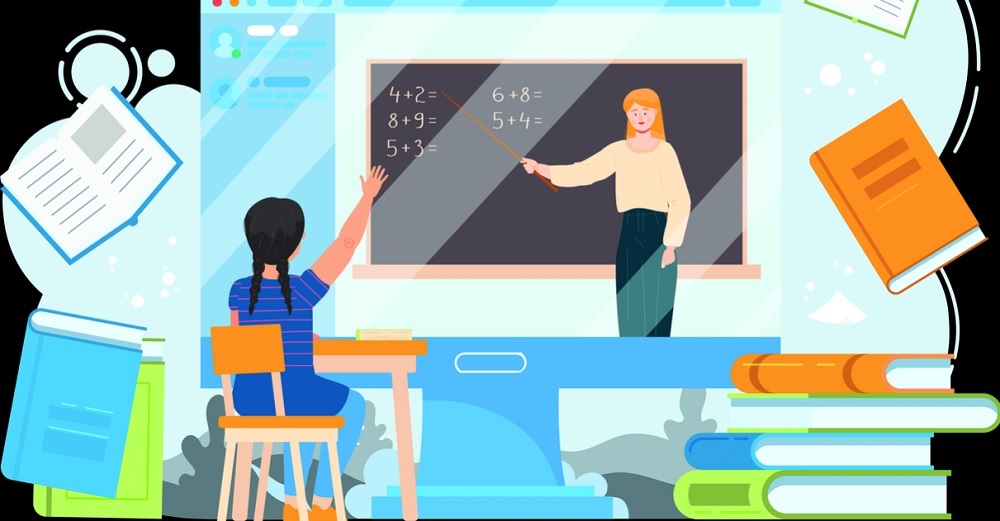 Over the past year, the COVID-19 pandemic forced not only companies but schools and universities to implement expansive new distance learning programs in a short amount of time. 
While some universities already provided a certain amount of online education options, the sheer number of students moving online was unprecedented in the market. On the K-12 side, many schools had no experience with distance learning yet had to provide such environments for entire school districts. 
It was a difficult year for students and teachers alike, but, with some time for adjustment and the help of integration professionals, education continued and schools were able to get on track. 

The summer of 2020 gave many organizations time to better implement solutions and plan for the new year, utilizing lessons learned from the mass exodus of the prior school year. 
Heading into the summer of 2021 students in schools and universities across the country have begun to return to the classroom and resume in-person education. However, the lessons from the previous year, as well as the technology that was purchased, have not been lost. 
This summer will not be a restful one for educators and administrators. They'll be hard at work deciding how distance learning will continue to play a role in education moving forward. 
On the higher education side there is plenty of opportunity. Many students can benefit greatly from the flexibility distance learning provides. 
For K-12, decisions need to be made about how distance learning fits into a market that in many ways necessitates students being in school to provide safety and care while parents can work. 
For integrators, the challenge will be in navigating the unique rules and regulations introduced from state to state, district to district, and university to university. No system is one-size-fits-all in the integration world and distance learning may be the epitome of that statement. 
Even individual teachers within a school will have their own needs for a system to foster learning environments. 
There is also great opportunity for AV integrators. Those involved in the education market will be able to learn about how different schools are successfully implementing distance learning solutions and take those lessons to new clients. 
There is potential in education markets to become a real partner and help administrators, teachers, and technology managers design an educational strategy that involves distance learning. 
Integrators will be able to tailor technology to what each institution wishes to accomplish. 
Of course, the higher education and K-12 markets are extremely different and will be utilizing technology in different ways. With that in mind let's take a look at each to see how technology will shape the future of education.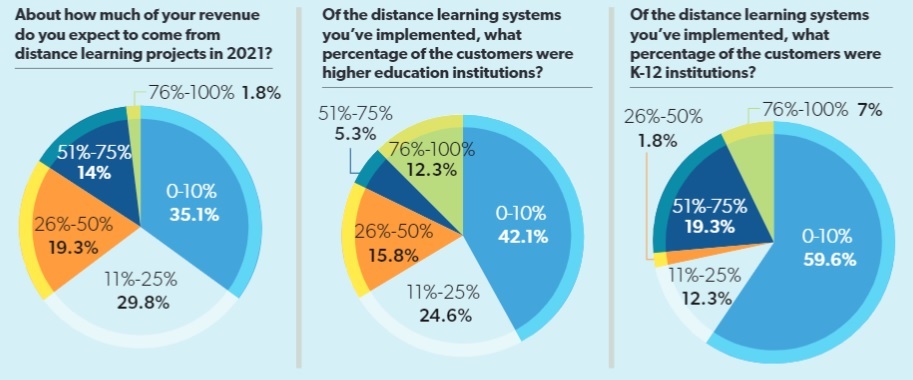 Higher Education
Higher education institutions that implemented distance learning systems during the pandemic are well set to continue that momentum into more robust options in the years to come.  
The equipment used can be replicated and refined in order to bring in more students through online education initiatives. 
Still, universities will need to find a balance in order to ensure that students are still coming to campus. 
"From a recruitment and revenue perspective they're very excited about students coming back to campus," says Jay Bosch, director of State, Local, Education (SLED) North America at AVI-SPL. 
"However, there are a lot of students that have an expectation to be able to jump on and watch on demand if it's a lecture-based class," he says. "If it's more of a hands-on or lab type of class, it gets a little more challenging."  
Higher education institutions that have traditionally served the majority of their education in person and on campus may need to build out online programs in order to compete with schools more willing to create a robust online curriculum. 
"There's a lot of expectation to compete with those online exclusive offerings," says Bosch. "In order for a higher education institute to be competitive they have to meet those expectations of the students to be able to have some flexibility as well." 
There is also going to be funding available to build out these programs in new and exciting ways thanks to recent federal programs such as the Coronavirus Aid, Relief and Economic Security (CARES) Act. 
"A lot of schools are going to be utilizing the various federal funds commonly known as the CARES Act," says Bosch. "That's actually just the brand that they gave their first round of funding. 
"There are actually two other rounds of funding that have come out that specifically address distance learning," he says. 
Many schools will need to provide distance learning as a main business model for certain disciplines or the student body as a whole. 
"We work with a lot of online-only schools as well. The challenges that they have are completely different than what you would see in a traditional classroom," says Bosch. "We also work with global universities. They'll have a campus in London, Frankfurt, and other places. 
"There's an expectation on those types of campuses that they absolutely have to have online for those students that are studying abroad but they still have classes in the U.S.," he says. 
Higher education institutions will likely have the funds and the incentive to build out more robust distance learning solutions even as we move on from the COVID-19 pandemic. There are many varieties of distance learning, each with its own technological needs. 
"It depends on the course and the students. We're seeing in executive MBA programs that those are more of an expensive build-out because those programs tend to be a little more expensive." 
Bosch outlines a classroom with a professor at the front with a curved video wall around them that allows them to view all students at once. Software allows the instructor to see if the students are paying attention and will be alerted if a student clicks another browser.  
Professors can look at individual student analytics to ensure they are paying attention during courses. 
"The investments that schools are making are very much increasing camera quality and audio quality," says Bosch. "What is really prevalent is the all-in-one bars that have cameras, speakers, and microphones built in. 
"It allows the capture of not only smaller but larger classrooms as well. The experience level is much better than just a $12 webcam," he says. 
That extends to taking lessons from virtual content creators outside of the classroom. Bosch mentions a pottery class which has three cameras viewing instruction so students can follow along at home.  
He says the set up isn't far off from what a YouTube creator might put out. The way users consume how-to type videos on YouTube may be what works best for hands-on classroom lectures as well.  
Higher education in many ways has been the last bastion of the AV department that we've seen assimilated into the IT department in corporate environments.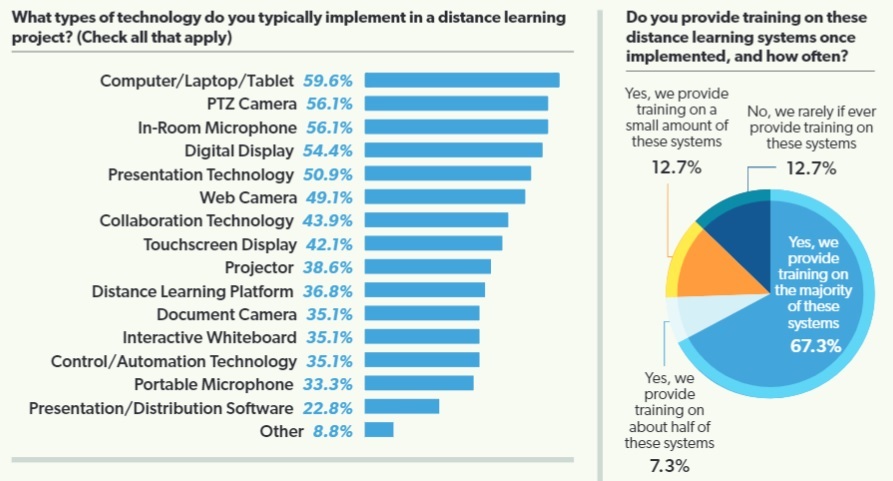 With so much of this equipment being used in ways that require IT technology to distribute the final feed, it is likely AV integrators will work with both in tandem on these types of projects moving forward. 
This will especially be helpful in continuing to ensure social distancing, sanitation, and monitoring of rooms.
"Now monitoring is a big piece so when you look at the correlation between AV and IT, being able to monitor the IP addresses and the performance of anything that has an IP address is a very big thing that we're noticing right now," says Bosch. 
"Making sure that the classroom is ready to go on demand is a high need, especially when you've got folks that are working remotely or at home to solve the issue of not having to actually go on campus," he says. 
"Being able to look at the performance of each room but also being able to look at the analytics of the user, if the room has been used, how many people have come into the classroom," says Bosch. "Then also being able to take that data and then pass it on to the facilities if that room needs to be sanitized or cleaned." 
What is certain is that higher education will have just as much if not more of a need for distance learning solutions now that it is an expectation of the student body. 
"I don't think that it's going to be going away any time soon," says Bosch. "I think it's going to grow even more prevalent." 
K-12
When it comes to distance learning in K-12 environments the first question is whether schools are going to continue investing in these systems now that students are returning to the classroom. 
"From my perspective talking to technology leaders from all around the country, the answer is all over the map," says Susan Davis, professional development director for the Association of Technology Leader in Independent Schools (ATLiS).  
On one end you have schools that saw distance learning as a temporary solution and are dedicated to returning to one-to-one learning because that is their mission. 
On the other end of the spectrum are schools that are considering using distance learning as a way to attract students to the possibilities of different programs. Everything in between is at play depending on the district. 
"It looks like this is something that is here to stay in some form or another. Parents want more flexibility. It allows the schools to do some things that they maybe hadn't done before, or done efficiently," she says. "I would say it's all across that spectrum." 
The implementation of distance learning solutions did have an impact on the possibilities of technology being a tool for education. 
"Almost 100 percent across the board," says Davis. "Schools have absolutely seen this as something that is an opportunity. Teachers in the classrooms are learning how to implement technology in new ways that they were afraid of before. Now they have more options.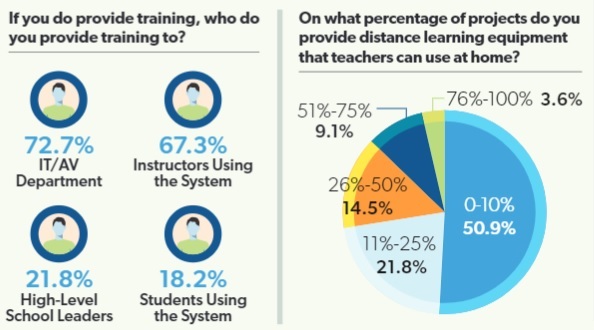 "Access via an individual device has come to the forefront in schools' minds," she says. "They are all thinking about how every learner needs to have access to their own device in some way." 
The conversations then turn to what that future looks like, especially for earlier grades, and how schools monitor this access both at school and at home if students are allowed to bring personal devices home with them, says Davis. 
It does seem that most schools will utilize distance learning in order to combat problems of access to buildings similar to what these schools faced throughout COVID-19. 
"In K-12 one of the biggest things is continuity of education," says Bosch. "If there is a manmade or natural disaster that happens, they can continue to learn just basically flipping the switch over to distance learning, so no more snow days." 
Bosch also mentioned the opportunity for on-demand courses that allow students to learn material they missed during a family vacation, for example. 
Related: Why Projection is Important to Distance Learning & Hybrid Solutions: Episode 128 of AV+
"It really depends on the school district for what they allow for distance learning," he says. "The capability is definitely there through lecture capture solutions where students are able to basically jump on and watch on demand." 
These types of lecture capture capabilities also allow for the indexing of courses and information which can be used as a tool to study for tests and quizzes. 
In addition, students with learning disabilities or students learning English as a second language can go back and more carefully try to understand what was taught in a given class. 
"With the move to the hybrid model the issue of sight and sound within the classroom was huge," says Davis. "You have schools tackling that problem in a variety of ways. 
"They are looking for ways in which they can translate what happens in the classroom to a meaningful experience for anybody that might be using that information virtually," she says. 
Integrator Partnership
While distance learning solutions will be utilized in different ways for different reasons in higher education and K-12, the unifying concept is that integrators have an opportunity to help them build their technology strategy to foster education. 
"Pedagogy is the most important piece of this," says Bosch. "But they want to make sure that the technology enhances the experience and does not hinder it in any way." 
"I've just started to hear conversation among technology leaders about what they are going to do with all this stuff they bought," says Davis. "That flexibility, adaptability, creativity, and thinking about how tools can be used over time. 
"That relationship between the technology leaders and the people that provide the software and hardware that helps them out has been interesting over the last year," she says. 
"The more personalized that you can make a relationship, so that you can just listen to the needs, the better," says Davis. "If they have somebody that they can go to and count on for an answer to a problem that is going to be key." 
Integrators are going to need to be partners more than providers for their education clients. They are going to need to help tailor unique, personalized solutions that fit different schools, departments, classrooms, and even teachers. They are going to help schools evolve curriculum by using technology. 
Thanks to federal funding into schools over the past year, the iron is hot and integrators should look to strike. 
"The federal government has been very generous this past year," says Bosch. "The influx of funding, specifically for schools, is unprecedented. We've never seen this type of influx of money that has been directly provided to both public and private schools.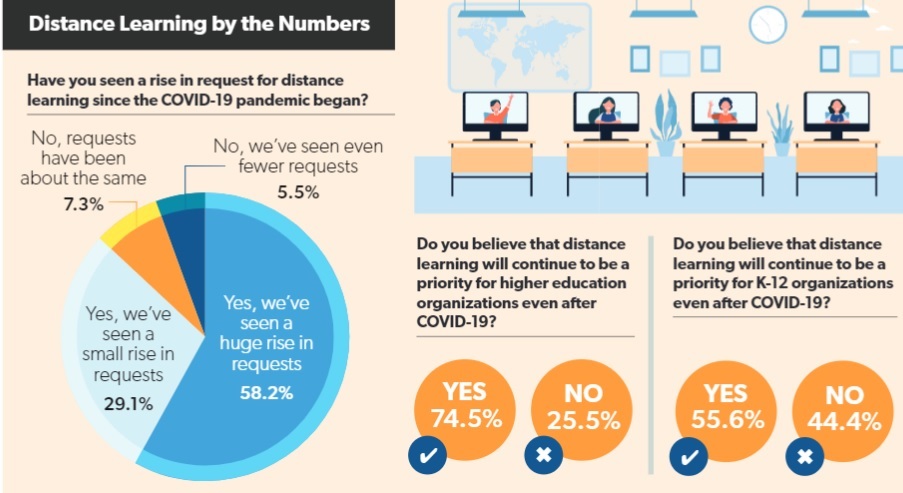 "They're being very diligent about how they're utilizing their investments," he says. 
"Everybody is going back to the drawing board and reevaluating their budgets about what is really needed for technology and how they can get there," says Davis. "We will get to a point where we're planning on a five-year basis, but the schools I talk to are really just looking at next year." 
"They want to make sure that they're building their classrooms and changing the way that they do their refresh," says Bosch. "They're basically making sure that distance learning is included in a lot of those classroom refreshes." 
That's good news for integrators that can help schools create the perfect system and scale that system throughout the institution. The money is there. The need is there. All that is left is to find the right integration partner to help them reach their goals. 
Make sure you're calling on your education clients and letting them know you can meet their distance learning needs. Make sure you're listening to how they want to a teach and creating a solution, not trying to force them into a system that doesn't fit how they want to teach. 
If you can help educational institutions navigate this, the largest disruption to traditional learning in American history, then you'll have a client for a long time.