Maverick Technical Institute Offers New Opportunities for Future AV Integrators
Maverick Technical Institute celebrates second graduating class of project-based AV education course that mixes best of AVIXA, CEDIA and ESPA.
Leave a Comment
Dennis Jacques and Daryl Dembiec looked around the office of Maverick Integration a few years ago and noticed the Nashua, N.H.-based company was going through something similar to many others in the AV integration world: facing a future with an aging workforce and no prospects for young talent.
That's just part of the reason Maverick Technical Institute was born.
The two-year-old school, which is housed in the same building as Maverick Integration, trains students in myriad ways, from weeklong boot camps for established AV technicians to an eight-month AV education certification program for newcomers.
Joe Boston, executive director of Maverick Technical Institute, brings more than 30 years of education experience including Ben Franklin Institute, Boston University and Wentworth Institute of Technology.
The Maverick Technical Institute combines the best of AVIXA, CEDIA and ESPA into the course, he says.
"We look at the things every student should know for practical application upon graduation from our AV education program," says Boston.
That comes through practice-based learning via 1,100 hours split between time in the classroom and time in the installation lab. Students pay $18,000 for the eight-month course, including all exams and a toolkit worth more than $500.
The eight-month Maverick Technical Institute AV education program has now celebrated two graduating classes and Boston expects it continue to attract young people who are looking for a unique career path they may not have known was available to them until recently.
They must get at least 80 of the 100 questions right on the written final exam as well as pass a lab final that includes troubleshooting, rack termination and more, he says.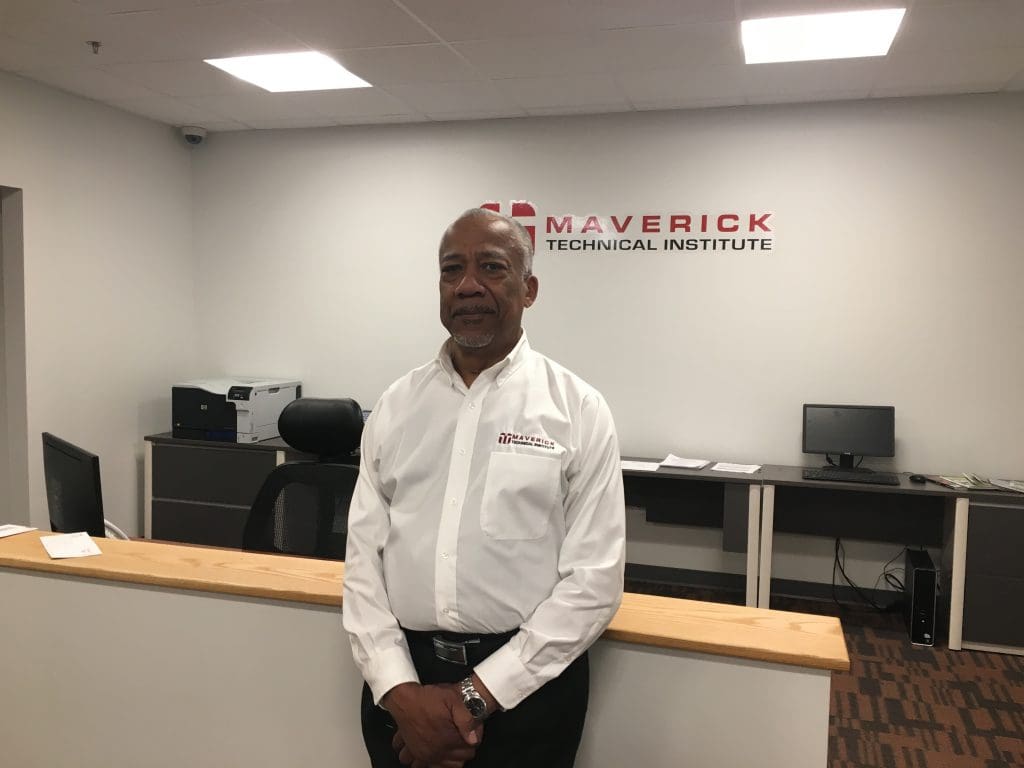 From Classroom to Lab
Bill Mosher, who has more than 25 years teaching economics and finance, now serves as the MTI classroom instructor. He understands what the students are going through in many ways because he's had to take a crash course himself in what he's teaching them.
"Most of these students come in green so we start from the beginning with them," says Mosher.
"College wasn't for them but they wanted a career. We start with talking about showing up on time and not using their phones while they're here. We want them to be immediately, instantly employable.
"We're constantly trying to link the textbook to the real world," he says.
Frederic Paradis, former owner of a residential integration firm in Wellesley, Mass., oversees most of the lab work for Maverick Technical Institute in addition to working as a construction manager at Maverick Integration.
He used to do multimedia training for the National Electronics Service Dealers Association. Before his AV career, he worked as a manufacturing and quality engineer.
Paradis says the first thing he does with students is to sign them up for a subscription to CE Pro, the sister publication of Commercial Integrator that focuses on installers on the residential side.
"I like when that lightbulb goes off and you can see they get it," says Paradis.
"To get there, you have to teach them about improving their mechanical aptitude and their technical aptitude. You really can't have one without the other. Once they see how the system flows and works together, they understand.
"They groove on this stuff. By the time they get through the eight months, we've taken them from not knowing anything to employable entities. In a lot of trades today, the mean age is sliding up. When I was in school, there was more of a push for the trades. It was important for Maverick Integration to grow that employee base and back-feed the company with young talent. Everyone needs to get a push. Everyone benefits from that," he says.
The Student Perspective
Chris Tower, 18, of Windham, N.H., "didn't really know about AV" when he came to MTI the first time, saying to him it was "something the rich people down the street had." He met Boston at a college fair and liked the idea of placement after he completed the AV education program.
He graduated in April and will soon start work at Pro AV in Chelmsford, Mass., where he'll work on K-12 and corporate jobs.
Among this year's class, Landon Gagne, 18, was among the few who knew about AV before coming there as the son of the owner of EZ Solutions in Wells, Maine.
"I didn't want to go to college and I wondered what a lot of the AV stuff was all about," says Gagne.
"I saw the importance of it all and what it means for people when it works correctly. I had a rough understanding of the equipment and how to hook up speakers before I came here but not much else. The big portion for me was the hands-on lab hours. I'll take what I've learned and expand from that. I'm ready to make some money."
Nicholas Camelio, 19, of Groton, Mass., says his first exposure to AV came when his dad's friend got him a summer internship at a Waltham, Mass.-based integration company.
"I wanted to be out in a year and start doing my own thing," he says, and his guidance counselor steered him toward MTI. He'll be working at Pro AV installing smartboards in classrooms after graduation.
Nick Nirgianakis, 19, of Windham, N.H., says the lab room at MTI "really piqued my interest" in pursuing the program.
"I love figuring out how things work and why they work together," he says. After graduation, he'll focus on home theater installations for Complete AV in Bedford, N.H.
Amy Gordon, 37, of Nashua, N.H., was the only student in this year's graduating class who wasn't straight out of high school, having spent several years working in retail.
"This is what I wanted to do when I graduated in 1999 but there wasn't an AV education program like this available," she says. Gordon is eyeing a career in home automation with a focus on lighting and shade control.
Building Maverick Technical Institute
Boston and other Maverick Technical Institute staffers canvass college fairs, make school visits and invite students to visit the MTI campus to see what they offer, a move that's been successful, he says.
"The wow factor works," says Boston. Even though it's now only two years old, Maverick Technical Institute is starting to attract students via word of mouth from its graduates, he says.
"It's short, but it's not a cakewalk," says Boston. "We get rid of all the fluff. We want people to see our logo and know our branding is legitimate.
"[Potential applicants] know about wifi and speaker placements but there's a lot more for them to learn before they can get a job working for an integrator.
"The biggest challenge is finding the students. We're helping people understand this is a legitimate career path. It's not about convincing them' it's about educating them," he says.
So far, MTI graduates have started their professional careers with salaries ranging from about $37,000 to $42,000, says Boston. Before they get there, though, Maverick instructors help them with resume writing, mock interviews and preparing their "elevator pitches."
"I'm a huge proponent of not letting students fail," says Boston.
"They don't like to talk about themselves so the 30-second elevator pitch can be difficult but we work together and try to make it work." Boston is helping one student who plans to attend MTI next year find an apartment so he can live close to campus.
"I was told I'd never make it [when I was young]," says Boston on why it's so important for him to see the students succeed. "Everyone said I should play football if I wanted to do anything with my life. I vowed never to do that to any child."
Although Maverick Technical Institute is still only two years old, Boston has big dreams for it, saying he hopes to see it expand across the U.S. to a handful of other locations.
"The sticker price shouldn't scare the students; it's the amount of work," says Boston with a smile. "There's no heavy lifting, unless you're mounting a 60-inch TV. It's nice to hear they were pleased with their investment. They'll tell the story when they leave."
Paradis is confident Maverick Technical Institute will continue to grow as more graduates enter the work force and talk about their AV education experiences. He also expects specialized courses to continue to grow, whether it's the boot camps or expanding its one-, two-, three- or five-day offerings.
"Now there are people out there telling their friends and family about what they're doing and where they went to school. That can only help," he says.
The discussions continue to involve, says Paradis, with more focus this year on AV over IP, 4K, 8K and other topics that weren't on the first year's agenda.
"The evolution never ends," says Paradis.
Learn more about the AV education program here.