Weed-Buying Experience at Lightshade Dispensaries Improved by BrightSign, Ping HD, Onward Content
Educational content, menu boards and branded content are displayed via digital signage at dispensaries owned by Colorado-based weed retailer Lightshade.
Leave a Comment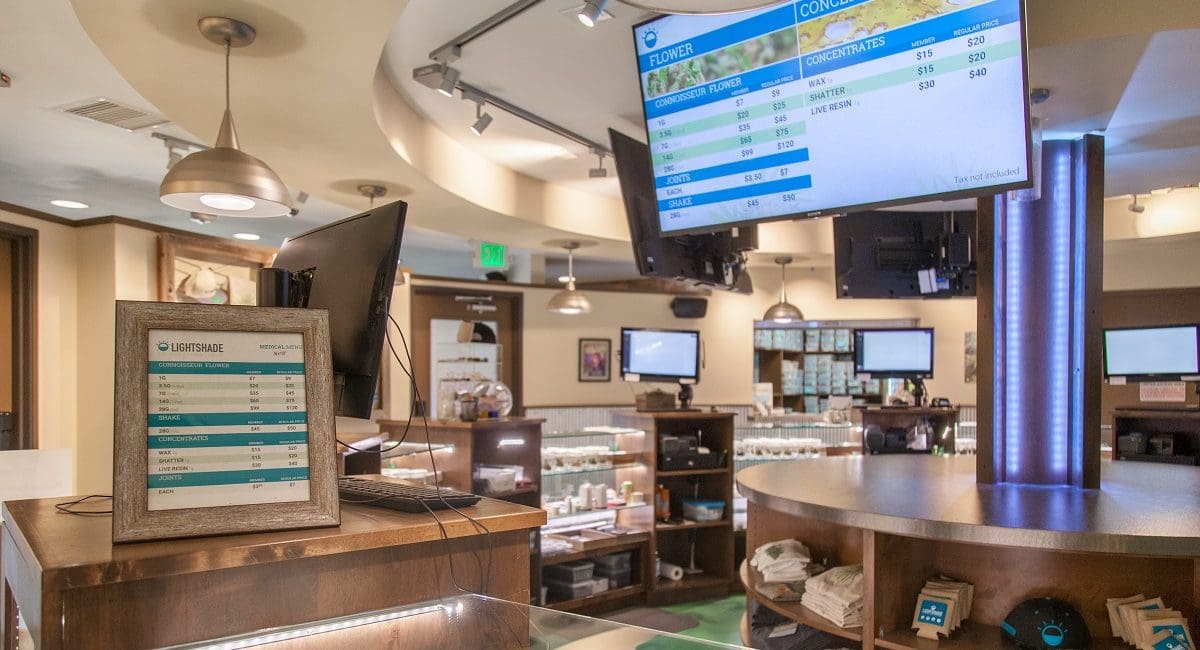 As the legal cannabis industry grows is expected to grow into a $74 billion industry this decade, dispensaries are becoming more competitive and are using technology to stand out from the thousands of other players in this market.
One way to do that is through the use of audiovisual technologies like digital signage.
That's taking place on the West Coast at dispensaries operated by Colorado-based medical and recreational weed retailer Lightshade.
Digital signage media company Brightsign, digital signage provider Ping HD and video production company Onward Content teamed up to outfit the Lightshade's eight dispensaries with digital signage that showcase educational content and add to the ambiance of each location.
Read Next: The AV World and Weed: Is Cannabis Technology A Market?
Onward Content created more than 160 video assets for the project, including educational videos, menu boards and branded content.
Although cannabis is growing into a very large industry, it's still illegal federally and there is still very much a stigma surrounding its use.
To combat that, cannabis companies' marketing strategies have grown to include educational content to help combat that stigma.
In a statement, Julie Batkiewicz, Onward Content's executive producer, said education is a must-have to ensure a positive experience when purchasing and using cannabis.
"Being able to reach the consumer directly in the dispensary with dynamic content through digital signage is key to achieving that," she says.
"We produced an extensive library of informative and custom content for Lightshade that enables them to not only educate, but also promote the brand and products."
Meanwhile, Ping HG's EngagePHD content management software controls content across the 22 BrightSign LS Series 4 media players in each location.
Screens are strategically located throughout the stores and are seamlessly integrated in the décor of each location. Some displays are installed in the lobby, while others are in the bud bay.
As cannabis becomes a mainstream industry and works to rid itself of the legal gray area it's been plagued with since states began legalizing marijuana for medical and recreational use, in-store screens have become an important element of education and learning, said Lisa Farrimond-Gee, Lightshade's director of marketing and corporate social responsibility, in a statement.
"Working with trusted partners such as BrightSign, Ping HD, and Onward Content provides us with a perfect turnkey solution for content management and digital delivery," she said. a