AV News Roundup June 24: Products, Projects and People in New Places
Here's a closer look at some of the AV news this week that include new PTZ cameras with MIDI Control, an L-Acoustics project for HAIM, promotions and more.
Leave a Comment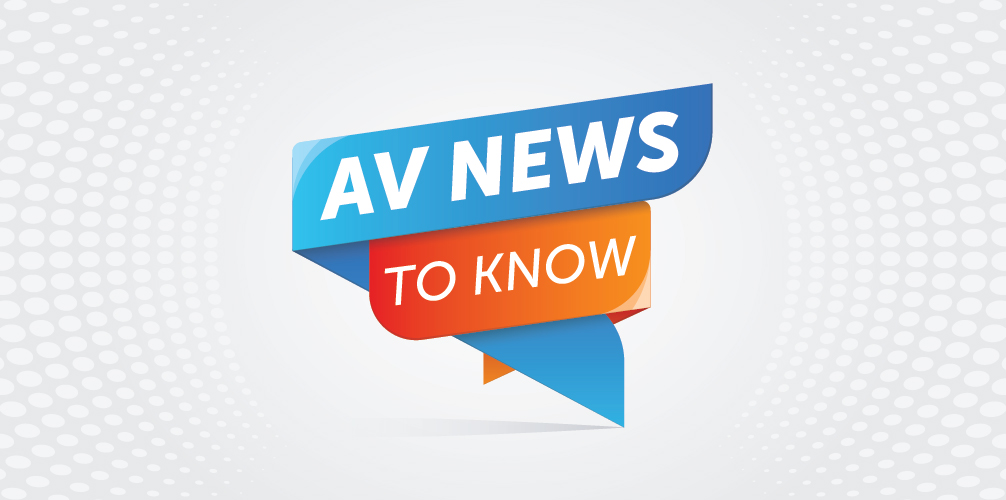 New AV Products
PTZOptics Brings MIDI Control to PTZ Cameras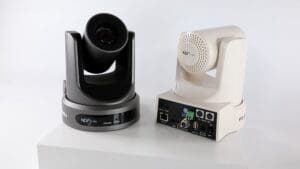 PTZOptics and the MIDI Association, the international stewards of Musical Instrument Digital Interface (MIDI) technology, announced a new frontier for MIDI control. In a joint project, they are bringing fully configurable MIDI control to the line of PTZOptics robotic cameras. PTZOptics is the Downingtown, Pa.-based manufacturers of affordable broadcast-quality robotic cameras.
Starting with the PTZOptics 12X-NDI and SDI cameras, PTZOptics will roll out direct MIDI control to their current generation camera line via a free firmware update. Users will also be able to map camera commands. These include setting presets, call, pan, tilt, zoom in, zoom out, speed up, and slow down to available keys on any MIDI device. Once configured, the MIDI controller can steer and control the PTZ camera from anywhere in the world via the Web MIDI API.
"Live streaming has become extremely important to musicians and creatives, from performers and worship leaders to bloggers and DJs," says Geoff Robinson, product manager at PTZOptics. "With this new feature set, users can control a live video production without any additional dedicated hardware — just the devices or even instruments they already have. We can't wait to see what this incredibly creative community does with PTZ camera control."
Forging Partnerships
This release is the result of a rapidly-formed relationship between PTZOptics and the MIDI Association. Athan Billias, president of the MIDI Association, reached out to Robinson. He wanted to see if the camera maker had plans to further develop their existing — but limited — MIDI control software application. Billias and Robinson thus saw an opportunity to bring flexible, open-source camera control to the music industry. As a result, PTZOptics became a newly-minted MIDI Association member. Per a statement, it is also the only camera manufacturer to implement direct MIDI control.
Billias expresses excitement on having PTZOptics as a partner. He adds that they have already been working together on remote collaboration. Here, they have been using Web MIDI for our MIDI In Music Education and MIDI In Music Therapy Initiatives. He continues, "The ability to remotely control PTZ cameras over Web MIDI shrinks the world in a very significant way."
Owners of current generation PTZ 12X cameras can also unlock MIDI control immediately.  For this, they can download and install the latest camera firmware from the PTZOptics website in early June 2022. Additionally, MIDI control will roll out to all current-generation PTZOptics PTZ cameras by end of 2022.
According to a statement, the beta MIDI control firmware update is also available for download. It is available for the PT12X-SDI/NDI as well as the PT20X-SDI/NDI and PT30X-SDI/NDI.
Audiovisual Projects
L-Acoustics Provides Custom Sound Install for HAIM World Tour
HAIM's current Women in Music Pt. III Tour — in support of their Grammy-nominated 2020 album of the same name — is their second international headlining jaunt. The tour began in Las Vegas in April and will take them to more than two-dozen scheduled stops across the US and then onto Canada and Europe.
The pandemic has wreaked havoc with touring, more recently, by bringing bands back onto a road with plenty of strange curves. In HAIM's case, it means moving between arenas to amphitheaters, then back to arenas, and even some large clubs, one night to the next. For this, the tour brought in L-Acoustics to work on the audio arrangements.
Scaling the System
The full rig for the tour was sourced by the Production Resource Group's (PRG) Los Angeles office. It encompasses 32 K2 enclosures, flown 16 per side, with 12 Kara per side as outfills. Eight more Kara line the stage lip as front-fills, with four ARCS II boxes on hand as utility fills. Meanwhile, 16 KS28 subs are deployed to reinforce the K2 with added low-end extension. Additionally, 36 LA12X amplified controllers running on an AVB network through a pair of L-Acoustics P1 AVB processors powers the whole system.
But not every fan will hear every box on every show. Because of the variety of venues on this tour, the PA needs for each space can vary considerably. That's not a problem for the K2, says Scott Jarecki, HAIM's PA technician on the tour. "What's great about the K2 is how versatile it is," he says. "We're working in a wide range of venues, and the system can scale very nicely for any of them."
For example, he cites how the KS28 subs can be deployed in stacks of two, set eight feet apart across the stage. They can also be deployed in an arc on the ground in front of a stage. Various PA configurations were largely mapped out even before the first truck rolled out, thanks to Jarecki and systems engineer Tom Stegemann. The two worked out designs for each venue and performance ahead of time with L-Acoustics Soundvision predictive software and the FIR filters.
Flexibility and Adaptability
"We know when we roll up exactly how much PA we need to take off the truck, from Madison Square Garden to a club date," says Jarecki. "It scales incredibly well and no matter what configuration of the system we end up using, it still sounds familiar to our front-of-house mixer, Scott Adamson, with all the voicings Scott expects to hear and how it will react in the house. The system is very flexible and adapts to the venue."
Stegemann also appreciates the K2 rig's flexibility but in a different dimension. "There have been times on this tour where we are pushing the laws of physics, getting the K2 boxes to throw as far as 300 feet in some cases," he explains. "It's a very good rig to tech because it lets us push it beyond the envelope when necessary, so that front of house and the farthest seats both get the right experience."
Randall Knight, audio project manager at PRG's Toronto office, designed the audio system. "It was always going to be L-Acoustics. HAIM's production manager, Chip Valentino, requested it," he says. Knight says he first considered the band's widely-ranging venue itinerary. He then calculated that the K2 and Kara enclosures would provide the best balance of coverage and budget. "You must keep both of those things in mind for touring these days. L-Acoustics gives us the tools we need to pinpoint that."
A Successful Tour
Knight worked with PRG engineers Jason Swartz and Andy Alonso. Together, they customized the system in several ways that would help achieve both aims. For instance, they divided the tour's amplified controllers into two large custom racks, stage right and left. This allowed scaling of power for each system configuration from Madison Square Garden to other venues. Furthermore, they did not have to move any of the individual amps.
Knight got to test his own design in a very hands-on manner during HAIM's show at Echo Beach in Toronto. At that time, Stegemann was unable to make the show due to a Covid-19 infection. Knight then stepped in himself as system engineer. "It was great," he recalls, "to really know that the system you put together works so well."
People and Places
James Suit Rejoins ACT Entertainment Regional Sales Team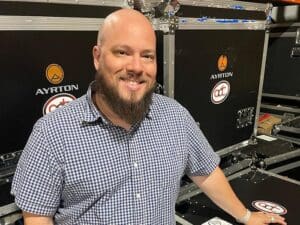 Jackson, Miss.-based ACT Entertainment announced that James Suit has rejoined the company's regional sales team for the New York City Metro area. Previously, he served as Northeast regional sales manager for the brands distributed by ACT.
"We're very excited to have James back on-board and to take advantage of the expertise, values and skills that make him such a good fit for the ACT team," says Doug Mekanik, ACT Entertainment director of sales.
Suit began his professional career in 2005 when he joined 4WALL in New Jersey as a moving light tech. He spent seven years in system integration and sales for Starlite Productions in Moorestown, New Jersey. He later moved to Ushio America where he served as regional sales manager for Entertainment. Here, he covered the Eastern U.S. for the lighting manufacturer and distributor.
"I'm happy to rejoin ACT to continue building relationships with designers and customers that were cut short by the pandemic," says Suit. "I look forward to working with everyone on the ACT Entertainment team to bring fresh, innovative products to the creative people who need them."
Ryan Hindinger, ACT Entertainment market manager: Concert Touring & Live Experiences, concludes, "James has superb product expertise and never fails to see customer wants and needs in a way they often don't themselves, which makes him an excellent fit for the ACT Entertainment family."
PPDS Expands Regional Business Cluster in Europe; 'Philips Godfather' Peter Vinke Retires
PPDS announced the creation of its third regional business cluster in Europe. According to the company, this combines the strengths of its Nordics and Benelux teams to facilitate new, enhanced growth opportunities.
The latest phase of PPDS' evolution also sees the business magnify the existing strengths of its Nordics and Benelux sales teams to support the company's ambitious growth target.
Stronger Together
As part of the new structure, Roeland Scholten has been promoted to the newly-created position of sales director BNL and Nordics. Based in Amsterdam, Scholten will see his responsibilities extended to lead and drive sales opportunities in various regions. This includes the Baltics, Denmark, Finland, Iceland, Sweden and Norway, as well as his existing territory in Belgium, Netherlands and Luxembourg.
Since joining PPDS in 2016, Scholten showed incredible leadership in the Benelux region, says PPDS. The company adds that it experienced record sales across both its Philips digital signage and developing direct-view LED portfolios during his tenure. He will now manage and further accelerate this growth across all products within PPDS' evolving portfolio of display solutions in the combined markets.
Franck Racapé, head of global commercial at PPDS, comments, "Roeland's drive to succeed is well-known within our company and the industry. I am very pleased to expand his role, harnessing his energy to capture the incredible opportunities ahead in this combined market space. I have huge admiration for the hard work of our teams in both the Nordics and Benelux and we have designed this new structure to support them both in achieving their individual goals and our business ambitions."
Global strengths
Further building on PPDS' global business strength, Mikael da Fonseca has been promoted to international key account director hospitality. He previously served as sales director for the Nordics at PPDS.
da Fonseca, who will begin his new role on July 1, has been with PPDS for more than 10 years. The company states he has been instrumental in guiding the company's dramatic rise in the Nordics region. In his role, he achieved and extended market share for Philips hospitality TVs to a commanding 55% in 2021.
Based in Stockholm, da Fonseca joins Simone Gagliardi, Frank Trossen and Valeriia Polovkova on the IKAM team as Peter Vinke prepares for retirement in September.
Godfather of Philips
Hailed internally as the 'Philips Godfather,' Vinke's career and association with the Philips brand spans more than 30 years. He is a hugely successful and popular figure within PPDS and industry-wide, the company states. He successfully positioned Philips professional displays into the global hospitality sector, including all major international hotel groups, since 2005.
Racapé adds, "Peter has been an integral part of the Philips professional displays story in the hospitality sector across all regions, and his enthusiasm for building our brand has always been exemplary. Peter is also a great contributor to the positive team spirit here at PPDS, welcoming colleagues, motivating our teams, and energising the marketplace."
He then concludes, "On behalf of the entire global team at PPDS, I wish Peter all the best for the next chapter and congratulate Mikael and Roeland on their well-deserved promotions. Together we are stronger."