AV News to Know December 3, 2021: New Products, Cool Projects and People in New Places
Here's a closer look at some of the AV news this week that includes new PTZ cameras, a digital signage project, a road tour, and more.
Leave a Comment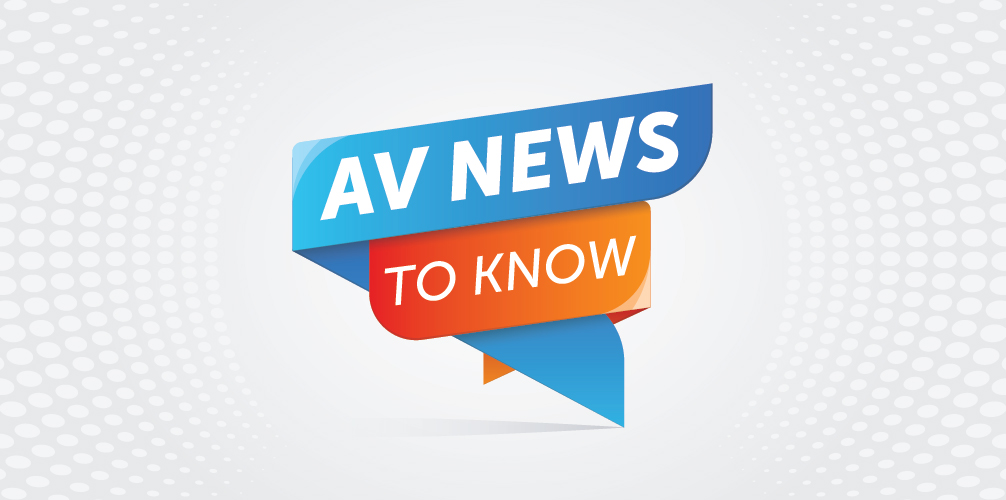 New AV Products
JVC Professional Video Unveils three new PTZ Remote Cameras
JVC Professional Video, a division of JVCKENWOOD USA Corporation, announced three new PTZ Remote Cameras.
According to the company, the new 4K KY-PZ400NW/NB and HD KY-PZ200NW/NB cameras provide optimal streaming image quality and performance for remote production over the internet. They are also equipped with NDI|HX and SRT streaming, H.265/H.264/MJPEG encoding, and VITC (Vertical Interval Timecode) multi-camera synchronization technologies.
A third option, the new HD KY-PZ200W/B, provides an economical solution, sans NDI®|HX technology.
All camera models are available in black or white variations to best match the ambience of the venue/project.
Joe D'Amico, vice president of JVC added, "With integrated NDI|HX technology from Vizrt Group, the JVC PTZ cameras now offer a high-quality, low-latency IP video transmission standard that is ideal for streaming in an ever-evolving media landscape. We are excited to provide this functionality in our new 4K and HD PTZ production cameras and look forward to the creative streaming possibilities it will provide our users."
Michael Namatinia, president and general manager of NDI, also remarked on the the integration of the NDI|HX technology. "At NDI, we have so much respect for JVC as a brand and for their quality products. This is a significant moment for the industry, for NDI and for JVC customers who can now enjoy the benefits and freedom that IP content brings with NDI," he said.
All three cameras include SRT, HTTP, RTSP, RTMP/RTMPS and standard protocols. With SRT open-source technology now becoming synonymous to JVC cameras, PTZ users are afforded a future solution with continual firmware updates.
The company stated that the advanced streaming capabilities of the incorporated SRT technology adds automatic repeat request (ARQ) and forward error correction (FEC). This helps prevent packet loss typically found on internet connections. It also offers stream encryption for content protection.
Additionally, with the incorporated Vertical Interval Time Code (VITC) with Network Time Protocol (NTP), the new JVC PTZ cameras also feature multi-camera synchronization for live event production. This feature is ideal for the mixing and streaming of concerts, shows, sports, and other live productions where image synchronization is crucial.
Remote control capabilities are also possible through JVC's RM-LP100 Remote Camera Controller, JVC's KM-IP6000/4000 Live IP Production Suites. Users can also choose other options from vMix, OBS Studio and NewTek.
For remote conferences and lectures, the KY-PZ200N and KY-PZ200 support UVC (USB Video Class), which enables the cameras to be used as webcams. Both models can be directly connected to a PC using a USB cable. According to JVC, this makes them ideal for educational and other digital applications.
Equipped with a 4K 1/2.5-inch progressive scanning CMOS image sensor, the KY-PZ400N has a wide angle of view (approx. 26.4mm @35mm equivalence), 0.5 Lux of minimum illumination and 16x digital zoom.
The KY-PZ200N and KY-PZ200 include an HD 1/2.8-inch progressive CMOS image sensor, as well as 20x optical zoom reaching out to 606.9mm @35mm equivalence. All three cameras have HDMI and 3G-SDI, RJ45 with PoE, RS232 and RS485 interfaces standard.
Audio Visual Projects
Carousel Digital Signage Opens New Doors for Campus Communication
UC Merced had its finger on the pulse of digital signage since opening in 2005. However, it wasn't until recently that the campus saw digital signage as a campus communications tool. Since transitioning to Carousel Digital Signage earlier this year, several departments now create and contribute dynamic, targeted content across an expansive Carousel Cloud network on UC Merced's 13 recently completed buildings as part of the "2020 Project."
The Initial Stumbles of the Project
Jodon Bellofatto, lead analyst, technology enhanced spaces, said that the university initially experienced several false starts with the digital signage. "There was one system that has survived in the library building, and another was decommissioned as it was considered too clunky and difficult to navigate. People simply abandoned it."
Bellofatto and his colleagues had many goals in mind when it came to selecting digital signage software for the 2020 Project.
Product support and user-friendly features were the most important aspects of the project. Next was interoperability, particularly CAP (Common Alerting Protocol) support for emergency alerts, and native compatibility with BrightSign media players.
There was also a desire to bring digital signage into classrooms and conference rooms, with wireless presentation systems automatically switching to digital signage content following a presentation or lecture.
Above all, the team wanted a solution that would allow multiple departments to easily create compelling and dynamic content that would engage audiences.
Upon evaluation of several solutions, the team decided that Carousel Digital Signage offered the best solution to meet all goals including scalability to existing buildings.
The Finishing Touches on the Digital Signage
"We have 49 digital signage screens active in the 2020 Project, and have since enabled six more in some older buildings as we make upgrades and renovations," said Bellofatto. "No matter where the screens are, we want software that will help us create captivating content. We have to offer something more interesting than the black mirrors that students carry in their pockets, and that isn't an easy nut to crack."
Bellofatto added that the digital signage provides accessibility to departments and invites creativity. "I can establish user permissions in a way that anyone who understands the workflow and wants to upload content to the network can do so," he said. "There are branded zones based for each department and these zones are broken down into specific channels. There is creative freedom to build landscape, portrait, and 'event' content. Carousel Cloud renders content [quickly], so any changes to bulletins and graphics will appear automatically with the right permissions."
Bellofatto also acknowledged the technical support of Carousel Cloud which was absent from interactions with previous vendors.
According to a statement, Carousel Digital Signage's native integration with BrightSign players simplified deployment, This allowed UC Merced to take advantage of zero-touch deployment, remote player configuration, and other features.
Bellofatto stated that Carousel also integrates cleanly with Mersive Solstice collaboration systems and Zoom Rooms used in meetings and classrooms.
Bellofatto now expects to enable Carousel Cloud's CAP support functionality in the future in partnership with the Campus Safety department. "My next steps are to investigate Carousel Express Players to bring campus content to our website, and to overall find new ways to accelerate our return on investment. The ability to do so much with one platform goes a very long way in achieving that goal," he said.
People and Places
Jean Pierre Filion and Nader Tadros Appointed to SFM's Executive Leadership Team
SFM recently announced two additions to its executive leadership team: Jean Pierre Filion (eng.) as vice president of revenue & growth, and Nader Tadros as vice president, of digital transformation and marketing.
According to the company, Filion will lead the company's sales organization. He will also oversee go-to-market strategies to drive its revenue and growth across all verticals and lines of business. Alongside Filion, Tadros will head the company's ongoing digital transformation. This includes building and scaling its marketing and brand management functions in support of its growth strategies.
Filion brings more than thirty years of sales and executive leadership experience. Within the IT and Telecom manufacturing spaces, including hardware, software and SaaS, he has served the enterprise and public sector markets directly and through various industry channels. He also held sales and leadership positions with Motorola, Symantec, and XMedius (now OpenText), among others.
Tadros has more than twenty-five years of international experience in both the OEM/supplier and distribution sides of the IT sector, working within a digital-first mindset. He has held a variety of management and leadership roles across sales, channel management, marketing, and distribution. Tadros also worked with companies like HP, Premier Farnell, Microsoft, and IBM. At these companies, he contributed in designing, scaling, and operating digital sales and marketing teams for software, hardware, and XaaS offerings.
Speaking on his new role, Filion remarked, "Joining an industry leader in SFM is an exciting opportunity to facilitate better user experiences as AV technologies converge into the network, and as software and services become an increasingly important part of the delivery equation."
"I'm thrilled to be able to bring my experience to such a forward-thinking company, helping it to leverage technology not only in the marketing and delivery of SFM's products and services, but also most importantly in the creation of exceptional user experiences," Tadros added.
"As the products and systems that we offer become more and more complex, it's imperative for us to provide a front-to-back experience that makes doing business easier for our channel partners, as well as creating great outcomes for end users," proclaimed Randal Tucker, SFM president and CEO. "I'm thrilled to have [Filion] and Nader [Tadros] on board to help us continue to build and scale our offerings, while continuing our ongoing transformation from a distributor to a leading full-scale services provider."
ClearOne Finishes Out 2021 Re-Connections Tour With Three Stops
ClearOne is closing out its 2021 Re-Connections Tour with a swing through several western cities.
According to a statement, the last stops for the year will be:
Boise, ID from December 1-7
Portland, OR from December 9-15
Salt Lake City, UT on December 29
The 36-foot ClearOne Tour Bus brings the company's latest conferencing, collaboration, and streaming solutions directly to commercial AV practitioners and their customers who are typically unable to attend larger trade shows and conferences.
On the tour, ClearOne will be showcasing innovative new solutions such as the BMA 360 Beamforming Microphone Array with Voice Lift and Camera Tracking, Versa Mediabar, CONVERGENCE Cloud AV Manager software and new UNITE 200 Pro camera.
In addition, the ClearOne Re-Connections Tour includes presentations, trainings, question and answer sessions, networking opportunities and demonstrations of its videoconferencing and network streaming solutions.
The tour is open to AV practitioners and their customers in each market the tour truck visits. The company will adhere to strict COVID-19 protocols at each stop of the tour.
To register for the tour, please visit www.clearone.com/reconnect.
Riedel Group Expands Management into Three Divisions
As part of its global growth strategy, Riedel Group recently expanded its management structure in three main divisions.
The "product division" and "managed technology" business units will have Rik Hoerée and Lutz Rathmann as their respective new CEOs. In addition Riedel Networks GmbH's managing director and CEO, Michael Martens, will form the group's third division.
Riedel´s Group CEO Thomas Riedel stated the new business units will allow him to devote his attention to driving business development and expanding global partnerships.
Riedel will be part of the company's spearhead with chief financial officer Frank Eischet, who is also responsible for HR, IT, and finance.
"The last year has given us time to take a deep breath and reflect on our setup. We realized that we would have to change some things to sustain the rapid expansion of our business," said Riedel. "These past few years, our company has seen tremendous growth, and 2021 is no exception. This reorganization is the foundation to master current and future challenges to our business and to continue our strong organic growth."
Riedel also added that he hopes to have a dynamic and powerful corporate structure with the new units. This in turn will allow the company to respond even more effectively to customer needs as markets continue to evolve and differentiate at a rapid pace.