Axis Communications Opens New Experience Center In Vancouver's Tech Scene
By launching the new Vancouver AEC, Axis demonstrated its commitment to expanding local in-person presence in tech and trade hubs.
Leave a Comment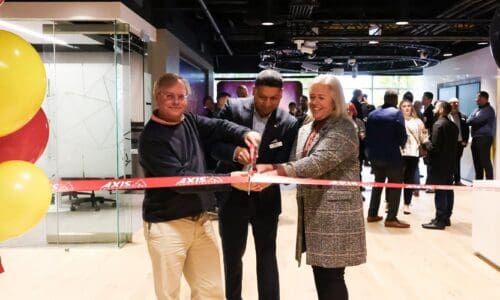 Axis Communications celebrated the opening of its newest Axis Experience Center (AEC) in Vancouver, British Columbia on November 16, 2022. Located in the heart of the city, this new facility is Axis' third AEC opening in the second half of 2022. It is also the second location established in Canada.
According to Axis, Vancouver was a natural choice to support its vision for strategic growth and innovation. The city is home to two million residents, including many Axis customers across key industries. These comprise retail, transportation, critical infrastructure and technology. Recently nicknamed "Techouver," Vancouver has seen an explosion of jobs and development for the technology sectors. It has thus welcomed Axis into the community alongside Amazon, Accenture, JP Morgan and more.
"Axis remains committed to our integrators, partners, end customers, and the communities that they serve. By expanding our geographic footprint across Canada, we're able to offer them hands-on access to our advanced technologies and work more closely together to create new solutions," says Keith D'Sa, country manager for Canada at Axis Communications.
D'sa continues, "Opening the Vancouver AEC is an exciting opportunity to establish a presence within a burgeoning tech hub and engage with our current — and future — partners thriving in this vibrant area while doubling down on our commitment to a more sustainable future."
Benefits of Vancouver AEC
Axis notes that Vancouver AEC will give local customers, partners and business leaders the opportunity to interact with the latest and most innovative network technologies in real-world scenarios before deploying within their own organizations. The AEC showcases the latest in video surveillance, access control, audio and intercom technology. It also features newest innovations from 2N as well as cutting-edge analytics applications. Some examples are Axis Object Analytics (AOA), Perimeter Defender, People Counting, License Plate Verifier and more.
The location will also serve Axis' ongoing mission to minimize the environmental impact of its operations. In doing so, it will help reduce Axis' carbon footprint and enforce responsible use of natural resources. The new AEC is located within the Broadway Tech Center. This is a 17-acre business-campus offering sustainability features with the goal to reduce energy use. For example, it has green roofs, electric vehicle charging stations and bicycle lockers to promote alternative travel.
Also Read: Axis Communications on Network Audio Solutions, Software-Enabled Speakers
This AEC was celebrated with a grand opening, featuring a ribbon cutting, presentations from community stakeholders and tours of the facility. With more AEC announcements planned before the end of the year, Vancouver joins other AEC locations. These comprise New York City, Boston, Atlanta, Chicago, Dallas, Fort Lauderdale, Houston, Los Angeles, San Jose, Washington D.C., Toronto, Mexico City and Sao Paulo.