Just Add Power Integrates With Jetbuilt
The integration will allow dealers to find optimized updates of all Just Add Power products and pricing within the Jetbuilt platform.
Leave a Comment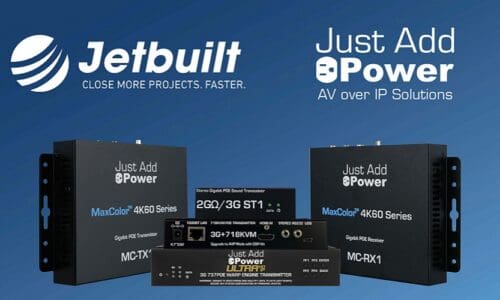 Just Add Power, prominent in AV-over-IP distribution, has now integrated with California-based Jetbuilt, the global company in web-based project estimating and management platform for integrators, consultants and facility designers. Dealers can thus find optimized updates of all Just Add Power products and pricing directly within the Jetbuilt platform.
"Just Add Power is built on the mission to enable fast, efficient installations," says Ed Qualls, CEO and founder of Seminole, Fla.-based Just Add Power. "Integrating with Jetbuilt furthers that mission. Our dealers can build projects and quotes with our solutions right from the Jetbuilt platform." He notes that this adds greater savings on labor at the outset of any project. Qualls thus states, "We're very pleased to have this partnership come to fruition."
Providing Intuitive Solutions
Jetbuilt's database hosts over 2 million low-voltage items with a smart search tool. As a result, it is easier to find an item and drop it into a project. When Jetbuilt users search for a Just Add Power item, they'll find current products, images and descriptions. This includes its new MaxColor 4K60 Series transmitters and receivers. More importantly, dealers will see their costs, provided by Just Add Power or their chosen distributor.
Built by an AV integrator, Jetbuilt's flagship sales platform is an efficient tool for integrators, the company states. It helps them easily quote a project, render a well-presented proposal and sell more jobs faster.
Also Read: Jetbuilt Partners with AV-iQ
Since its launch in 2015, the innovative software has grown into a powerful and complete project platform. It now offers intuitive solutions for lead tracking, estimating, proposing, installation, service and more. Per a statement, some of the largest system integrators and end users around the world rely on the platform.
"We are excited to have Just Add Power partner with us for optimized updates to its products and pricing in the Jetbuilt database," adds Paul Dexter, Jetbuilt founder and CEO. "This new relationship will serve Just Add Power dealers well who use Jetbuilt for fast and confident quoting."