Mount-It! PRO Joins AV-iQ
Among the many manufacturers joining the AV-iQ platform, Mount-It! PRO is the most recent, gaining an AV-iQ showroom.
Leave a Comment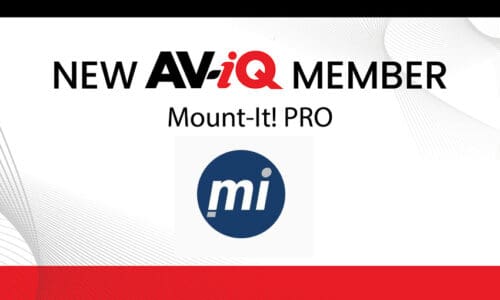 AV mounts manufacturer Mount-It! PRO recently joined the AV-iQ platform. Now, the company has an AV-iQ showroom.
Mount-It! PRO is a trusted brand name for office and business needs. Indeed, the company specializes in professional mounts and office equipment, focusing on ergonomics and creating a healthier work environment. Mount-It! PRO emphasizes smart, simple solutions. The company focuses on providing exceptional customer service, sourcing high-quality products and offering a wide selection to meet the end users' needs.
AV-iQ is the most comprehensive database of commercial AV, production and video products. AV-iQ.com targets industry professional end users. What's more, it provides tools for them to research, compare and stay current on the latest information. Users can sign up for free at av-iq.com/myiq. Manufacturers interested in having their own AV-iQ showroom, or integrators interested in having their own digital catalog or data service from the AV-iQ database, can contact sales@av-iq.com.
View Mount-It! PRO's AV-iQ showroom at https://www.av-iq.com/avcat/ctl1642/index.cfm?manufacturer=mount-it-pro.
For previous Commercial Integrator coverage of AV-iQ, check out our website archives.