Platinum Tools Giving Away MapMaster Mini New Product Kits at ISE 2019
Platinum Tools kit includes MapMaster mini RJ45 cable tester, network ID only remotes, RJ45 port saver, 5-inch network patch cables, rollup pouch and more.
Leave a Comment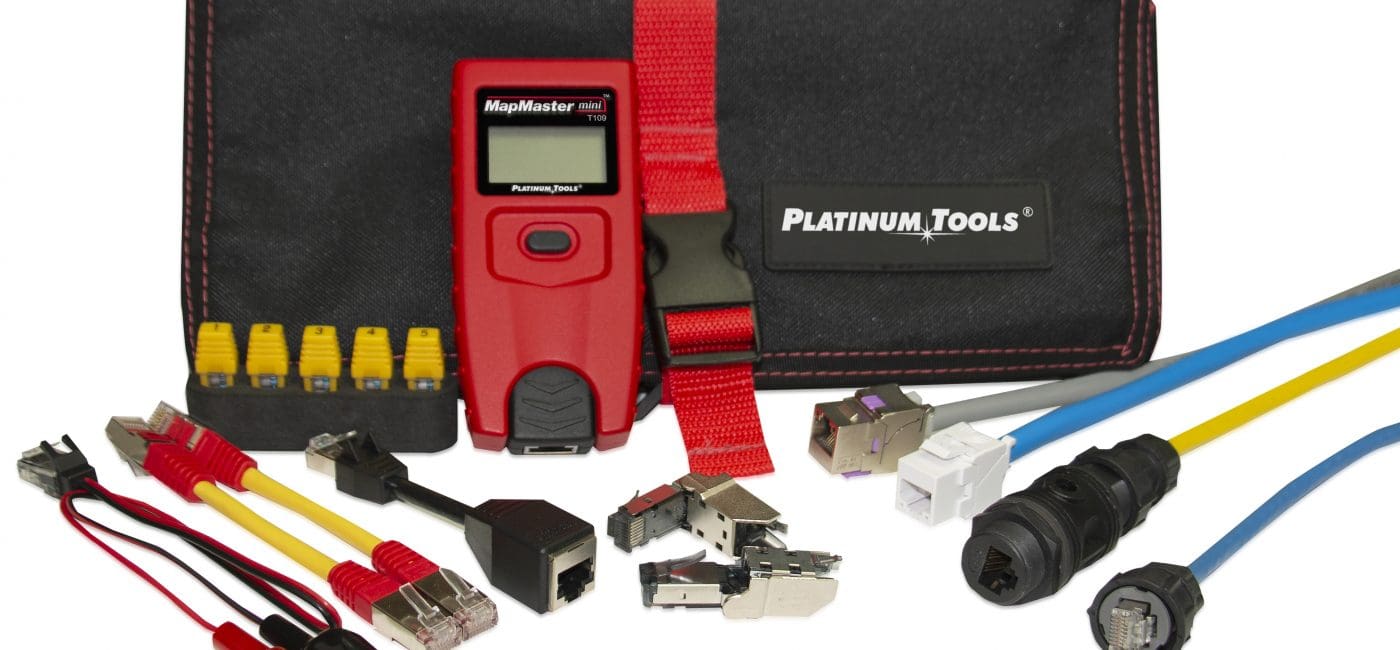 Platinum Tools recently announced it will give away eight MapMaster mini new product kits during ISE 2019 in Amsterdam from Feb. 5-8 at RAI Amsterdam [stand #14-K165].
Potential winners only need to come by the Platinum Tools stand during the show and get scanned to gain entry to the daily giveaway. Two winners will be awarded each day of the show.
The MapMaster mini RJ45 cable tester (p/n T109C) maps multiple locations and detects shorts, opens, miswires, reversals, and split-pairs. It includes a built-in tone generator and auto-off to extend battery life.
The new product kit includes:
MapMaster mini RJ45 cable tester
Network ID Only Remotes #1-5
RJ45 port saver
5-inch network patch cables (2 pieces)
Cable assembly, RJ45 to alligator clips
RJ45 shielded flex connector (2 pieces)
Keystone Cat6A jack (STP/UTP; 3 pieces)
Waterproof RJ45 splice coupler
Platinum Tools rollup pouch
For additional pricing and more information on Platinum Tools and its complete product line, please visit www.platinumtools.com, call (800) 749-5783, or email info@platinumtools.com.
Platinum Tools is also shipping EXO termination kits and will show them at ISE 2019.
Platinum Tools EXO termination kits have MSRPs of $289 (p/n 90185) and $239 (p/n 90186).
"Featuring the EXO crimp frame with the EXO-EX and the EZ-RJ45 interchangeable dies, the EXO termination kits supply everything you need to terminate Cat 5e, Cat 6, and Cat 6A cables," said Platinum Tools, Inc. product manager John Phillips in the company press release.
Read Next: Getting Around at ISE: How to Make the Most of Your Integrated Systems Europe Experience
"Using the original EZ-RJ45 Cat 5e and ezEX-RJ45, ezEX44, and ezEX48 connectors give installers the fastest solution for terminating Ethernet cabling," he said.
The EXO cut/strip/terminate kit (P/N 90185) gives users that need all the tools to prep and terminate a cable. The EXO termination kit (P/N 90186) comes prepared to accept additional tools with a foam insert that has tear way foam to put strippers and cutters.
"These are the ideal, complete kits," Phillips says. "Every installer should have these on hand during every call."