SDVoE Alliance Expands Developer Certification Program
The SDVoE Alliance is making comprehensive training free for programmers and developers with its Level 1 and Level 2 certs.
Leave a Comment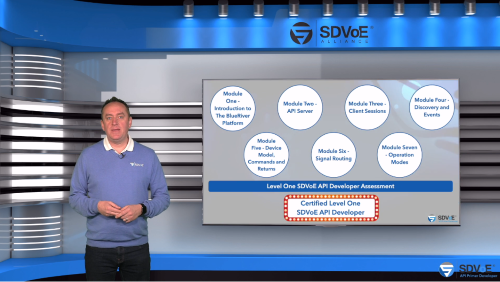 The SDVoE Alliance has announced an expansion of the free SDVoE Developer Certification Program. According to the alliance, this expansion is meant to allow access for all programmers and software developers. In addition, a more advanced Level 2 certification has now joined the original, more basic Level 1 qualification course.
Each level consists of seven online video modules, followed by an exam. Once someone completes a level successfully, it confers SDVoE Developer status and opens access to additional resources. Detailed online documentation walks developers through the more complex features of the SDVoE API.
The SDVoE Alliance Vision
The SDVoE Alliance seeks to accelerate the replacement of point-to-point connectivity and the matrix switch with Ethernet-based AV distribution.
"During the past year, we worked closely with a select group of AV programmers and software developers to design and perfect a complete program that provides the foundation for easily creating amazing user experiences on the SDVoE platform," Justin Kennington, president of the SDVoE Alliance, said. "We took participants' feedback and advice to create a truly useful training environment."
Kennington continued, "The open SDVoE API is quickly becoming the standard application-development platform—'the Android'—for pro AV." He described it as the way for developers—small independents and large manufacturers alike—to occupy the same arena. Kennington said they can "…create outstanding user experiences built around audio and video distribution."
Matt Dodd, head of education for the SDVoE Alliance, emphasized the importance of ongoing training and support around the SDVoE API.
"[Those are] key differentiators for what we're doing in the SDVoE Developer Certification Program," he said. "We are taking a very proactive approach to working with developers and fostering a vibrant user forum." There, Dodd continued, SDVoE members and certified developers can mingle and share tips, tricks and questions.
For more information about the SDVoE Developer Certification Program, go to the SDVoE Alliance's website.
For Commercial Integrator's prior coverage of the alliance, read through our archives.