SoundTube Debuts High Performance Amplifier at ISE 2023
SoundTube's new feature-rich compact Class D 4 x 200 watts/channel amplifier is designed for continuous use.
Leave a Comment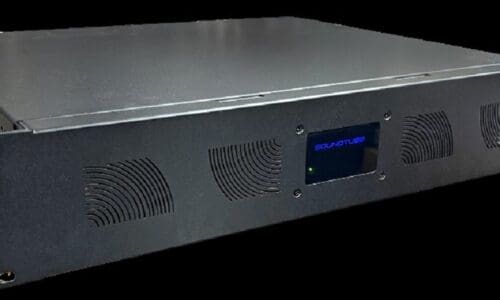 Kansas-based SoundTube Entertainment announced the debut of the MCA2004t Audio Distribution Amplifier at ISE 2023 in Barcelona, Spain. The event will take place on Jan. 31, 2023 through Feb. 3, 2023, in Fira Barcelona Gran Via. According to SoundTube, the new amplifier is currently in production and scheduled to ship globally later this quarter.
Driving Commercial-Audio Applications
The compact high-performance SoundTube MCA2004t amp is suitable for continuous use in commercial and professional applications. It comes with a powerful 200W at 8 ohm direct or 70/100V constant voltage output per each of the four channels. Thus, the MCA2004t has the muscle and flexibility to drive most commercial-audio applications.
The Class D amplifier features Euro block-style connectors for both balanced and unbalanced audio signals. Additionally, the amplifier's input routing feature uses a matrix mixer that allows all connected speakers to be driven by a single or multiple sources.
With selectable 70 Hz high pass filtering, the amp avoids overdriven bass frequencies that could cause distortions. The amplifier has a subwoofer mode selectable on Channel 1 and Channel 2. This then applies a120 Hz low pass filter and allows users to select 120 Hz high pass to the other channels. When users select subwoofer mode for a particular channel, the output impedance automatically changes to 4 ohms.
Also Read: MSE Audio PhaseTech Amplifies Cinema Experience at Scottish Hotel
Additional Features
The feature-rich MCA2004t amp includes auto-signal sensing or a standby trigger along with an auxiliary port. This helps remotely monitor the health of the amp. It also has forced air cooling with a variable speed thermostatically controlled fan.
According to SoundTube, the amp has overload, short circuit, DC offset and thermal protection circuits with Power/Standby, limiting and protection LED indicators. The amp thus provides long-term reliability of operation and includes the right mix of technology to ensure many years of trouble-free operation. The amp is 19 inches by 15.75 inches and 3.5 inches at 17.14 lbs. It also uses a compact two-rack space chassis.
"Dealers have asked us for a simple and reliable amp solution for distributed audio systems," says Ken Hecht, vice president of MSE Audio. "The MCA2004t easily integrates into any distributed audio system and has the features, power, reliability and value needed for continuous commercial applications. The versatility of the matrix mixer and subwoofer mode makes the amp well suited for restaurants, retail, outdoor applications or any installation requiring full-range audio."
The SoundTube/MSE Audio team will be at stand 7-A400 at ISE 2023, a statement notes. Here, MSE Audio will feature a variety of commercial- and residential-audio solutions. These include the full STNet Dante-enabled audio distribution products; EN 54 part 24-rated loudspeaker solutions that meet EU's standard for fire detection and alarm systems; Focal Point domes for sound-triggering applications such as museums; and Solid Drive's invisible sound transducers for foreground, background, and sound masking applications.
Phase Technology will also feature the new Premier Lux and Power Lux home theater speakers and subwoofers. Soundsphere and Rockustics products will also be on display.