Key Digital Adds to New Proprietary HDMI Extension Technology Lineup
Key Digital introduces Ultra High Definition over Twisted Pair technology for full-featured HDMI extension.
Press Release
Leave a Comment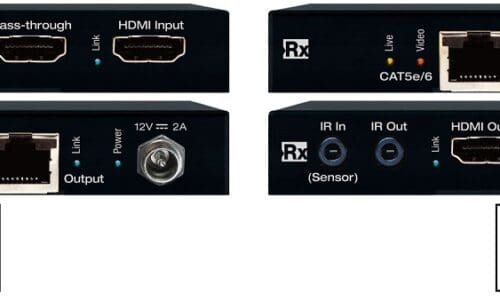 Key Digital, a manufacturer of digital video processing and video signal distribution solutions, continues to add to the product line deploying its newly developed proprietary HDMI extension technology – Ultra High Definition over Twisted Pair (UHDoTP) – a new cost-effective protocol for extending 4K 18Gbps HDMI signals with HDR over a single CAT5e/6 cable.
UHDoTP is featured in Key Digital's KD-EX18G HDMI extender kit, KD-EXWPSTx single-gang wall plate transmitter and presentation switcher (the single-gang configuration satisfying a frequent request by Key Digital's integrator customers), and KD-EX18GRx black box receiver.
UHDoTP features fully automatic adjustment of cable length compensation feedback, equalization and amplification parameters; 4K resolution support up to 4096×2160/60Hz/12-bit at 4:4:4; lossless transmission to 10.2Gbps bandwidth and visually lossless compression to 18Gbps; selectable 4K to 1080p down conversion; EDID display identification handshaking; HDR10 and HDCP 2.2 support and compliancy; and surround audio support.
Additionally, UHDoTP extends 4K 18G signals up to 40m / 131ft when used with CAT6A STP cable, or up to 35m / 115ft when used with CAT5e/6. 1080p resolution, including down-converted content, is extended up to 60m / 197ft when used with CAT6A STP, or up to 50m / 164ft when used with CAT5e/6.
Using the UHDoTP 4K-to-1080p down-convert feature allows integrators to mix display models and capability within a system, accommodating integration of new and legacy displays by giving the option to choose where this feature should be enabled per output.
"A great example of when down-converting might be necessary is when our integrators discuss projectors," says DeWayne Rains, VP of Sales for Key Digital.
"Without down-convert technology, a costly 4K projector would be necessary, which adds a significant price increase that the end user may not be ready for. How many 4K PowerPoint presentations do you see? With UHDoTP technology you can have a mix in which perhaps a front lobby needs to be 4K, but the remainder of the system is great to go on 1080p sets. Our integrators asked for this technology, and we're happy to see what a huge value it adds to systems by reaching a higher quality and a lower price point," he says.
The KD-EX18G complete Tx and Rx kit is ideally suited for bar/restaurant, digital signage and residential environments. The compact, black box Tx and Rx pair additionally feature flexible power over CAT (PoC – only one power connection needed; Tx may power Rx or Rx may power Tx) and bi-directional IR remote repeating. The Tx unit offers an HDMI pass-through output.
The KD-EXWPSTx presentation switcher and transmitter, perfect for conference room, huddle space and classroom applications, features HDMI and USB-C inputs; automatic, USB or manual push button source switching; PoC (the wall plate Tx unit can be powered by the KD-EX18GRx stand-alone receiver); and configuration via Key Digital's Management Software Pro. KD's "Full Buffer System" manages TMDS re-clocking / signal re-generation, HDCP authentication to source and display, EDID control handshake and hot plug detection.
If you enjoyed this article and want to receive more valuable industry content like this, click here to sign up for our digital newsletters!