AV News to Know October 29, 2021: New Products, Cool Projects and People in New Places
In this week's edition: an upgraded wall mount display, a new sound system for a sports bar, a cross-country road trip, and more.
Leave a Comment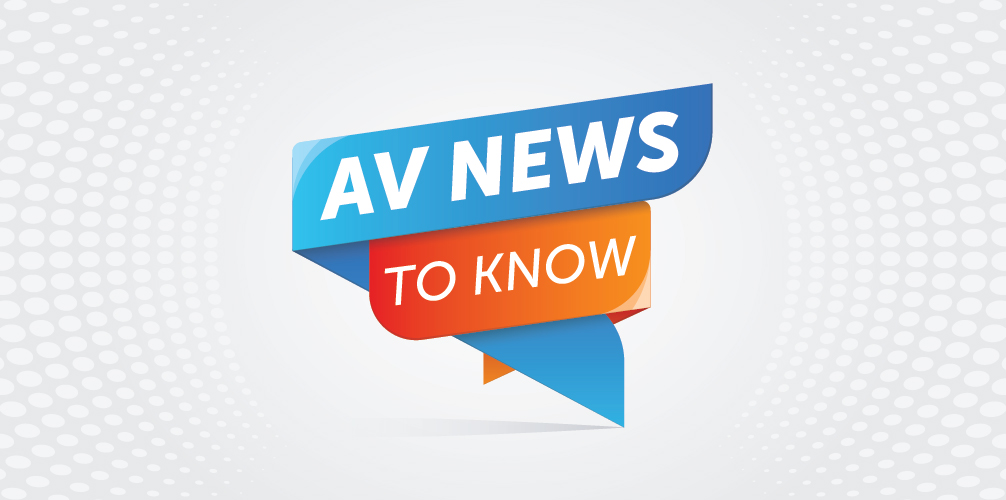 Here's a closer look at some of the AV news, products and projects you might have missed this week. We call it AV News to Know:
New AV Products
VuWall Unveils NewTek NDI Protocol Support
VuWall announced that its all-new TRx 3.1 Video Wall Management Platform can easily route NewTek NDI-encoded sources to a combination of NDI-enabled decoders, including VuWall's new VuStream 150 encoder/decoder and the entire VuScape series of video wall controllers. The company also stated that its VuScape processors can open multiple NDI sources simultaneously and display them in a multiview format on a video wall. The NDI and NDI|HX format also expands the many supported protocols of VuScape.
According to the company, NDI is a royalty-free technology that allows audio, video and data sources to be shared bi-directionally across a network. It eliminates costly direct connections, expensive cable runs, and infrastructure upgrades while making any source available for any destination on the network.
"Earlier this year we launched our initial efforts to incorporate NDI into our ecosystem with the announcement of our VuStream 150 appliance," said Paul Vander Plaetse, CEO of VuWall. He further disclosed, "Only four months later, we're expanding that support into all our video wall controllers, providing our customers with increased interoperability and simplicity for their AV-over-IP workflows. Currently, we're the only manufacturer to provide video wall controllers that can decode any NDI stream — even those generated by third-party manufacturers — and open multiple NDI sources simultaneously on a single logical surface."
Stephen Simons, business development, Displays at NDI also praised VuWall. "Their strategic approach in supporting NDI is a testament to the value that NDI technology brings to video wall applications across all industries," said Simons.
rp Visual Solutions Reveals new Wallmate™ Surface Display Panel Mount
rp Visual Solutions announced the expansion of the Wallmate line of mounting solutions with the addition of the new Wallmate Surface, an on-wall system designed for single display panel installations.
The company stated that like all Wallmate mounts, the Surface was designed for clean installation of the display and peripherals such as video receivers, signage players, or UC interfaces could be mounted to plates inside the back box.
According to rp Visual Solutions, by leveraging the concepts from the highly successful and adaptable Wallmate Universal Mount design, the arm systems on the Surface can accommodate most VESA compliant and non-compliant displays.
"With the addition of Surface to the Wallmate line, we are providing consultants, building owners, and integrators a complete range of display mounting solutions." said John Brereton, general manager of rp Visual Solutions. "Project managers and service leads can expect the same ease of installation, maintenance, or upgrade access across an entire facility, saving time and money."
The company added that the system's design allowed for displays and peripheral electronics to be staged offsite in assembly line style before installation. Once a wall box wad installed, the peripheral plates and displays can be quickly and securely mounted in place. Many peripherals can be added while still maintaining a minimal depth of 2" from the back of the display to the wall, assisting with ADA compliance. Moreover, the door system and back can be set to swing open to the left or right. The wide swing arc allows for easy, open access to internally mounted components.
According to rp Visual Solutions, the Surface, like the Wallmate 16, 32, and 32MAX, is built entirely of steel to be structurally robust and provide long term reliability, which ensures that large interactive touch screens can be mounted rigidly without any wobble or bounce.
Audio Visual Projects
Sports Bar Installs Powersoft's Dynamic Music Distribution
In Italy, Powersoft's Dynamic Music Distribution (DMD), an audio system provided the soundtrack to Kent's Matches Bar, a new sports and entertainment destination.
According to Ashley Bond, managing director of system designer and installer MADE Worldwide, the Dynamic Music Distribution by Powersoft offers SIs the ability to scale inputs and zones conveniently and efficiently with dynamic routing capabilities embedded on its amplifier platforms. As a result, it made it easier to dynamically route music and other signal sources along with control signals between different zones and across multiple amplifiers – all independently of source location and without the need for a centralised DSP.
"By using Powersoft's Dynamic Music Distribution solution, we were able to keep our design simple all the way through, from designing the project to handing it over to the client," explained Bond. "The client is then left with a powerful start-to-finish solution from a single industry leading manufacturer, providing them with a safe and secure audio system that's really going to push through," she added.
According to the company, two Mezzo 604 ADs, Powersoft's four-channel, 600W compact amplifier, power the entirety of the 250-capacity Matches Sports Bar, Grill & Social, forming the core of a hospitality venue incorporating multiple distinct audio zones and spaces. There is also a single 4.3" wall-mounted Powersoft WM Touch screenbehind the counter that gives complete control of the entire DMD system, including Mezzo's embedded dynamic routing capabilities.
Matches Sports Bar owner, Jon Shephard, hoped that this would lead to the "ultimate sports bar experience."
According to Shephard, with a single four-channel Mezzo amplifier now able to drive up to four independent zones of audio (with the help of Powersoft's new ArmoníaPlus 2.2 software release), the DMD ecosystem helped bring to life his vision for the venue, with a "tailored sound experience in each individual area."
People and Places
ASI Audio Appoints Z Marketing Specialists Inc. as Rep for California and Las Vegas
ASI Audio, manufacturer of the 3DME in-ear monitoring and hearing protection system, announced the appointment of the Mission Viejo, California-based firm Z Marketing Specialists Inc. as its manufacturer's representative for Southern California and Las Vegas, Nevada.
"Steve Zanki and his team have nearly three decades of dealer relationships in the Southern California and Las Vegas markets, and they are truly one of the cutting-edge rep firms in the pro audio industry," stated VP of Marketing and Sales for ASI Audio, Evan MacKenzie.
Echoing MacKenzie's statements, Zanki also added, "ASI Audio's 3DME in-ear monitors are a perfect complement to our existing product lines and fulfills a real need in the market for our dealers and their customers…We are looking forward to getting the 3DME system into the hands of dealers whose customers are looking for the next level in personal monitors."
SMPTE's Barbara Lange Steps Down as Executive Director after 12 Years
On October 22, 2021, SMPTE, the home of media professionals, technologists, and engineers, announced Barbara Lange's departure as the Society's executive director at the close of 2021, marking the end of her current contract.
According to SMPTE, achievements during Lange's tenure included the creation and institution of a new, more comprehensive three-year strategic business plan process; reimagination of the SMPTE brand and the Society's web presence; the launch of the SMPTE Digital Library; completion of a successful capital fundraising campaign and celebration of the Society's centenary; publication of more than 200 engineering documents including groundbreaking standards such as SMPTE ST 2110, SMPTE ST 2067 (IMF), and SMPTE ST 2084 (HDR); production of the first virtual presentation of the Society's annual technical conference; successful navigation of the pandemic through the acquisition of government support and loan forgiveness; and the launch of the innovative Rapid Industry Solutions (RIS) program.
Speaking on her departure, Lange remarked, "Of all that SMPTE has achieved during my tenure, I'm most proud of how we've transformed the Society into a modern organization that remains very relevant 105 years after its founding." She further added, "I've had the honor of working with so many impressive people to help SMPTE thrive and continue to play a vital role in supporting the media industry. Thanks to the dedication and hard work of the home office staff and SMPTE volunteers, the Society today stands ready for any future challenge."
SMPTE President Hans Hoffmann also praised Lange and stated, "Under Barbara's leadership, SMPTE has become a truly international society committed to facilitating industry interoperability through industry standards, making relevant education accessible to all industry members, and fostering a vibrant and inclusive membership community."
Crestron Announces Cross-Country Road Trip for Hands-on Trainings and Demos
Crestron Electronics announced the full details for the Crestron Next Road Trip event series introduced earlier this month prior to the InfoComm® show.
According to the company, the trip was designed to augment Crestron's presence at large industry trade shows by including more intimate local events where attendees will have the chance to experience hands-on, one-on-one trainings with all of the key technology platforms, demos from select technology partners, and discussion sessions with industry experts from Crestron and other area professionals.
Crestron disclosed that each stop will offer attendees a first look at product category launches, updates on the latest Crestron Home features and third-party extensions, demos on new home office solutions, and four brand-new Crestron Home™ operating system training courses, two of which are CTI certified.
Kicking off from November 17 through the 18 with a visit to Boston, Massachusetts; the Crestron Next Road Trip will begin with stops in four U.S. cities throughout fall and winter, with additional locations in the U.S. and Europe to be scheduled in the coming months. The second stop will be in Chicago, Illinois from December 8 through December 9.