Evolis Introduces New Self-Service Kiosk Printers
French manufacturer Evolis now offers more possibilities to customize its printers to fit a myriad of markets.
Leave a Comment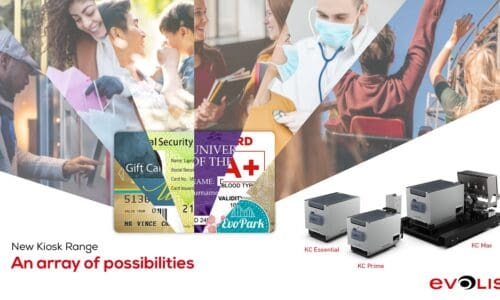 As the instant issuance of plastic cards at self-service kiosks is becoming more widespread, Evolis, a French manufacturer of card printers is introducing three new products to its KC product line: KC Essential, KC Prime, and KC Max.
"We have redesigned our range to adapt it to the new needs of integrators," said Agnès Puel, Product Manager at Evolis, in a statement. "This work has led us to improve the features of our existing products but also to create new products."
The KC range three new products are the following:
KC Essential is the most compact out of the product line. It offers the possibility of integrating a bezel and a third-party feeder.
KC Prime is the new, improved version replacing the KC200 and KC200B products. It offers new features, such as the illuminated bezel, and provides more flexibility in mechanical integration.
KC Max provides more autonomy in the operation of the printer and it allows printing on several different card templates.
The KM product line remains unchanged with two autonomous printers: the KM500B and KM2000B.
Advantages
Evolis now offers customers more possibilities to customize its printers. The new features now represent new business opportunities. The advantages of these new products include the following:
Increased points of interaction with customers/users
Improved user satisfaction and experience by reducing wait times at the counter and providing 24/7 service
Reduced personnel costs
Companies can benefit from an innovative brand image
Reaching new markets
The new products allow the company to reach new markets. Possible markets and their applications include:
Education: access control, payment (cafeteria, copy service, local businesses, etc.), book borrowing, access to the educational system (timetable, grades, etc.), identification, material loans, travel pass Finance: credit card, debit card, prepaid card, replacement of lost or stolen cards, opening a payment card account
Governments and administrations: birth certificate, social security card, residence card, education certificate, family card
Health: identification badge for nursing staff, COVID health card, organ donor card, blood type card, patient card, access and identity control, parking access, cafeteria payment
Stores: prepaid card, gift card, loyalty card
Hotels and leisure activities: event badge, entrance or season pass for amusement park, membership card, hotel room key, boarding pass for cruise ships, ski pass, souvenir card