Ashly Audio Provides Reliable System for All Climates at Łódź Zoo in Poland
Ashly Audio's sound system was humidity and high-temperature resistant, and elevated the guest experience for visitors at Łódź Zoo.
Leave a Comment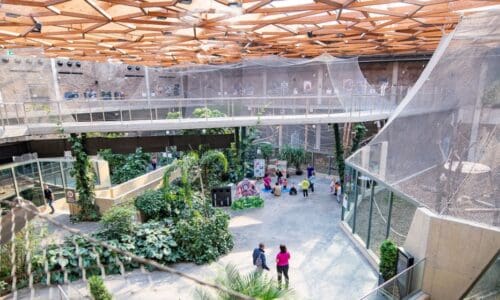 With 810,000 tickets sold since opening day, the new Orientarium at the Łódź ZOO in Łódź Poland has easily become a must-see attraction. As the preparations to build this modern breeding facility began, it was necessary to have a reliable sound system. Moreover, it needed to be both humidity and high-temperature resistant, and would elevate the guest experience for visitors of the zoo. Webster, N.Y.-based Ashly Audio then stepped in to provide Łódź ZOO all of the above with their speakers and amplifiers.
Łódź ZOO, established in 1938, is home to nearly 3,350 animals. It represents over 554 unique species from Sumatran orangutans to Indian elephants. In 2022, the zoo opened the new Orientarium, dedicated to Southeast Asia. The 33,000-square-meter breeding complex hosts multiple climates, from a 26 meter-long underwater tunnel with 7 ocean reservoirs holding 3 million tons of water, to an area where the temperature reaches 75 to 78 degrees Fahrenheit with 80% air humidity.
Adjusting the Sound System for Various Climates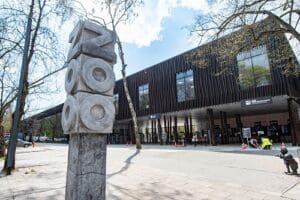 The Tommex Company is a firm that specializes in design, supply and configuration of sound systems. It worked on integrating a compatible sound system to a variety of climates within the Orientarium facility. Whether it be humid or dry, or above or below ground, the speakers and amplifiers needed to be reliable. At the same time, they needed to also produce quality sound.
Ashly Audio supplied its AW 5.2T and AW 8.2T speakers to cover a large area of the Orientarium. The AW Series speakers could combat the dense humidity and high temperature challenges presented by the location. They also provided a wide range of frequencies and even coverage throughout the facility.
"Ashly's AW Series seemed to be the perfect fit to for the need of a unique sound system at Łódź ZOO's; these speakers were designed to match the performance of expensive on-wall speakers, at a fraction of the cost," explains Noel Larson, EVP of sales and marketing at Ashly Audio.
Larson adds, "The speakers are also dust- and water-resistant which is necessary for outdoor and indoor installations, especially in public spaces such as a zoo."
Given there would be thousands of visitors each week, it was important to have a reliable sound system. Alongside the durable AW Series, Tommex selected Ashly Audio's FA250.4 amplifiers in the main control room. The amplifiers don't just power the loudspeakers, but also work as back-ups. In the event of one of the amplifiers powering down, the other can immediately switch fonic and speaker signals to itself. Additionally, the room includes two Ashly ne8800 matrix processors. These are responsible for digital signal processing and routing of signals using Dante protocol.
Also Read: Aquarium of the Pacific Turns to Epson for Enhanced Accessibility
Building a Reliable and Flexible System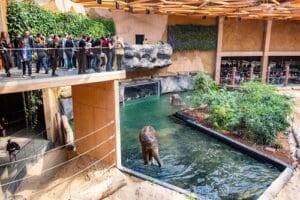 Ashly Audio's FA Series is extremely flexible: while a typical 125-watt per channel amp delivers that maxim of watts, the FA-125.2 and FA-125.4 shares between channels. By producing 250W total per pair, FA Series allows users to design a system where the watt quantity is adjustable and distributed between each amp. It also allows one amp to be replaced by two if needed.
"Having a reliable amplifier is equally as important as having quality speakers in the facility," Tomasz Lulkiewicz, project manager at Tommex, expands. "Whether it be projecting a fun fact or an announcement, guests need to be able to hear it clearly. A trustworthy amplifier system such as the FA Series ensures that if an issue were to arise, the technology would be able to quickly provide a solution without disrupting guest experiences."
The established IRBIS Company from Łódź, a partner of TOMMEX, performed the complete sound-system installation for this impressive and highly complex project. In so doing, it ensured the high quality expected by the investor.
Ashly Audio will continue to provide clear audio to Łódź ZOO's guests and ensure reassurance to its users for years to come.
If you enjoyed this article and want to receive more valuable industry content like this, click here to sign up for our digital newsletters!