Atlona Expands All-IP AV Distribution Applications at InfoComm 2019
New Atlona demo zones, including a Zero UI Meeting Space, portrait-mode video wall support and OmniStream wallplate encoder, provide live use cases.
Leave a Comment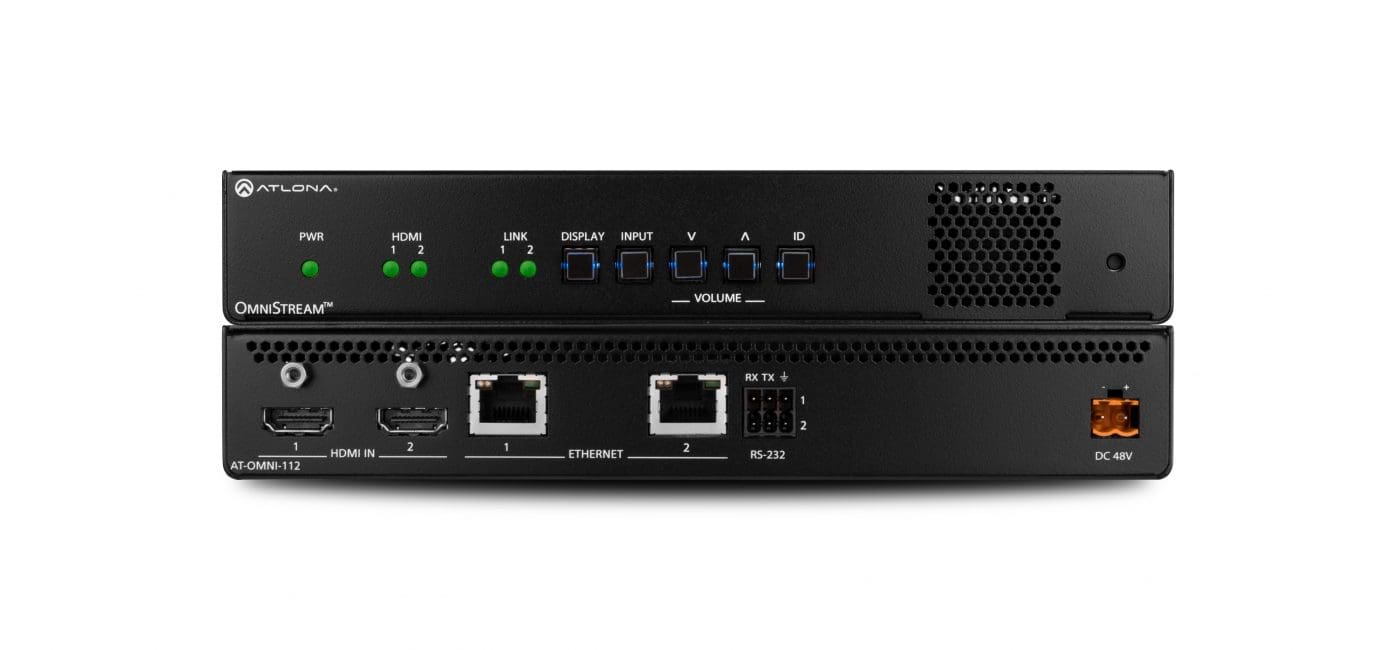 Atlona, a Panduit company, will "unleash a series of new innovations that emphasize the benefits and value of IP networking and control in commercial AV" at InfoComm 2019 in Orlando June 12-14 [booth 3012].
Anchored by demonstrations featuring Atlona's latest OmniStream (AV over IP) and Velocity (IP based AV control) solutions, Atlona will "show how all-IP AV distribution strategies empower complete and flexible configurations within meeting spaces, classrooms and other AV environments," according to the company press release.
Video Wall Over IP
InfoComm 2019 marks the North American debut of OmniStream's integrated processing functionality to enhance video wall performance.
The embedded scaling, video processing and advanced video synchronization mechanisms in OmniStream decoders ensure precise synchronization of content between each decoder and corresponding display tile. The result is a single, cohesive image magnified across all displays.
New for InfoComm 2019, OmniStream's integrated video processing now supports 90- and 270-degree image rotation, which enables vertically stacked video walls and portrait mode, which is common in digital signage applications.
"The enhanced functionality provides users with an easier and affordable solution to feed and manage content in retail, hospitality and campus environments where portrait-mode visuals captivate mobile audiences," according to the Atlona announcement.
Atlona will also unveil a hands-on demonstration where users will experience the drag-and-drop simplicity of using Velocity touch panels for portrait-mode and vertically-stacked video wall configurations.
Zero UI Meeting Space
Atlona continues to evolve its All-IP Meeting Space message with new Zero UI functionality that automates presentations without the need for manual switching via a user interface or control screen.
The Zero UI Meeting Space utilizes Atlona's OmniStream encoder grouping strategy to automatically switch between sources in the meeting space or classroom. Upon sensing the presence of a new signal, the system will transition to the corresponding encoder, and switch off routing from the previous encoder.
The Zero UI Meeting Space will exhibit how several contributors can collaborate on a single presentation, leveraging BYOD capability or peripherals installed in the space. Atlona will connect three OmniStream single-channel encoders to three source devices (such as cameras or laptops) to demonstrate seamless, automatic ultra-fast switching.
A new wallplate version of Atlona's OmniStream 111 (AT-OMNI-111) encoder, the AT-OMNI-111-WP, will debut at InfoComm 2019 and feature in the demonstration.
The AT-OMNI-111-WP brings together the same features and functionality of the AT-OMNI-111 into a two-gang wallplate, including 4K/UHD @ 60Hz and full HDR support, network error resilience and standard IEEE 802.3af PoE powering.
The U.S. two-gang enclosure for Decora-style wallplate makes the AT-OMNI-111-WP ideal for installation in floor boxes, lecterns and divisible rooms, providing signal routing flexibility.
Any-to-Any Routing
Atlona will also evolve its message of speed and flexibility for AV over IP systems design and integration, with an emphasis on quick "any-to-any" routing of multimedia sources in the All-IP Meeting Space.
This includes low-latency routing and distribution of video, audio and USB traffic between many sources and distributions, and with interoperability due to Atlona's compatibility tests with third-party solutions.
Atlona's new fast switching feature plays an important role in Atlona's "any-to-any routing" strategy by accelerating switching time for sources, with switching time reduced to less than 10 milliseconds.
In addition to OmniStream encoders and decoders, the demonstration will include Atlona's complete range of network-switchable OmniStream USB over IP device adapters (AT-OMNI-311, AT-OMNI-324), and AT-HDVS-CAM USB PTZ camera.
"Our latest OmniStream and Velocity innovations amplify the value proposition of transitioning to an All-over-IP strategy with Atlona thanks to a robust, reliable and feature-rich toolset that supports complete room configurations," said Gregory Mirsky, product manager for networked AV at Atlona, in the company announcement.
"We continue to solve problems and simplify design and functionality for our global network of partners, systems integrators and end users as the industry continues its aggressive transition to IP networks and topologies," he said.