AtlasIED at InfoComm 2021: Atmosphere, Hidden Speakers,
AtlasIED at InfoComm 2021 will showcase several of its new and recently released products, including its digital audio platform Atmosphere.
Leave a Comment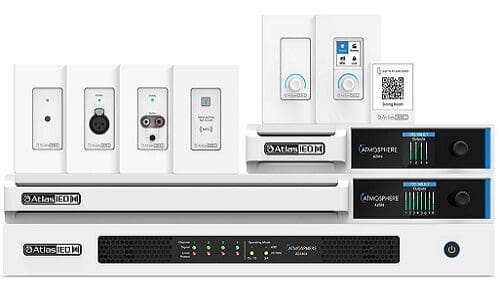 Audio solutions manufacturer AtlasIED at InfoComm 2021 (booth #2311) will showcase several of its new and recently released products, including its digital audio platform Atmosphere for the first time at a global AV trade show.
The Atmosphere platform, launched last year, is designed to make configuration and installation easier than traditional digital audio systems, featuring the modularity, scalability and quality to support the audio needs of a wide range of commercial applications, according to the company.
The solution features integrated touchless control, automation and AI capabilities with bell scheduling and stereo support that provides commercial users a simpler way to manage audio. .
According to AtlasIED, the company at InfoComm will showcase several key components of the system, including an 8-zone and 4-zone audio processor (AZM8 and AZM4), wall-mounted controllers for volume, source and zone selection; remote input devices for RCA, XLR, and Bluetooth connectivity; a technologically advanced ambient noise sensor, and 400- and 800-watt 4-channel power amplifiers (AZA404 and AZA804).
The company will also highlight its expanded line of Strategically Hidden Speakers (SHS) with the addition of the SHS-3T2 and SHS-LF, designed for sound masking and high-quality background music applications.
According to AtlasIED, the SHS-3T2 integrates seamlessly with AtlasIED's Z Series Z2-B and Z4-B High-Definition Acoustical System, providing AV integrators with a simple-to-install speaker designed for healthcare, clinical and corporate facilities that require sound masking.
The SHS-LF, meanwhile, is a design-friendly subwoofer that pairs with AtlasIED's SHS-6T2 and SHS-3T2 to round out the low-frequencies for high-quality music reproduction.
When each is installed flush with the ceiling, only a three-inch diameter lens and a micro trim ring are visible, and the lens can be hidden even further with the company's DesignLab color match process, a high-res UV-printing technology that replicates color and texture onto the SHS lens for visual continuity.
The company will also showcase an update of its GLOBALCOM GCK software application, a communications station available in both Dante and CobraNet, and a new IP endpoint that combines an integrated LCD flasher and talkback microphone.
Enhancements include a more modern user interface to streamline programming and navigation, as well as the ability to program the software off-line.
Also being showcased by AtlasIED is the company's new 571 Digital Communication station with integrated microphone. The solution supports both Dante and CobraNet standards and features an intuitive, easy-to-clean adaptive touchscreen interface and can be flush, surface or desktop-mounted vertically or horizontally.
Finally, the company will show off the IP-DMF, an indoor wall-mounted IP endpoint that supports scrolling text alerts and visual signaling through a flasher to improve daily and emergency communications. A microphone also supports intercom functionality.