ClearOne Receives New Patent for Beamforming Microphone Array Systems
ClearOne has been awarded a new patent for Beamforming Microphone Array System with distributed processing.
Leave a Comment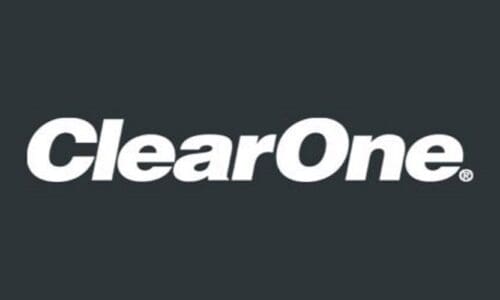 ClearOne announced it has been awarded a new patent relating to Beamforming Microphone Array Systems. ClearOne is of course, the Salt Lake City, Utah-based provider of audio and visual communication solutions.
According to the company, the patent's title is "Ceiling Tile Beamforming Microphone Array System." The patent claims a ceiling tile microphone array that can be physically separated from the processors running the beamforming algorithm.
One benefit of this separation is that it enables a single computing engine to run multiple beamforming algorithms for multiple microphone arrays. This can lower the overall system cost compared to an integrated design that is limited to a single computing engine with a single microphone array.
For example, when installing a first system, one remote computing engine running a beamforming algorithm may support one microphone array. Over time, the processing power of computing engines increases for the same price. Thus, it enables more microphone arrays to connect to a single computing engine. This then reduces the cost of multiple beamforming systems deployed in an organization.
Another benefit of this functional partitioning of the system is its ability to extend the useful life of a ceiling tile beamforming microphone array. When the beamforming algorithm is performed "off-board" in a separate computing engine, the engine can be upgraded over time to support more advanced beamforming algorithms. It also does not require any changes to the microphone array.
ClearOne states that the beamforming microphone array patent (U.S. Patent No. 11,240,597), issued on February 1, 2022, demonstrates its investment, strength and reach in the technology area.
The company adds that its patent portfolio covers multiple new technologies in various fields. These include audio and video processing, audio and video streaming, and innovative communication technologies.
Read Commercial Integrator's previous coverage on ClearOne's patents on our site archives.