Look Inside Shure's New Customer Experience Center in Chicago
Shure 'talks the talk' from its Customer Experience Center and new office space. Installation done by AVI-SPL, including MSE Audio's Dante-enabled speakers throughout the facility.
Leave a Comment
Photos & Slideshow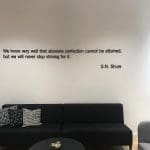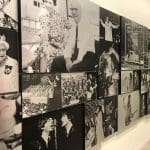 ---
When Shure set out to build its new Customer Experience Center and new office space in Chicago, the company wanted to embody that long-standing phrase, Practice What You Preach. Alongside memorabilia of Shure's 94 years engineering microphones, mixers, digital signal processing and other consumer and pro audio equipment, employees and customers alike can use Shure products in a beautiful space not unlike the ones integrators work in every day.
"We wanted the Experience Center to be convenient for our customers to test drive our high-quality products in typical audio and video spaces such as huddle rooms, boardrooms, conference rooms and more," says Jim Schanz, vice president of global integrated systems sales, Shure.
CI visited the office in 2018, but what we didn't know at the time was that two other big industry names were involved in the project.
AVI-SPL, the AV industry's largest integrator firm, was selected to outfit the Shure Customer Experience Center with a selection of equipment – including MSE Audio Dante-enabled speakers installed throughout the facility.
AVI-SPL Tackles a Growing Design Plan
Moving quickly to meet the project goals, AVI-SPL worked with Shure to ensure the quality of the installation as the project goals shifted into a much more complex design than what was originally drawn up.
"We had a relationship with MSE Audio before the Customer Experience Center," recalls Schanz. "We've trusted their products in the past, most recently at InfoComm, where we incorporated pendant speakers in our demonstration room.
"And as a manufacturer of audio components such as microphones and processors, it's important to us that our entire audio system—from start to finish is flawless.
"We wanted to present the high-quality audio experience that customers expect from us, and we found that with MSE Audio's SoundTube speakers."
An Older Building Presents Challenges
In addition to dealing with a project that shifted its design goals, AVI-SPL also had to meet the challenge of working in a building built in 1906 called the National.
Some of the integration and design obstacles that AVI-SPL overcame in the 113-year-old building included high ceilings, which affected the space's acoustical properties, as well as its fourth-floor and urban locations, which affected the integration firm's logistical efficiencies.
"We had a lot of issues to face when it came to acoustical treatments to accommodate the pairing of the building design and audio solutions, Schanz points out.
Dante Is a Big Consideration, and MSE Delivers
"A main reason we selected MSE Audio is because its pendant speakers require minimal acoustic treatment. Add their Dante-enabled capabilities, durability of the product and flexibility of the design, and it checked all the boxes.
"Overall, Dante functionality was very important to us and made a significant difference in the functionality and protocol that we were able to provide."
Shure emphasizes that Dante-enabled products like the MSE Audio speakers extend digital signals all the way to the end point of an installation.
Related: 3 Reasons Why Shure's Axient Digital Wireless System Won a BEST Award
The MSE Audio SoundTube STNet speakers are Dante and AES67 compatible, featuring digital signals with power sent directly to the speakers over category cable.
The speakers' digital capabilities provide control options through DSP technologies to fine tune high- and low-pass, time correction in each speaker in the digital domain.
If you enjoyed this article and want to receive more valuable industry content like this, click here to sign up for our digital newsletters!