The World's Largest Music Festival Rocks On for 11 Days with Help from DiGiCo Mixing Consoles
A wide assortment of DiGiCo mixing consoles pump out music from more than 1,000 acts to a record-breaking attendance at Milwaukee Summerfest.
Leave a Comment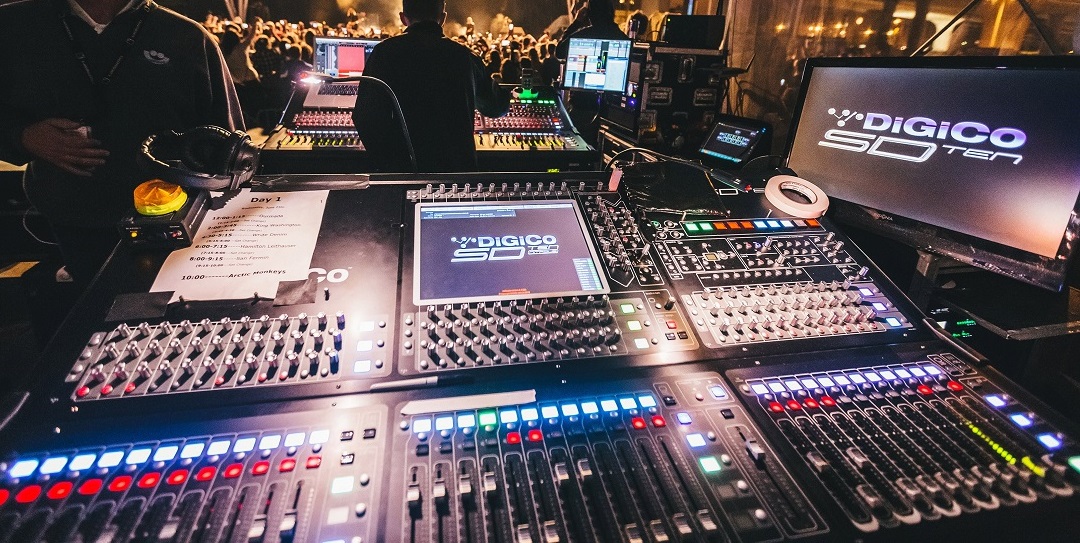 The dust may have long settled on the latest edition of Summerfest, Milwaukee's massive music festival, but the event lives on, having been certified by the Guinness Book of World Records as the world's largest music festival. The quality of the musical performances was equally record-worthy, thanks in part to a plethora of world-class PA systems and DiGiCo mixing consoles.
The PA systems from L-Acoustics and JBL, and the front-of-house and monitor live-sound consoles from DiGiCo provided all the horsepower to pump out to a crowd of 766,192 ticketholders music from amazing roster of more than 800 artists, including James Taylor, Dave Matthews Band, Journey, and Florida Georgia Line.
Concert-goers enjoyed more than 1,000 performances held on the festival grounds' dozen stages.
To keep the music flowing without a hitch, Clearwing Productions, the sound-reinforcement provider for Summerfest, equipped every stage with an SD or S-Series console from DiGiCo.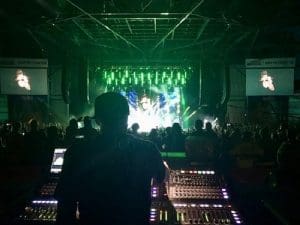 The company's U.S. distributor, Group One Limited, also set up an SD10 console in a demo tent backstage for artists and engineers to test drive.
SD & S-Series Setup
On the largest of the 12 Summerfest stages, DiGiCo was operating on all cylinders with:
two SD consoles at the front-of-house positions
two SD10 desks for the front-of-house and one for monitors
two SD12 DiGiCo mixing consoles for front-of-house and four for monitors
one SD9 each for front-of-house and monitors
one SD8 for monitors.
The smaller stages utilized five smaller S21s for a combined front-of-house/monitor mix.
Artists and engineers employed a variety of other DiGiCo systems throughout the event in other areas, as well.
"DiGiCo has been the exclusive provider of audio consoles for Summerfest for the past four years, and has been a part of the event for twice as long" notes Jeff Schauer, Clearwing Productions audio operations manager for the company's Milwaukee office.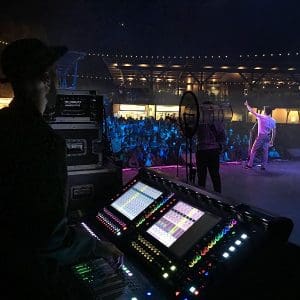 "Not only has the sound been awesome, but DiGiCo's service and staff have been outstanding when we talk to the engineers who staff the stages, they all tell us that the SD desks are a pleasure to work with."
Part of the appeal of the SD and S-Series DiGiCo mixing consoles stems from their versatility and ease of use.
An integrated touchscreen interface simplifies setup and allows the equipment to be easily moved from one venue to the next.
Plus, now that the consoles can be access via new mobile apps from DiGiCo, engineers don't even need to be physically at the desk to mix audio.
Instead, they can control DiGiCo mixing consoles directly from an Apple iPad. The app displays an overview of the console layout, so the learning curve is minimized.
Sound engineers can monitor and control the sound as if they were sitting in front of the console.
For an event as huge in attendance and long in duration as Milwaukee's Summerfest, simplicity and accessibility keeps music flowing and at a quality level that concert-goers have come to expect.