AAVS Amps up Audio at Arts Council of Greater Baton Rouge
Assurance AV Solutions (AAVS) worked with Arts Council Center's Jonathan Grimes and PreSonus Electronics to deliver a high-quality audio system.
Leave a Comment
Photos & Slideshow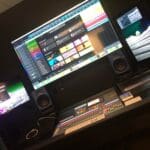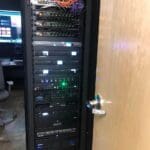 ---
The Cary Saurage Community Arts Center is a building of the Arts Council of Greater Baton Rouge. The building looked to update its audio infrastructure and turned to its chief systems officer Jonathan Grimes to help with the project.
According to Grimes, the Arts Council will celebrate its 50th anniversary in 2023. The new building initially was the district attorney's office. He adds, "The building was set up like an empty office space; it wasn't a community arts center. So we came in and did a full renovation."
Grimes reveals that the space is now a thriving Community art Center with a third floor rooftop terrace. The building also holds kiln workspaces, artists' workshops and meeting rooms.
Bringing the Team Together
Grimes, also a well-respected musician in the area, approached a local audio manufacturer, PreSonus Electronics. Initially, the manufacturer sent a team member from the commercial division to conduct a site survey. PreSonus looked to design a StudioLive ECO system. The firm then suggested Assurance AV Solutions (AAVS) to install the gear for the building.
Thus, Grimes approached approached Louisiana-based company to put a complete AVL design together. Chuck Breaux, president of AAVS, expands on the design. "PreSonus gave all the audio gear including the soundboard and recording software. However, they don't deal with video and lighting and so that's where we stepped in," he states.
According to Breaux, the collaboration actually led to a friendship. "It is almost unthinkable that Jonathan and I did not cross paths before this project. Both of us share so many common connections and friends. Our first meeting we spent more time talking about who and how we know so and so much more than about the project," he adds.
Grimes also praises the team's collective effort. He states, "When we when we started the initial conversation about what we want, we had a budget in mind and and Chuck was really able to work with us on that budget. We reached all of our goals for the facility without blowing the budget out of the water."
Ensuring Audio All Around
Grimes and AAVS then discuss the products required for the installation at the Arts Council Center building. Grimes proclaims that AVB is the backbone of the PreSonus ecosystem. Thus, Grimes wanted an AVL system that they could configure in multiple different ways.
Additionally, he reveals that the building is composed of three stories. For this, Grimes wanted to be able to route audio, video and lighting to all floors. At the same time, he wanted to ensure the ability to capture the audio via multitrack software and video recording equipment.
"Using the AVB network, we were [thus] able to design patch panels throughout the building that allow for bi-directional audio, video and lighting distribution," Breaux reveals.
Facing the Challenges
Of course, while the project was hugely successful, it also faced its set of challenges. Like many other projects, the pandemic emerged as a major setback for AAVS and team at the Arts Council Center. According to Breaux, the team faced manufacturing delays and lack of availability. These delays also compromised certain trade schedules. This resulted in a domino effect, Breaux acknowledges, where one delay led to another pushback elsewhere. Regardless, the team remained undeterred. Breaux remarks, "Things were beyond our control but we all (the trades) were determined to do whatever we could to get this project completed."
Also Read: Meyer Sound and UltraSound Outfit Audio System for Iconic Castro Theatre
Receiving Feedback
On completing the project, Breaux adds that the Cary Saurage Community Arts Center provided positive feedback. In fact, he reveals that Grimes has pretty much moved into the building. "…[W]ith the amount of people that come through, that system gets heavily used every day. Jonathan and his team have become raving fans of AAVS and we are so proud to be a part of their success story," he beams.
Breaux adds that this project also became one of his favorites. He looks forward to possibly working with the team again. "I know [the Arts Center] are kind of on somewhat of a spending freeze but that has not stopped them from referring us to others and for that, we are grateful," Breaux concludes.
Click on "View Slideshow" on upper-right corner for images of the installation at the Arts Council Center.
If you enjoyed this article and want to receive more valuable industry content like this, click here to sign up for our digital newsletters!