Bluesound Professional B1705 Networked Streaming Stereo Amplifier Now Available
The B170S Networked Streaming Stereo Amplifier is now available across North American and global distribution markets.
Leave a Comment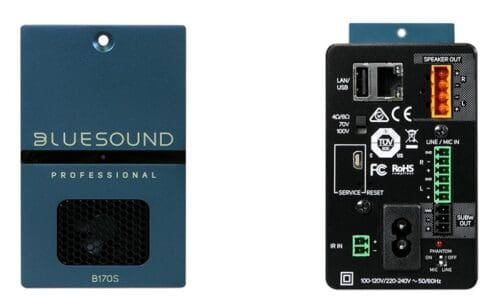 Bluesound Professional, the Toronto-based networked audio provider launched the B170S Networked Streaming Stereo Amplifier to North American and global distribution markets. Orders for the B170S are now open with warehouse availability starting in September 2022.
The B170S is an all-in-one streaming solution for any commercial music installation combining a high-quality stereo low impedance and constant voltage amplifier with a BluOS enabled network music player.
The low impedance output is ideal for applications where intelligibility and sophistication are important. Alternatively, multi-speaker installations like corridors or high-traffic areas can be catered to with the constant voltage option that allows for daisy-chained speakers. This in turn reduces cable lengths and complexity. With keyhole slots allowing for flexible mounting options, the B170S is well-suited to hide under shelves, tables and walls or be rack mounted into a 3U space with the racking accessory.
Continuing Bluesound Professional's multi-zone commercial music solutions, streaming services like SoundMachine, Custom Channels, SiriusXM for Business, QSIC, and Tunify and others, are natively integrated into the BluOS enabled network music player in the B170S. Users can control them with the BluOS Controller app on PC, Mac, iOS and Android.
Key Features of B170S Networked Streaming Speaker
The key features include the following:
A complete stereo solution for commercial installations
Integration with local network content storage
Low impedance and constant voltage outputs options:

2x80W into 4/8 Ω
or 2x100W into 70V
or 1x100W into 100V

Operates on the BluOS platform allowing flexible, unlimited grouping of zones
Integration with many streaming services including SoundMachine, Qsic, Tunify, Custom Channels and SiriusXM for Business
6W standby mode
Flexible mounting options including mounting of 6 x B170S in a 3U rack space using the optional RM160 rack mounting shelf
Secure network preventing unauthorized control
Third-party control options compatible with PC, Mac, iOS and Android
Explore Bluesound Professional networked audio solutions on our sister-site AV-iQ.com.