Dolly Parton's Smoky Mountain Christmas Carol Sings with d&b Soundscape
Utilizing d&b Soundscape, a renowned sound designer, achieved the best sound for speech and music in a tricky concert hall.
Leave a Comment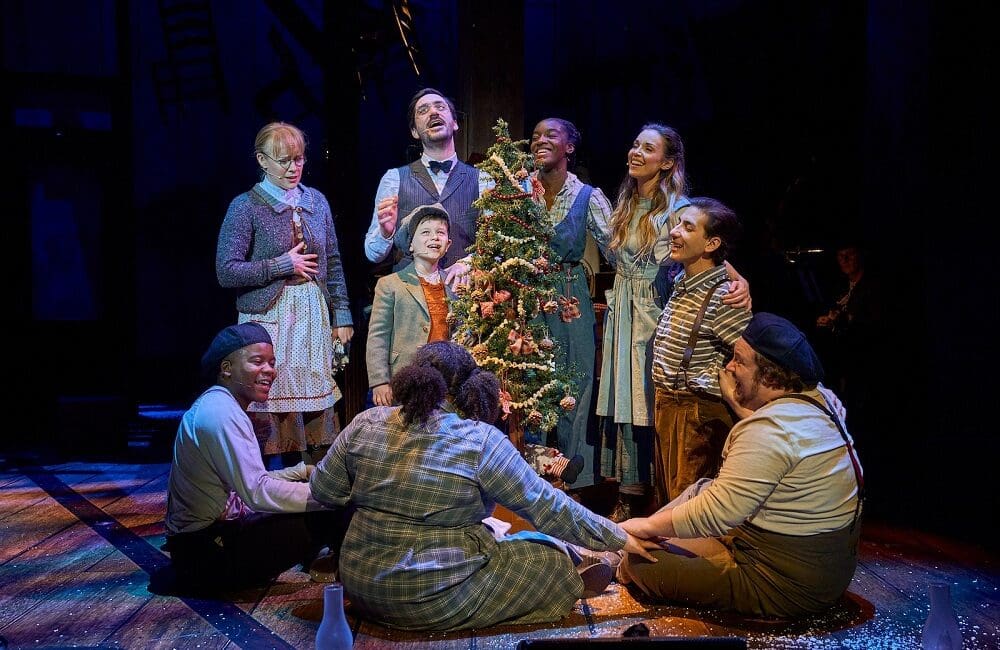 "Musically, it's fabulous," says What's On Stage of 'Dolly Parton's Smoky Mountain Christmas Carol', one of the seasonal highlights of London theatre this year. Running for a month over Christmas at The Southbank Centre's Queen Elizabeth Hall, the production employs d&b Soundscape technology in the hands of renowned sound designer, Richard Brooker.
The show, first produced in Boston in 2019, takes Dickens' classic festive tale and transplants it to 1930s East Tennessee. There, one Ebenezer Scrooge (played by Robert Bathurst) is the rich owner of the local mine, bank and general store. The much-loved tale unfolds, accompanied by the unmistakable music and lyrics of country music legend, Dolly Parton.
Richard Brooker, a successful sound designer in the business, experienced in musical productions worldwide, as well as in work for countless live artists and particularly for BBC Proms. Recently, he has dabbled with what he calls "hybrid" use of the d&b Soundscape system, but this was his first "full-Soundscape" venture.
"This, for me," he explains, "is the type of venue and show where Soundscape is the ideal choice. It's not a natural home for a theatrical piece – it's a concert hall with a concert hall's acoustic and seating plan. It struck me that with one continuous seating rake, with the furthest seats up to 45m away, it would be challenging to deliver an appropriate level – but also image – of sound. That's where Soundscape comes to the rescue."
En-Scene & Space Module Tool
With performers and band members involved in the on-stage action, Brooker made use of Soundscape's En-Scene module, which allows the precise 'location' of up to 64 sound images. Alongside this he employed a ZacTrack performer tracking system from Ambersphere Solutions. In this way, a precise sound image of every voice and instrument is relayed for the benefit of the audience – wherever they are seated. "Soundscape also enabled us to put some of our transition sound effects through interesting and exciting journeys in the space," he adds.
Supplied by Autograph Sound, under the guidance of Will McGonagle, the audio system sees Soundscape working through d&b cabinets including Y-Series (line array and point source), T10P, V-SUB and B22-SUB. It's a system which, Brooker was satisfied, could "deliver all of the information and dynamics that the show offers."
With the acoustic difficulty of the room itself, Brooker found Soundscape's En-Space module to be an ideal tool. Drawing on a library of advanced, multi-response emulation recordings of acoustically renowned venues, En-Space enables the designer to enhance or build an acoustic environment. Brooker says, "It's not a friendly acoustic, either for acting or for PA, but after much tweaking and experimenting, Soundscape gave us the best sound achievable for speech and music in this tricky space."
Brooker and his associate sound designer, Kelsh Buckman-Drage, were assisted in an extremely limited production period by d&b's Adam Hockley. "Adam offered incredible support, assistance and advice," says Brooker, "and that gave me the confidence to push through and really exploit the true benefits of Soundscape. My associate Kelsh and I have learned an enormous amount about the valuable tools that Soundscape can offer."
He concludes, "Soundscape is a tool – an exceptional tool – and like all tools you need the right one for a specific task. Soundscape is appropriate for many applications in the theatre world – plays, musicals, and immersive installations. It's also very adaptable and brings a new depth and dimension to orchestral and rock and roll concerts alike. It is very clever!"