Composer John Powell Benefitting from Meyer Sound Bluehorn System
Veteran movie soundtrack composer John Powell now utilizes a Meyer Sound Bluehorn System in his private recording and mixing facility.
Leave a Comment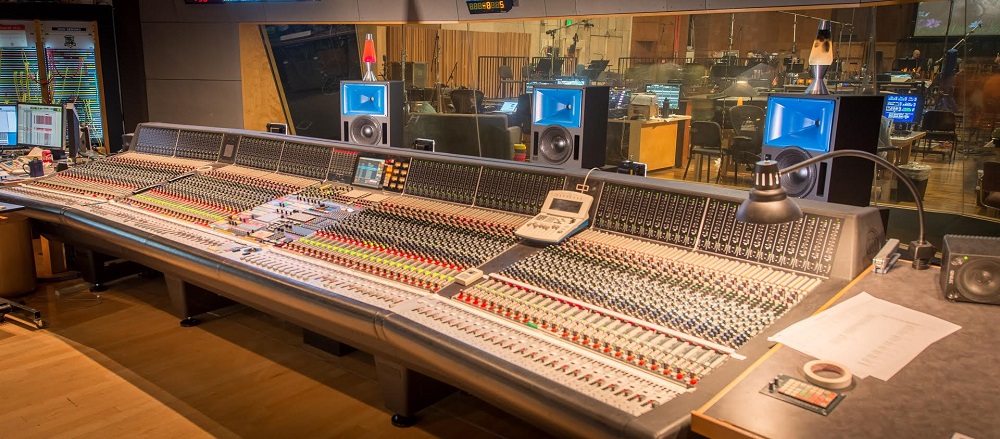 Meyer Sound has announced the availability of its new Bluehorn System. The Calif.-based company says that its latest product solution is a full bandwidth monitoring system engineered to deliver flat amplitude and phase response from 25Hz to 20kHz.
The large-format system took Meyer Sound six years to develop and the company says Bluehorn System applies advanced, proprietary algorithms to cancel out the non-linearities inherent in all mechanical transducers and loudspeaker cabinets.
"Without question the Bluehorn System is a major breakthrough, easily the greatest step forward since the HD-1. It will form the foundation for all future developments by Meyer Sound from this point forward," states John Meyer, president and CEO, Meyer Sound.
Meyer Sound offers stereo and LCR combinations of the Bluehorn system with each version utilizing a two-way speaker that includes midrange, high-frequency drivers, along with a low-frequency element, and dedicated digital processing.
Explaining the applications for the Bluehorn system, Meyer Sound points out Bluehorn is designed for high-resolution monitoring in mid-sized rooms for audio recording, cinema post production and music mastering.
Externally, the Bluehorn System shares the same footprint, driver size and waveguide as Meyer's Acheron Designer loudspeaker, but the company says Bluehorn features an upgraded high-frequency driver and new built-in amplifiers.
Further separating the Bluehorn System from other Meyer Sound products, the decades-old audio company emphasizes the product features a dedicated processor that sits in front of the two-way midrange/high-frequency speaker and the companion low-frequency cabinet.
The company says that, after analyzing all physical and electrical non-linearities throughout the system, Bluehorn is able to produce absolute phase and and frequency alignment at any output level from 25Hz to 20kHz.
"Essentially, the processing nullifies the non-linearities of drivers and enclosures, resulting in a phase-coherent response previously achieved only by open-air electrostatic headphones with their extremely low-mass diaphraghms," comments Meyer Sound in a press release.
John Powell Using Bluehorn in Private Facility
Among the first cinema professionals to implement the Bluehorn System is the film composer John Powell.
With more than 60 films to his scoring credits that include Chicken Run, Happy Feet, Rio, as well as the How to Train your Dragon movies and the Jason Bourne franchise, Powell now uses an LCR Bluehorn system in his private recording and mixing facility—5 Cat Studio—in Pacific Palisades, Calif.
"We initially brought the Bluehorns in on a temporary basis for a specific project, but we wouldn't let them leave the building. With the Bluehorns it was blatantly obvious when something was wrong in the mix, and that is the most useful quality I can imagine from monitor loudspeakers," states Powell.
"For the work that I do, I need monitor loudspeakers that do not flatter the music at all. I need to hear exactly what is going on in an unbiased way. I have no time when working to enjoy what we did right—I need to hear when things are wrong so we can fix them, and I can hear those problems better with the Bluehorns. I need to be confident that everything is in its proper place because then the music translates smoothly as we move through to the final mix."
Powell first used the Bluehorn to mix the music for Jason Bourne, the latest in the Bourne series of films, and he's using the system now for the upcoming animated movie Ferdinand.
Read next: Live-Sound has Larger Stage Presence at InfoComm 2017
"This is a loudspeaker that is ideal for people doing music for film because it behaves in the room like a cinema loudspeaker," adds Powell. "It gives us projection like we would hear on the dub stage, yet it also has that extra layer of audiophile quality. Bluehorn lets us hear deeper into the music and resolve problems right away, knowing that even the dub stage might not offer that level of accuracy. It's the best of both worlds, really."
Learn more about the Bluehorn System on the Meyer Sound website.