Contacta Introduces STS K009-IP-Rated Window Intercom
The COVID-19 pandemic has prompted Contacta to introduce STS K009-IP, it's first IP-rated window intercom system.
Leave a Comment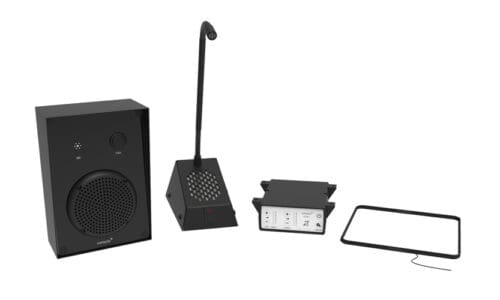 Contacta Inc, an assistive listening technology manufacturer has introduced STS K009-IP, a new IP-rated window intercom system.
According to Contacta, STS K009-IP is the first IP rated speech transfer system to come from the Michigan-based company and was developed in response to demand created by the COVID-19 pandemic, which has seen the installation of safety screens across almost every business sector.
"We're seeing inquiries for window intercom systems from ski resorts, takeaway booths, ferry terminals and distribution centers," said Ran Meyrav, Contacta's head of new business development. "A high IP rating was obviously key for these outdoor locations and we have achieved a significant rating which offers considerable protection against the elements," he said.
Designed by Contacta's in-house team, the STS K009-IP has an IP rating of 55 against water, dust, and dirt ingress, both on the staff and customer units. The system offers an open, handsfree communication channel independent of a telephone line. It also has a call facility if staff need to be alerted to a customer's presence and an LED light aids its use at night.
Read Next: DPA Microphones Releases New MS4099 Mic Stand Mount
The company has also launched a range of new extension leads which allow the call unit and the staff unit to be located up to 20 meters apart.  A hearing loop can be added to the system, offering clear sound direct to a user's hearing aid.
Since the start of the pandemic, Contacta Inc has seen demand for their window intercoms increase. Last year, the company introduced entry level systems for businesses which found window intercoms were suddenly required.
"The STS K009-IP connects us to sectors we would never have previously done business with," Ran added.  "As a business, we aim to be responsive to the needs of our customers, with quality and performance always at the heart of our product development."