Dolby Voice Room Leverages Company's Technologies for Conferencing Applications
Leave a Comment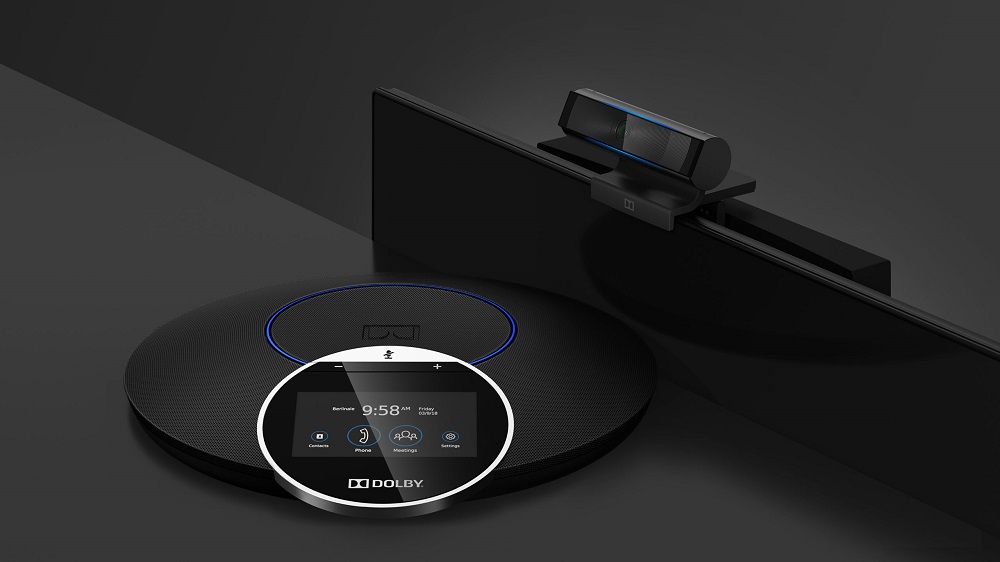 Known for Atmos and Vision HDR, the San Francisco-based Dolby is addressing audio conferencing applications with its new Dolby Voice Room solution.
Dolby Laboratories says that Dolby Voice Room can be used in environments such as huddle rooms and small conference rooms to provide users with a flexible AV experience in the workplace.
"To make collaboration experiences better, we needed to make the technology work harder for users," says Andrew Border, vice president, communications business group, Dolby Laboratories.
"Leveraging our expertise in the fields of human perception, machine learning, engineering and design, Dolby Voice Room was built with the ability to flex to human needs in a way that is simple to use by participants and IT while also delivering a dramatically better experience."
According to the company, Dolby Voice Room is easy to install and manage, and it is designed to intelligently adapt to a range of scenarios to deliver a "natural and productive meeting experience."
Dolby Conference Phone the Centerpiece of Dolby Voice Room
Dolby Voice Room is engineered to eliminate common conferencing issues, including unintelligible audio, poorly defined video, distracting background noise, confusing interfaces, and incomplete views of conference participants.
The central product within the platform is the Dolby Conference Phone, and Dolby points out the device serves users as more than just a phone.
Dolby explains the Conference Phone combines high levels of sound quality that integrates into a variety of office spaces, and a simple-to-use interface that enables users to easily manage meetings.
Augmenting the Conference Phone is the Dolby Voice Camera and Voice Hub products.
Related: Dolby and Highfive Collaborate to Enhance Audio Conferencing
Dolby says that through the combination of these product businesses can initiate a complete meeting with AV.
In addition, integrators can install the system within 15 minutes to provide customers with a near turnkey conferencing system. Learn more here.