L-Acoustics K2 Provides the Punchline to Adam Sandler 100% Fresher Tour
Supporting Adam Sandler's 100% Fresher Tour is an L-Acoustics K2 array system that was implemented by Las Vegas-based RRS Audio Productions.
Leave a Comment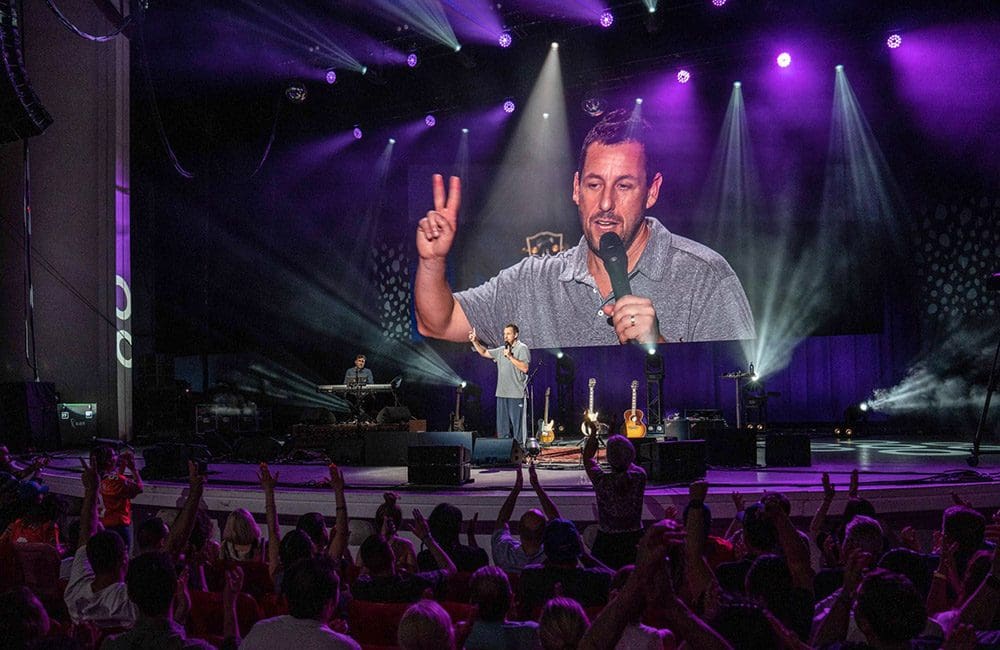 Lee Pepper, owner and operator of RRS Audio Productions, chose to update his gear inventory with L-Acoustics to help support acts like the Adam Sandler 100% Fresher Tour. Pepper says he chose to use L-Acoustics K2 line-source arrays because the line supports a desire to branch out into the touring sound market.
"I was doing steady corporate work and also doing multitrack recording for a bunch of the bands that came through Las Vegas," says Peppers.
After serving clients like Slash, Billy Idol, Frank Sinatra Jr., Reo Speedwagon, and others that made tour stops in Las Vegas, L-Acoustics regional sales manager David Kuhner contacted Pepper and suggested the K2 would support RRS Audio Production's long-term goals.
Related: L-Acoustics K1/K2 Arrays Power A Tribute to Chris Cornell
"I told him that I didn't know if I could afford it," admits Pepper. "But we looked at the ROI and total cost of ownership of K2 and worked out the funding through L-Acoustics' financing program.
"It made complete sense and I bought my first two dozen K2 enclosures along with 16 SB28 subwoofers and 12 LA12X amplified controllers in four LA-RAK II racks."
How L-Acoustics K2 Solved Audio Challenges
"This is the first time that Adam took gear on tour," points out Pepper.
For the Adam Sandler 100% Fresher Tour, Pepper served as the comedian's FOH (front of house) engineer. To support Sandler's mix of comedy and music, RRS Audio Productions employed a complex mix of L-Acoustics products.
"We had left and right man hangs of 32 total K2 with an outer hang of 12 Kara on each side, plus eight Kiva II for front fill. Additional Kara boxes provide side fill for Sandler and his musicians, with short-throw X12 wedges for vocal monitoring.

"Two LA-RAK II per side each loaded three LA12X amplified controllers powered the main system with a separate rack driving the monitors," explains Pepper.
Validating the purchase of the L-Acoustics gear, Pepper adds the investment into the equipment has helped grow his company.
"I was in a 1,300-square foot building and now I'm in 5,800-square feet, and getting ready to pounce on another building," he comments.
"With L-Acoustics, RRS Audio went from a six figure yearly revenue, to a seven-figure one. I can't keep the boxes in stock, and every month I'm buying more. It's really been a terrific investment for me."
If you enjoyed this article and want to receive more valuable industry content like this, click here to sign up for our digital newsletters!