AtlasIED Debuts IsoFlare Loudspeaker Series at InfoComm '23
The IsoFlare ceiling loudspeaker series by AtlasIED is the first under the collaboration with Fyne Audio.
Leave a Comment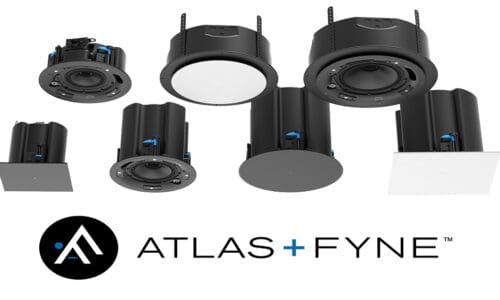 To provide its customers with the pinnacle in sonic performance, AtlasIED announced the IsoFlare series of premium ceiling loudspeakers at InfoComm 2023. Per a statement, the IsoFlare ceiling loudspeakers are first products developed as part of AtlasIED's strategic investment in Fyne Audio.
According to AtlasIED, they thus represent a new benchmark for preeminent installations utilizing the very latest design techniques and tools to create the next generation in point-source technology.
The IsoFlare series is ideal for luxury hotels, casinos, high-end restaurants and bars, retail spaces, and corporate facilities. Additionally, the series' point-source technology provides a natural and accurate soundstage, accurate and linear response, and consistent broadband directivity.
The series consists of seven models, including blind mount models in four-, six-, and eight-inch sizes, a four-inch low profile model, an eight-inch subwoofer and two pre-install models. The new loudspeakers also offer an edgeless grille design in either square or round and black and white options to cater for the most demanding architectural constraints. For quick and secure installation, the IsoFlare series incorporates a patented toolless, dog-leg mounting mechanism on all models, says AtlasIED.
The IsoFlare Series at InfoComm
The IsoFlare series includes:
FC-4T, 4-inch available in blind mount
FC-6T, 6-inch model in both blind mount and pre-install versions
FC-8T, 8-inch model in both blind mount and pre-install versions
FC-4TLP, 4-inch low-profile model
FC-8ST, 8-inch subwoofer
"In designing AtlasIED's IsoFlare series, our goal was to enter the market from the outset ahead of the curve," remarks Graham Hendry, VP of loudspeaker strategy at AtlasIED. "Ergonomics and aesthetics were a major consideration, providing the architect, designer, and installer with an attractive and versatile solution for various applications. As a systems designer, it is clear what the benefits are in deploying quality components in any audio system. Whether it's in the pursuit of leisure and entertainment, learning, retail or the business world, investing in premium audio is crucial to better outcomes."
If you enjoyed this article and want to receive more valuable industry content like this, click here to sign up for our digital newsletters!