LAX Takes Off With Renkus-Heinz Iconyx Speakers
California-based integrator Direct AV specified beam-steering arrays from Renkus-Heinz to ensure a safe, enjoyable transportation experience at LAX airport.
Leave a Comment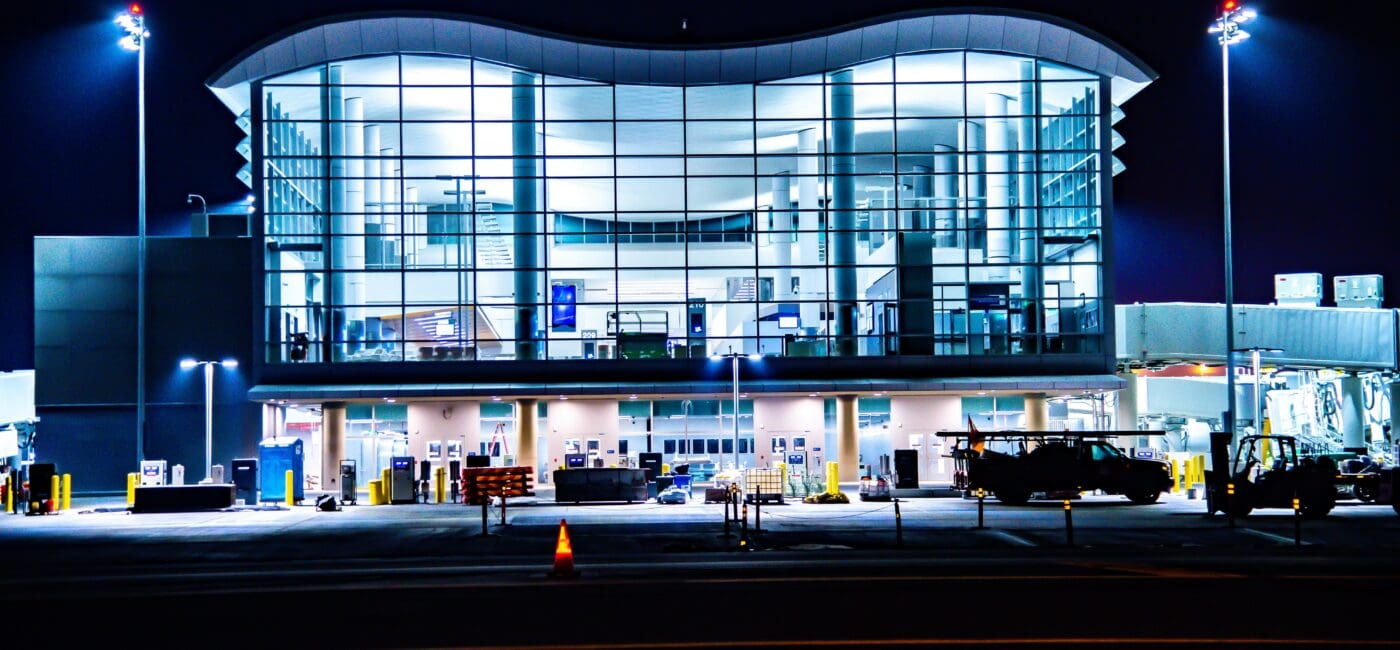 Editor's note: This story was originally published in November 2021 and updated in August 2022 to reflect the 2022 Integration Award Mission-Critical Project Winner.
After more than six years of design and construction, the new West Gates at the Tom Bradley International Terminal at Los Angeles International Airport (LAX) opened in June 2021. Located in the central area of the airfield, west of Tom Bradley International Terminal, the $1.6 billion concourse features Renkus-Heinz Iconyx speakers to provide crisp and clear audio coverage throughout the area.
Along with 15 aircraft gates, the concourse also has an interior that is organized into a series of "neighborhoods," which each include multiple aircraft gates, a restroom core, and a wide selection of various retail and concession spaces. Excellent audio was recognized as an essential component throughout the 750,000-square-foot concourse construction.
After all, LAX recognized that crisp and intelligible sound helps the airport's millions of annual travelers stay on the move and remain up to date with important announcements and communications. Those factors drove California-based systems integrator Direct AV to be very choosy in creating the right loudspeaker solutions. And LAX officials worked with their integrator partner to design and install the gate announcement system for the terminal.
Ultimately, Direct AV opted for Iconyx Gen5 arrays from Renkus-Heinz for the LAX airport terminal. The arrays provide an elegant solution to acoustical challenges, and the enclosures' slim form factor blends into any environment.
A Safe, Enjoyable Experience
The installation is part of a larger, years-long renovation that LAX is undertaking. The ultimate goal is to ensure passengers have a safe and enjoyable transportation experience anytime they pass through the airport.
Jeff Barrett, systems design engineer at Direct AV, and his team worked very closely with the Renkus-Heinz team — specifically, Garrison Parkin, western regional sales manager on the installation at LAX.
"This is a huge new terminal with the characteristic high ceilings, reflective glass walls, hard reflective floors and a lot of ambient noise expected from a transportation hub," says Barrett. "We needed loudspeaker technology that could give us precise beam control and a high level of speech intelligibility while offering a discreet footprint to fit the architectural requirements and constraints; and for that, we turned to the Iconyx beam-steering system from Renkus-Heinz," he adds.
Also Read: Announcing the 2022 Commercial Integrator Integration Awards
Barrett emphasizes that the system was specifically designed for terminal-wide passenger announcements and gate announcements. With fine-tuning through the Renkus-Heinz software, the system covers all common areas within the terminal, including all gate seating areas, retail spaces, restaurants, restrooms and concession areas of the concourse.
The Iconyx system's 4-inch low-frequency transducers and triple 1-inch high-frequency drivers produced more than enough headroom allowing for significant levels above the ambient noise floor. The Direct AV team installed a mix of more than 30 Iconyx IC8, IC16 and IC32 arrays within the West Gates and have made plans for additional installations of the Iconyx Gen 5 arrays.
Digital Control and Steering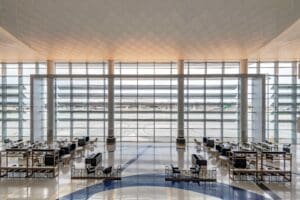 The Iconyx Gen 5 arrays at LAX are part of Renkus-Heinz's Iconyx digitally steerable loudspeaker array series. They combine digital control and steering with high-audio fidelity. This model also features Dual Redundant Dante Connectivity, as well as RHAON II System Manager, to bring flexibility and control to Iconyx installations.
They provide an elegant solution to long-standing acoustical challenges with slim, attractive enclosures that blend into any environment. The system also delivers full frequency pattern control via Renkus-Heinz proprietary Unibeam algorithms, which is essential for providing intelligible speech in acoustically challenging spaces.
The Iconyx Gen5 also stores up to 10 configuration presets, and it can quickly recall them when needed. Its slim, low-profile design and a wide range of audio abilities thus make it suitable for transportation terminals such as LAX.
Touching on the digital-steering capabilities, Parkin adds, "With Iconyx, we can digitally steer the sound down to the travelers giving them the direct sound element rather than reflected to the walkways and deliver remarkable sound quality right to where the people are and away from the reflective surfaces."
Equipment List
Renkus-Heinz Iconyx Gen5 arrays
Renkus-Heinz RHAON II System Manager
If you enjoyed this article and want to receive more valuable industry content like this, click here to sign up for our digital newsletters!