RF Venue WaveTower Software-as-a-Service Tackles RF Spectrum Interference
Patented RF Venue WaveTower software-as-a-service allows integrators to monitor and troubleshoot customers' RF spectrum interference.
Leave a Comment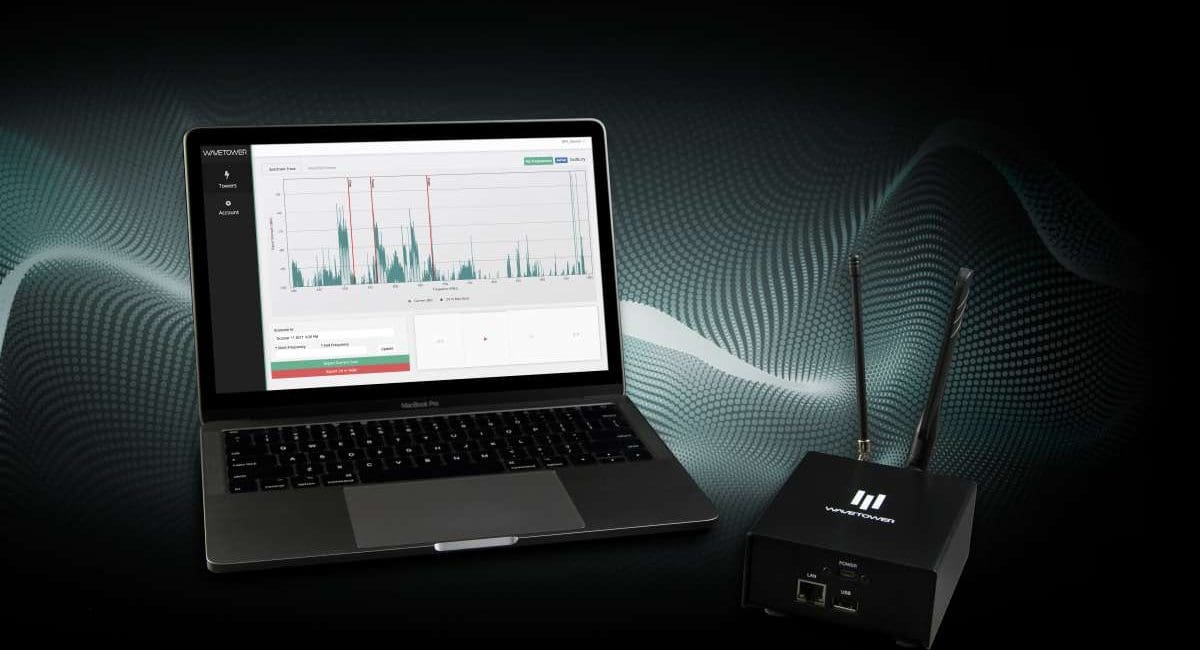 For integration firms concerned about 1.) RF spectrum interference wreaking havoc on their customers' audio solutions, and 2.) Earning more recurring revenue, the new RF Venue WaveTower Software-as-a-Service can help them cross two concerns off their list.
RF Venue, a provider of antenna, spectrum analysis and RF signal management tools for the professional audio-visual industry, says its WaveTower SaaS product is designed to provide system integrators and end users with a powerful new weapon in the battle against RF spectrum interference.
Meanwhile, it presents integration firms with a potential RF managed service that it can offer to customers.
"Spectrum topic gets a lot of airtime from the microphone manufacturers but the average user has s difficult time wrapping their head around this," says Chris Regan, CEO, RF Venue. "So the idea is that they can remotely monitor and manage RF spectrum actively."
The patented platform offers:
Centralized oversight of multi-venue systems
Remote troubleshooting and planning capabilities
Small remote sensors which report back to a cloud-based web application for managing radio spectrum usage across multiple sites
Monitoring and managing of RF systems
Reduction of truck-rolling and labor expenses by permitting systems techs to undertake analysis and make RF spectrum changes remotely
RF Venue sees the WaveTower SaaS solution as a good fit for corporate customers, touring productions, houses of worship and universities.
Benefits of RF Venue WaveTower
According to RF Venue, WaveTower makes it possible to identify and circumvent longer-term RF problems by capturing and saving up to two months of spectrum data. This can then be assessed remotely in order to more fully understand and plan for periods in which RF spectrum is especially congested.
The web application's 24 Hour Max Hold and Average functions make it possible to gauge overall RF spectrum activity from the previous 24 hours in a single click.
From RF Venue's press release:
Covering VHF, UHF, ISM bands and more at 25 KHz resolution bandwidth, WaveTower comprises a connected-hardware platform that features small remote RF sensors called 'Towers' that continuously send RF scan data to the WaveTower web interface.

Each of the Towers sport a BNC input, allowing it to be connected directly to any brand wireless microphone system or antenna to scan the venue. The devices also feature GPS modules to determine their location worldwide, along with a scanning range of nearly 3 GHz.
The product has been beta tested and so far has proved "extremely popular with system integrators, production rental AV companies and other end-users that operate in multiple venues," says Regan.
In one example, Mark Consiglio, National Director for Sports and Entertainment at PSAV, has used WaveTower in preparation for projects at Boston's Fenway Park.
RF Venue saw that integrators were pouring too many resources into staying on top of RF spectrum issues.
"WaveTower has enabled us to capture all of the RF activity in and around the facility, and let us see that activity over a period of time," he says.
"That data is invaluable because with live events, we have to get it right the first-time. By collecting this data, RF coordination has become a very easy task and events with heavy RF traffic have been executed perfectly."
According to Regan, the product was born out of a need. RF Venue saw that integrators were pouring too many resources into staying on top of RF spectrum issues.
"In situations where problems were occurring, integrators or contractors would historically be required to undertake several visits to a venue; for example, to do a site survey, then back again to make changes to the system configuration.
But with WaveTower, a comprehensive analysis can be achieved remotely via the web, saving both time and travel expenses," he says.
James Stoffo, chief technology officer of Radio Active Designs, is one of those integrators that had been clamoring for a solution. "For 25 years I have been envisioning and hoping for a product like WaveTower," he says.
"RF Venue has made it happen! With the introduction of new consumer 600 MHz band devices energizing daily and the uncertainty of what the RF spectrum will look like literally tomorrow, the ability to remotely monitor the RF spectrum from afar is critical to the RF coordinator and wireless system user. So the time is exactly right for a product like WaveTower to hit the industry."
If you enjoyed this article and want to receive more valuable industry content like this, click here to sign up for our digital newsletters!