Theory Audio Design Officially Enters Commercial AV Market
Theory Audio Design has announced its new ic6 in-ceiling speakers, as well as its new pendant housings and companion mounting brackets.
Leave a Comment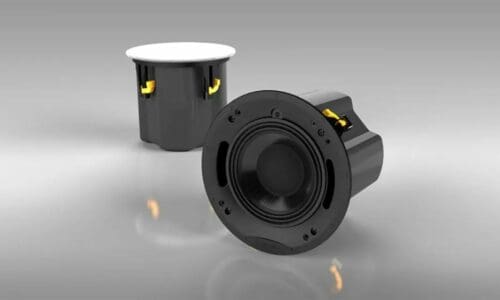 Back in early 2020 just before the world shut down due to COVID-19, Paul Hales of Pro Audio Technology came to market with his new Theory Audio Design brand.
At the time, Hales noted when he announced his latest endeavor that his long-term roadmap included entry into the commercial market. Now, undeterred by the pandemic Hales and the Theory Audio Design team have announced the brand's new ic6 in-ceiling loudspeaker, as well as its new companion pendant housings and mounting brackets.
According to the company, these new products allow integrators to address commercial and residential AV installations without sacrificing interior design aesthetics and high levels of performance.
First In-Ceiling Model from Theory Audio Design
Theory Audio Design explains the ic6 in-ceiling loudspeaker is the brand's first in-ceiling product model, and the product was developed to serve integrators as a discreet loudspeaker that can be used for surround sound, distributed audio and outdoor audio when paired with an optional all-weather grille. The company says the speaker can also install into open-ceiling and exposed environments when integrated into one of its new pendant housings.
Highlighting the ic6's technical capabilities, Theory Audio Design states the speaker is capable of achieving output levels as high as 112dB. Internally, the speaker features Polymer compression drivers and a 6-inch, carbon-fiber woofer. Supporting the speaker's versatility, the ic6 incorporates a selectable 70-volt/100-volt transformer that is designed to mate with the company's DLC-250.4 4-channel loudspeaker controller.
Meeting the requirements of the commercial AV market, Theory Audio Design also notes the ic6 is UL-certified for fire signaling, and for use in air-handling spaces.
The Lake Forest, Calif.-based manufacturer offers the pendant housings in a choice of either a paintable matte white or paintable matte black finish with matching black grilles. Shortly, the pendant housings will also be available in gloss black.
Theory Audio Design adds the iC6 in-ceiling loudspeaker carries a retail price of $675 each. The ic6 pendant housings are $85 each for the matte white finish and $95 each for the matte black with the black ic6 grille. The ic6 Pre-Construction Bracket is $62 per pair.
For additional coverage of the ceiling speaker category, check out Commercial Integrator's website archives.