Vanco Spot for Dot In-Wall Amplifier Is Amazon Echo Dot Compatible
Vanco Spot for Dot In-Wall Amplifier that's Amazon Echo Dot compatible is already shipping. It will be on display at CEDIA Expo 2018.
Leave a Comment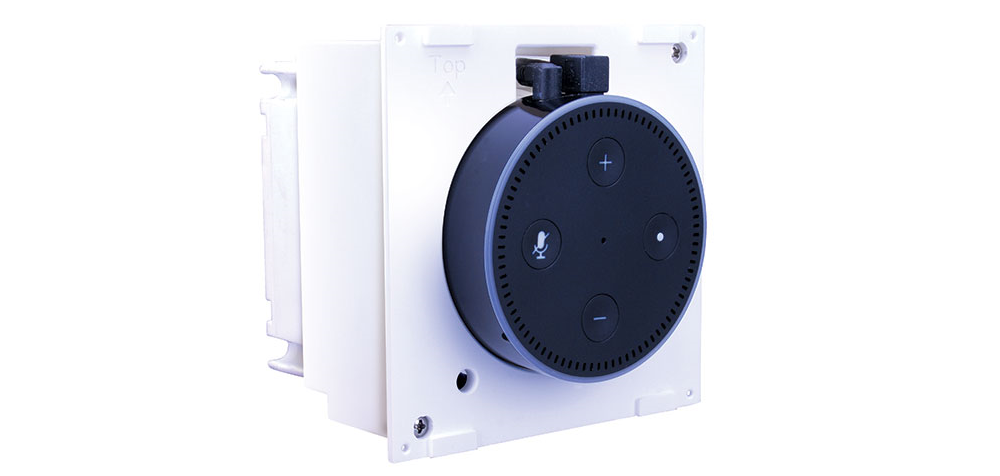 Tapping into the voice-activated, smart home/smart workplace phenomenon, Vanco International says its patent-pending Vanco Spot for Dot in-wall amplifier, which is Amazon Echo Dot compatible, is already shipping and will be on display at CEDIA Expo 2018.
Announced at InfoComm 2018, the Vanco Spot for Dot will be demonstrated for the first time to the residential CE community at CEDIA Expo 2018.
Vanco says Spot for Dot will provide installers with an inexpensive and convenient amplifier that powers smart speakers and connects to existing distributed audio systems.
Engineered to hold an Amazon Echo Dot, when paired with speakers, the Spot for Dot can add voice control to smart devices, scenes, and other functionality to many zones of audio within the home, without the need to run wires back to a central location.
Designed with Jim Murray of Jimmy Thu LLC, Spot for Dot is installed behind a wall plate that is no bigger than a double gang outlet, to appeal to the customer's desire for décor-friendly technology solutions.
When connected to an Amazon Echo Dot, Spot for Dot adds a concealed voice control option to any space.
More on Vanco Spot for Dot (from sister brand CE Pro's coverage):
Vanco says the vertical in-wall design improves the pick-up and responsiveness of the microphone in an Amazon Echo Dot.

The product provides the flexibility to add one zone at a time without limitations, all at a significantly lower cost because of its ability to be connected to existing electrical wiring in the home or commercial space. This also means it's not restricted to a certain number of zones.

The Spot for Dot amplifier is compatible with most speakers, which lets customers and installers use their preferred speakers, and can act as a solution to pair with most free-standing or in-wall and in-ceiling speakers, such as those from Beale Street Audio.

Spot for Dot offers high-quality stereo sound for two speakers or the option to bridge up to four speakers.

"We were thrilled with the positive feedback we received from the A/V community after our introduction of Spot for Dot in June," says Mark Corbin, president of Vanco International.

"Our distributors and dealers continue to ask for more options to support the increasing number of voice control installations they're working on, so we feel that Spot for Dot helps meet this market need in a really unique way. We are confident Spot for Dot will be a success in both the residential and commercial markets and we are extremely excited to demonstrate its capabilities in the Vanco booth at CEDIA Expo 2018."

Spot for Dot will be on display at CEDIA Expo 2018 in Vanco International's Booth #2017. Interested distributors and dealers can contact Vanco directly for pricing.
If you enjoyed this article and want to receive more valuable industry content like this, click here to sign up for our digital newsletters!