ISE 2018: Meyer Sound Ashby Series Offers Speaker Choices
At ISE 2018, Meyer Sound showed its Ashby Series of powered in-ceiling loudspeakers, which incorporate its proprietary IntelligentDC technology
Leave a Comment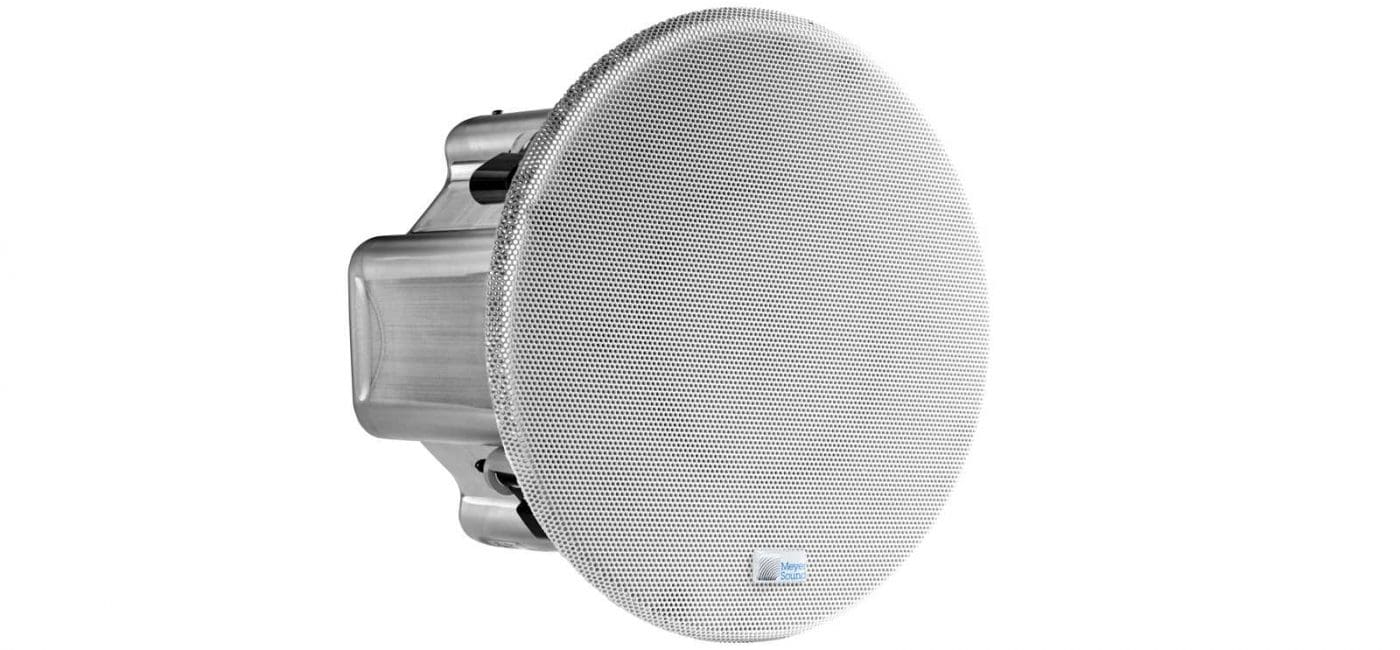 As part of its ISE 2018 exhibit, Meyer Sound showcased its new Ashby series of powered in-ceiling loudspeakers.
The audio manufacturer says that its new series of architectural, active loudspeakers adds to a growing family of installation products that incorporate its proprietary IntelligentDC technology.
"The Ashby loudspeakers are a long-awaited addition to our IntelligentDC line," says Pablo Espinosa, VP of R&D and chief loudspeaker designer, Meyer Sound.
"Now integrators can combine both surface-mount and flush-mount models in the same installation using the same power supply and signal distribution units. This allows complete freedom for architects and consultants in system design, while also simplifying installation and reducing rack-space requirements."
Meyer Sound Ashby Series Provides Integrators with Audio System Flexibility
The Ashby Series features two models: the Ashby-5C and the Ashby-8C powered in-ceiling loudspeakers.
Meyer Sound explains the Ashby-5C speaker employs a 5-inch midrange driver, while the Ashby-8C employs an 8-inch driver. Both Ashby speakers incorporates a 3/4-inch metal-dome tweeter, and both speakers are housed in quick-mount metal backcans with phoenix connectors to help expedite the connection process.
Like the other Meyer Sound speakers to include the company's IntelligentDC technologies, the Ashby series products connect to a Meyer Sound MPS-488HP rack-mount device that delivers a balanced audio signal and 48-volt DC power for the speaker's built-in amplifiers.
Meyer Sound points out that connections are made via a five-conductor cable, and through its connections that don't require conduit, the Calif.-based company emphasizes the cables install into locations such as open troughs.
The company notes that integrators can run cables as long as 450 feet with no more than 1dB of loss using 18AWG cable.  Moreover, longer cable runs are also possible using thicker gauge cabling.
Professional integrators can also monitor the status of the Meyer Sound Ashby series on both PCs and Macs using the company's companion RMS module, RMServer and Compass software.
Other IntelligentDC products include:
MM-4XP
UP-4XP
UPM-1XP
UPJunior-XP
UPJ-1XP
MM-10 subwoofer
UMS-1XP subwoofer
"Ashby will be a featured part of our ISE booth, with displays of open product for detailed examination, as well as active Ashby loudspeakers installed overhead for auditioning," adds Espinosa.
"Even in the commotion and high-ambient noise of a trade show—and perhaps because of that distraction—we are confident Ashby's sonic superiority will be clearly audible."
Related Content: Metallica's WorldWide Tour Gains 'Heavy' Sound from Meyer Sound VLFC Subs