Audio Process Adopts Lectrosonics Digital D Squared Line
Audio Process adopted Lectrosonics' fully digital D Squared line to enhance the location recording, post-production and studio recording experience.
Leave a Comment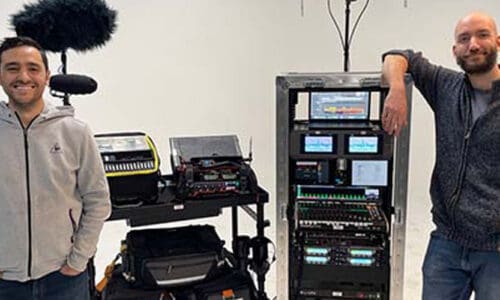 Audio Process, a one-stop professional audio services company recently adopted Lectrosonics' fully digital D Squared line. Lectrosonics is a Rio Rancho, N.M.-based manufacturer of wireless microphone systems and audio processing products.
Audio Process says it has tackled various projects right from feature films to commercials to sports. It has also worked on Netflix's Trailer Park Boys. The team are longtime Lectrosonics users. They recently made the leap from the Digital Hybrid Wireless to the fully digital D Squared line.
According to the company, the cart and bag rigs run the gamut of digital receivers. This includes the DSQD four-channel, DCR822 dual-channel, and DCHR compact stereo units. Sending signal to these is a host of DBSM body-pack transcorders, the DPR-A plug-on transmitter for boom work, and DCHT camera hop transmitters.
Additionally, the M2 Duet system's four-channel M2T transmitter is paired with M2R beltpack receivers. As a result, communications are all-digital as well.
Adopting the new All-digital System
Audio Process emphasizes the challenge on upgrading equipment amid ongoing projects and deadlines. However, the company says it found the migration to be just the opposite.
"We dove into the Lectro digital world headfirst," lead location recordist, Rob Morrice, says. He cites an example of a show that Audio Process covered during the summer. According to Morrice, the show followed a teenager who won a singing competition. "…It covered the behind-the-scenes of his life and the other contestants. [It] was challenging because at any time we were jumping between musical performances and scripted scenes, with as many as eight talent members at a time needing wireless." He further adds, "We used the DBSMs and DSQDs in this application, and with those plus comms for producers, there were a lot of frequencies flying around. It all worked flawlessly the first time out."
Morrice also highlights the improvements in the D Squared System. "First and foremost is range," he explains. "The legacy gear — say, SMVs being picked up by SRCs — was always pretty robust. But with any transmitter, you could get dropouts or a bit of a noise floor if you got out of range. The DBSM doesn't do that. First of all, the range is just phenomenal. Second, if you do push it too far, you just hear a little roll-off of the high end and that's how you know. But that hasn't happened on any actual show I've used them on. I haven't had to worry about signal issues, especially for my critical talent mics."
Expanded Capabilities, Improved Workflow
Ryan Altschuler, the co-owner and location recording manager, adds that the system has improved workflow on all productions. "We fly our ALP690 antennas close to set. That lets us keep the cart a lot farther back, which is important as a COVID precaution. This was helpful with the Hybrid kit, but with the D Squared it has been even more rock solid in terms of range," Altschuler explains.
Speaking of range, Audio Process also highlighted the Lectrosonics' digital camera hop equipment. According to the company, it has capabilities beyond just camera hops. "We recently did a car-to-car shoot for Rogers, the telecom company that also co-owns sports teams like the Toronto Maple Leafs," recalls Altschuler. "So, dialogue is going on in the film car and we're in a chase vehicle. Several plant mics were hardwired into a Sound Devices mixer. [This] was then sent to us using a DCHT and SNA600 antenna flown on the exterior of the car. We in the chase vehicle had two more SNA600s outside and a DCHR inside and were shocked at how far ahead of us the film car could get while we still had crystal-clear reception."
Also Read: Fountain Square Visitors Gush Over L-Acoustics Sound
Audio Process also flags wideband capability as the next feature of the D Squared system. Altschuler refers to the reduction of RF spectrum available for location production. According to him, it has the same band as that in the U.S. "We have 470 to 608 MHz and that's it. The beauty of the new digital stuff is that everything covers that entire range. That kind of flexibility is huge for us. If Rob does a travel shoot in L.A. or wherever, we don't have to research which bands are available. We can just show up, scan for available frequencies, and flip everything to the right settings."
Morrice reveals that the key to the process is the Wireless Designer software. It is a Lectrosonics tool from which he coordinates all connected devices. "Wireless Designer may be the biggest single improvement in my workflow I've experienced," he exclaims. "To see the spectrum at the resolution it does and then control everything centrally in real time is a game-changer. For example, let's say a separate crew shows up on short notice to shoot 'making of' material for a press kit — it happens. If they're scanning on their own, they're rolling the dice and might step on me. With Wireless Designer, I can allocate them the frequencies they need. For anything more than a handful of channels, I don't work without it."
Furthermore, Altshculer states that conserving bandwidth applies just as much to comms as to talent channels. He feels that the M2T deserves praise for that circumstance. "Because of the type of shows we're doing, we're moving up to three and sometimes four channels of comms," he explains. "Not only does the M2T fit four channels into a half-rack, but four mono sends only take up two RF carriers."
Durable Products, Enhanced Sound
The Audio Process team also discovered that the new Lectrosonics digital gear could withstand various conditions. Morrice recalls working on a TV movie that involved a scene on a canoe. "The canoe was stabilized with a rope on either end. I received every assurance that it wouldn't tip, even though the talent was supposed to look like she's tipping when she takes a selfie….She was in the water a full minute, with her DBSM and mic. We removed the battery, dried it out, and fired it up the next day. It worked fine, with no perceptible impact on performance."
Audio Process also emphasize that with the addition of Lectrosonics gear, performances include enhanced audio quality across the board. "We do a lot of post-production as well," notes Altschuler. "We'd heard there was a big difference on paper in terms of lower noise floor and more headroom. When you actually listen in post, it's very discernible."
"Clean, clear, low end is more important than you'd think for dialogue," adds Morrice. He goes on to praise the the DBSM and DSQD. "…[they] and other new digital devices deliver. The fidelity of Digital Hybrid Wireless was already better than any other gear we'd previously heard. But the new all-digital stuff is a level up," Morrice concludes.