ClearOne Waging Legal War to Defend Patent
Biamp, QSC and Shure facing ClearOne patent infringement lawsuit for system that combines echo cancellation and beamforming microphone arrays.
Leave a Comment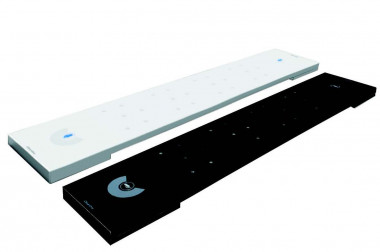 ClearOne is standing strong behind a patented technology that combines echo cancellation and a beamforming microphone array, saying Biamp, QSC and Shure are infringing upon its innovation with copycats and knockoffs.
ClearOne developed its beamforming microphone conferencing system, which uses a small beamforming array to replace up to a dozen individual mics, in 2010.
The company brought the Beamforming Microphone Array audio conferencing system to market in 2012 and released a second generation in 2016. The product combines beamforming, AEC and adaptive steering into one device. The second generation connects with ClearOne's Converge Pro 2 DSP mixers.
ClearOne earned patent number 9,635,186, entitled "Conferencing Apparatus that Combines a Beamforming Microphone Array with an Acoustic Echo Canceller, last week from the U.S. Patent Office and filed infringement lawsuits against Biamp, QSC and Shure for their part in infringing on that patent.
ClearOne filed for injunctive relief, saying Biamp, QSC and Shure must stop selling the products that violate the patent. A judge will rule on the matter.
"ClearOne and its inventors and engineers have invested millions of dollars and hours of effort in research and development on this important technology," said Alexander C.D. Giza of Hueston Hennigan LLP, the firm representing ClearOne, in a statement. "And as of Tuesday, they have a U.S. patent on this invention. ClearOne is entitled to have its patent and innovation respected by the industry."
Shure debuted its Microflex Advance portfolio of networked ceiling and table array microphones, audio interfaces and control software for conferencing at Integrated Systems Europe 2017.
In a statement, Shure officials say leadership "strongly believes the accusations are without merit," noting Shure filed a pre-emptive lawsuit in Federal District Court in Chicago that rules ClearOne's patent invalid "due to the existence of prior art, and that Shure products (alone or in combination with other Shure or third party products) do not infringe" on ClearOne's patent.
ClearOne filed a similar action in Utah that Shure officials say "is also without merit."
"Shure intends to vigorously defend itself in this matter and protect its intellectual property, products and customers," according to the statement.
Biamp and Shure created an integrated compatibility between Biamp's Tesira audio processors and software to support Shure's MicroFlex advance solutions. QSC has partnered with Shure to integrate the Q-SYS Platform with the Microflex Advance.
Biamp global public relations manager Amanda Roe says company officials are "aware of the lawsuit and are currently analyzing the matter in order to respond accordingly."
A QSC spokesman says in a statement that company leadership "disagrees with ClearOne's assertions, and we intend to vigorously defend ourselves in this matter."