New CUB-33 Microphone Joins Clockaudio's Portfolio of USB-Based Solutions
According to the company, the CUB-33 microphone has robust features including a configurable mute button and improved sound quality.
Leave a Comment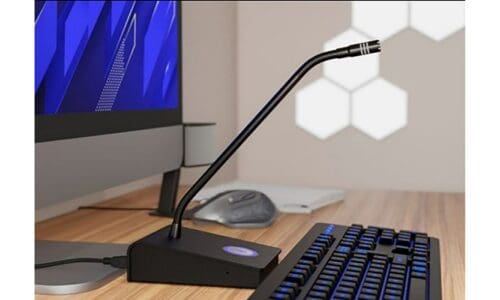 U.K.-based Clockaudio announced the CUB-33 USB Tabletop Microphone, the latest addition to the company's USB-based solutions. These solutions target professionals working from home or at the office as well as for streamers, gamers and podcasters.
With videoconferencing going mainstream, the CUB-33 is of particular note with its natural sound quality, ruggedness and ease of use. It is USB powered and features plug and play. Moreover, the CUB-33 tabletop microphone comes with Clockaudio's popular C3 series Gooseneck, engineered in high quality brass.
The mic's capacitive RGB LCD touch screen for muting has an optional VU meter view mode. This distinctive feature displays the microphone levels to indicate if the mic is clipping or if the levels are too low. Additionally, the mic's mute button is configurable as push to mute or latch. The mute happens inside the CUB-33 to ensure that the audio never leaves the microphone for maximum privacy.
Added Security, Enhanced Mute Options
The mic comes with an intuitive menu, and is accessible with the navigation knob in the back. Thus, CUB-33 lets you configure the color of the mute and unmute button face, and adjust the brightness settings of the LCD screen in a matter of seconds.
According to the company, the rugged design of this low-noise mic is bottom heavy for added stability. This makes the CUB33 a truly robust solution. It is also driverless and compatible with Windows and MacOS. Besides this, it is ''mute-sync'' compatible with the Zoom meeting application and is easy to set up.
Also Read: Clockaudio on Democratizing Access to High-Quality Audio
The CUB-33 even works with iPadOS and iOS, when in conjunction with the right adapters. For added security, the integrated Kensington lock minimizes the chance for theft. With a cardioid polar pattern and a frequency response of 50Hz – 18KHZ, the CUB-33 is suitable for a computer with an available USB port, Clockaudio notes.
Simon LeDuc, product and technology manager for Clockaudio N.A. shares his excitement about the CUB-33. He notes, "This mic has tremendous features oriented towards Zoom users that can immediately notify you of the mic's performance. One of which is our VU meter in the touch button which enables to see if the mic is muting or clipping." He adds, "The local muting option is also a plus because the sound mutes at the mic and not in the Windows platform, making you the only one who can truly control your mic."