Shure Launches MVX2U Digital Audio Interface XLR to USB Adapter
Shure's MVX2U converts any XLR microphone to USB with access to ShurePlus MOTIV and includes custom presets, EQ filters and auto level mode.
Leave a Comment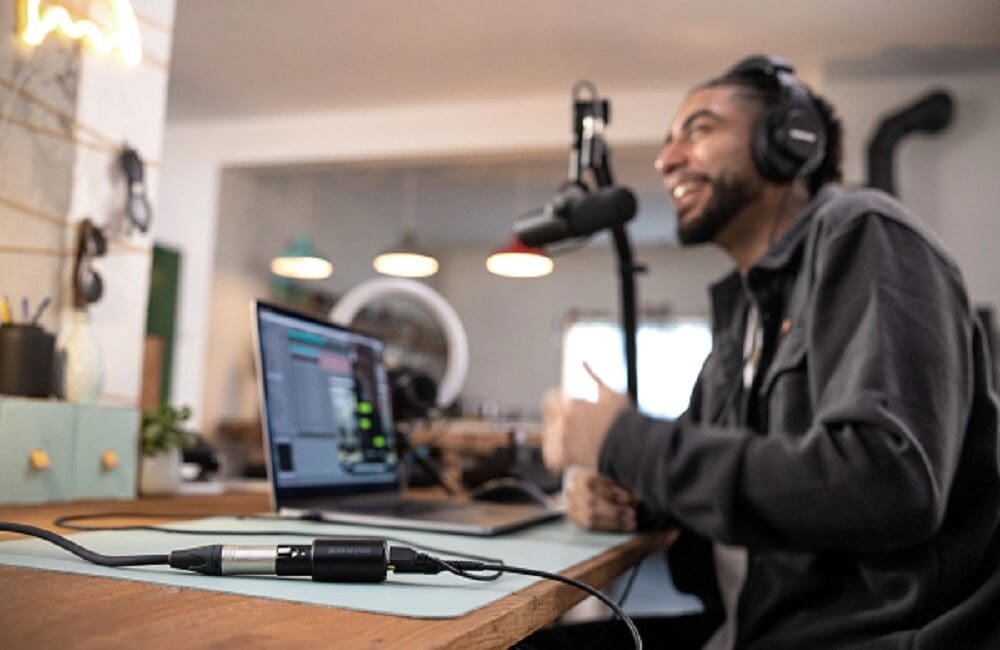 Niles, Ill.-based Shure has launched the MVX2U Digital Audio Interface, a single-channel, XLR to USB solution. The adapter is designed to eliminate barriers to achieving professional level audio, says the company. The MVX2U's integrated software provides access to the ShurePlus MOTIV Desktop app for any XLR microphone with little to no setup and delivers up to +60dB of clean gain, perfect for the Shure SM7B, as well as phantom power for condenser microphones, says the global audio-equipment manufacturer.
ShurePlus MOTIV for All
The MVX2U interface delivers the customization and simplicity of the ShurePlus MOTIV Desktop app to all condenser and dynamic XLR microphones, regardless of the manufacturer. With the MVX2U, users can transform their existing XLR mic into a USB powerhouse equipped with the tools required to take the guesswork out of achieving extraordinary audio, says the company.
The MVX2U ships in Auto Level Mode, which sets gain perfectly in real time, acting as a virtual audio engineer to adjust levels on the fly and provide audiences with a more consistent listening experience. This means creators can focus fully on their content, and not on their mic technique, resulting in less time editing and more time creating.
Auto Level Mode settings, presets, and additional parameters, including "vocal tone," can be controlled through the MOTIV Desktop App.
Users seeking a more hands-on approach to their sound can also take advantage of additional features available in Manual Mode of the MOTIV Desktop app, including EQ, limiter and compressor presets. Recurring firmware updates will also be available for the MVX2U, meaning the interface will continue to adapt to users' needs, says Shure.
Shure MVX2U Designed for Versatility
The MVX2U is compatible with any XLR microphone and can be plugged directly into the XLR output of the mic or at the end of an XLR cable (in-line). Thus, it gives users flexibility in how they implement the interface into their setup.
Without enough gain, microphones cannot perform at its best. For this reason, the company says MVX2U provides +60 dB of clean gain, enough to power gain-hungry microphones, such as Shure's SM7B. The MVX2U also ships with Phantom Power enabled for those using a condenser microphone.
"The MVX2U is the most convenient and powerful solution for users looking to convert their XLR microphones to USB at this price," shares Sean Sullivan, associate director of global product management. "The integrated software is designed to be approachable to anyone – experienced professionals and those just starting their audio journey."
The MVX2U Digital Audio Interface XLR to USB adapter is suitable for streamers, podcasters, content creators, musicians, and all those looking for a compact option to achieve a simple, professional, and fully customizable audio setup.
In the box, users will find the MVX2U Digital Audio Interface, a 1m USB-C to USB-C cable, and a printed quick-start guide to help begin using the MVX2U.
The new Shure MVX2U is now available on Shure.com.
If you enjoyed this article and want to receive more valuable industry content like this, click here to sign up for our digital newsletters!