Shure Microflex: Everything Integrators Need to Know
The diverse Shure Microflex line covers just about any commercial microphone market you can think of with goosenecks, lavaliers, ceiling, and more.
Leave a Comment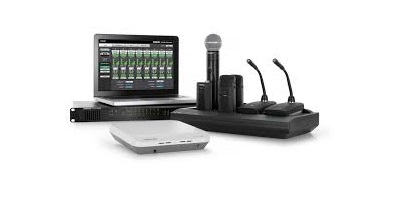 Shure's popular Microflex microphones line includes an array of mics and mounting options. In 2013, Shure introduced the Shure Microflex Wireless system. It's decided to provide enterprise customers with great sound from a simple-to-use, wireless microphone solution.
It tapped into the explosive growth of meeting rooms require conferencing solutions.
"Unlike other installed wireless microphone systems, all frequency management is handled automatically," writes Shure. "MXW operates in the 1.9 GHz (or DECT) band, free from concerns over DTV interference, 'white space' devices, or future UHF spectrum reallocation."
Microflex Complete and Microflex Complete Wireless were both introduced at ISE 2019.
Today's Microflex Wireless Microphone solutions for enterprise AV environments offer:
Transmitter form factors include handheld, bodypack, boundary and gooseneck
Power options include Shure rechargeable batteries, docking station, and USB chargers
Components are accessible over Ethernet with Microflex Wireless Control Software or third-party control systems
Dante networking transports digital audio from wireless microphones over Ethernet to other Dante-equipped devices
Microflex Advance Ceiling
The Shure Microflex MXA910 ceiling array microphone features steerable coverage technology, using up to eight separate lobes to capture sound sources from above.
An automatic positioning tool in the control software adjusts lobes toward each participant's voice and the user interface helps them configure presets, templates and polar patterns.
The microphone comes in several models:
MXA910B (24-inch ceiling array with black finish)
MXA910W (24-inch ceiling array with white finish)
MXA910AL (24-inch ceiling array with aluminum finish)
MXA910B-60CM (60 cm ceiling array with black finish)
MXA910W-60CM (60 cm ceiling array with white finish)
MXA910AL-60CM (60 cm ceiling array with aluminum finish)
MXA310 Table Array Microflex Complete and Microflex Complete Wireless were both introduced at ISE and are two separate products
Shure Microflex Training (Shure Audio Institute)
Those interested in getting trained on how to install and optimize Shure Microflex solutions have both online and in-person options.
Much of Shure's training falls under the Shure Audio Institute, founded in 2015, which aims to provide an industry-leading source of educational and training information for systems integrators and AV professionals on general audio education – as well as Shure product specific training.
Shure Microflex Advance training at the Shure Audio Institute  – This is offered online here, and it instructs students on how to install and configure Microflex Advance products including MXA910 ceiling array mic, MXA310 table array mic and ANI4IN and ANI4OUT audio network interfaces.
Shure Microflex Wireless Technical Training – This is offered online here, and it teaches how to properly install a Shure Microflex Wireless System — installing the access point transceiver, creating a configuration, troubleshooting, and more.
During InfoComm 2019, Shure announced an Integrated Systems Certification Program through the Shure Audio Institute (SAI). The program features extensive Integrated Systems training courses for channel partners, AV professionals, systems integrators, and audio engineers.
Microflex Goosenecks
Audio professionals know the benefits of bringing gooseneck microphones into environments like boardrooms and meeting halls. The Microflex line includes a few gooseneck models, including:
MX410DF & MX415DF Dualflex –  10″ (25.4 cm) and 15″ (38.1 cm) lengths; cardioid and supercardioid polar patterns; bi-color status indicator or single color light ring; improved RF filtering
MX412 & MX418 Standard – designed for easy replacement and available in cardioid, supercardioid and omnidirectional; interchangeable cartridges; condenser cartridges fit every model in the Microflex product line
MX405, MX410 & MX415 Modular – desktop or mounted bases, wired or wireless options, and even interchangeable cartridges; 5″ (12.7 cm), 10″ (25.4 cm), and 15″ (38.1 cm) lengths; logic input/output for remote LED and mute control; programmable mute switch
Microflex Lavaliers
There are two lavalier style microphones in the Microflex family: the MX150 subminiature lavalier microphone and the MX183, MX184 and MX185 lavalier microphones.
The MX150 series is "ideal for applications requiring low-profile placement" thanks to an electret condenser microphone cartridge. It comes in four varieties, two each cardioid and omnidirectional versions of the product.
The MX183 (omnidirectional), MX184 (supecardioid) and MX185 (cardioid) mics feature interchangeable cartridges and accurate sound reproduction in a small form factor.
Popular Markets for Shure Microflex Systems
Shure Microflex systems are best suited for corporate settings and presentations, allowing meeting attendees to hear each other clearly and be singled out as they lead the conversation while being scalable to allow company leaders to add to and enhance the system.