Shure SM58 Vocal Microphone Has Its Own Day of Celebration
The microphone on which The Who's Roger Daltrey has relied for decade will celebrate its big day on Saturday in several unique ways.
Leave a Comment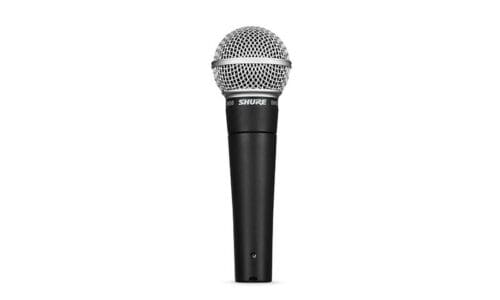 Shure's iconic SM58 vocal microphone, which the company touts as "the most photographed and recognized microphone in the world," has its own day to celebrate: May 8.
This day "celebrates the storied history of the SM58," according to the Shure announcement.
"If you've ever heard someone sing or speak into a live microphone, there's an excellent chance it was an SM58," the company announcement says. "Rock stars. Pop idols. Comedians. Movie stars. Educators. Presidents. Popes. World leaders. Legendary words have passed through its iconic grille for generations."
Introduced in 1966, the Shure SM58's acoustic engineering and durability "has set the global standard for performance microphones," the company announcement says.
Shure will also unveil 58 reasons to love the SM58. Compiled from actual users, it explains the various reasons why the microphone is so essential for a variety of people.
More About the Shure SM58 Vocal Microphone
The Shure SM58 vocal microphone is "designed for professional vocal use in live performance, sound reinforcement and studio recording," the company announcement says.
A built-in spherical filter minimizes wind and breath "pop" noise. A unidirectional (cardioid) pickup pattern isolates the main sound source while minimizing unwanted background noise.
Rugged construction, a proven shock-mount system and a steel mesh grille "ensure that even with rough handling, the SM58 will perform consistently, outdoors or indoors," the Shure announcement says. In fact, "mic drops" were made famous with SM58s.
The Who's Roger Daltrey famously would swing his SM58 around the stage as he described in his video about his love for the microphone.
Related: Grammy Awards Get Creative in Delivering Outdoor Ceremony with Shure Microphones
"I find this microphone to be absolutely remarkable," said Daltrey. "And no one's been more abusive to a microphone than I am."
To celebrate the iconic mic, a number of regional events will take place throughout the week both in person and on social media. Shure is giving away eight custom ignition green and grey SM58 mics. The custom color scheme was selected by the public through social media.
Fans can enter to win one of the unique mics until 11:59 p.m. CT on May 8.