Yamaha UC Adds Dante-Enabled Ceiling and Tabletop Microphones
The Dante-enabled standalone microphones feature Yamaha UC's signature voice tracking and beamforming technology.
Leave a Comment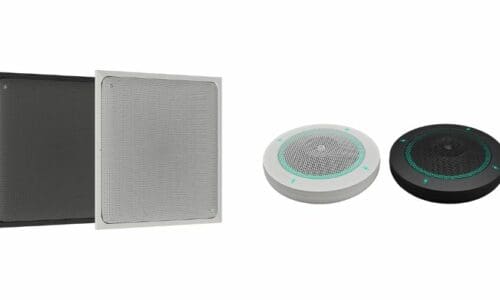 Yamaha Unified Communications, the Sudbury, Mass.,-based provider of audio- and videoconferencing solutions announced the RM-TT tabletop and RM-CG ceiling-mount microphones for conferencing applications designed around the Dante platform.
The standalone microphones pack all of Yamaha's sound technologies, including automatic voice tracking, auto gain control, adaptive echo cancellation, noise reduction, and reverberation suppression for optimal collaboration experiences while seamlessly integrating with the room's existing conferencing equipment or a variety of third-party components.
"Following the success of our ADECIA line, the RM microphone family was engineered to provide all the advantages we built into that complete solution, but in a standalone model for applications utilizing Dante networking protocols," says Holger Stoltze, senior manager of technical sales and marketing at Yamaha Unified Communications.
Related: Yamaha Announces ADECIA Family of Audio Products
"This allows integrators seeking Yamaha's high-quality audio leadership to upgrade the room's microphones easily and with confidence. They can, for example, add each microphone to the room's existing DSP while still benefitting from all of Yamaha's latest, state-of-the-art audio processing technology. It also allows designers and consultants to use Yamaha technology in new designs with third-party equipment."
Yamaha's RM-TT Dante-enabled tabletop wired microphones and RM-CG Dante-enabled ceiling-mount microphone array both feature voice tracking technologies, allowing for conversations to be picked up and delivered clearly to the far end.
The tabletop model voice tracking function automatically selects the microphone closest to the person speaking for voice capture, and its human voice activity detection technology anticipates additional voice locations for seamless conversation pickup. It also includes six directional modes — omnidirectional, bidirectional, unidirectional, super-cardioid, hyper-cardioid, and toroidal, which installers can set for even more customized room capture.
The RM-CG features Yamaha's beam tracking, which utilizes multi beams to automatically track voices within the room simultaneously. The technology eliminates the need to program fixed lobes, which can often lead to dead spots within the meeting space. Design changes or room setup flexibility can also be done without the need to reprogram microphones. The ceiling microphone array supports ceiling mount, wire mount, or pole mount options.