d&b Soundscape Under the Stars at Historic Amphitheater
Recently, the iconic Odeon of Herodes Atticus amphitheater in Greece deployed a 360-degree d&b Soundscape system.
Leave a Comment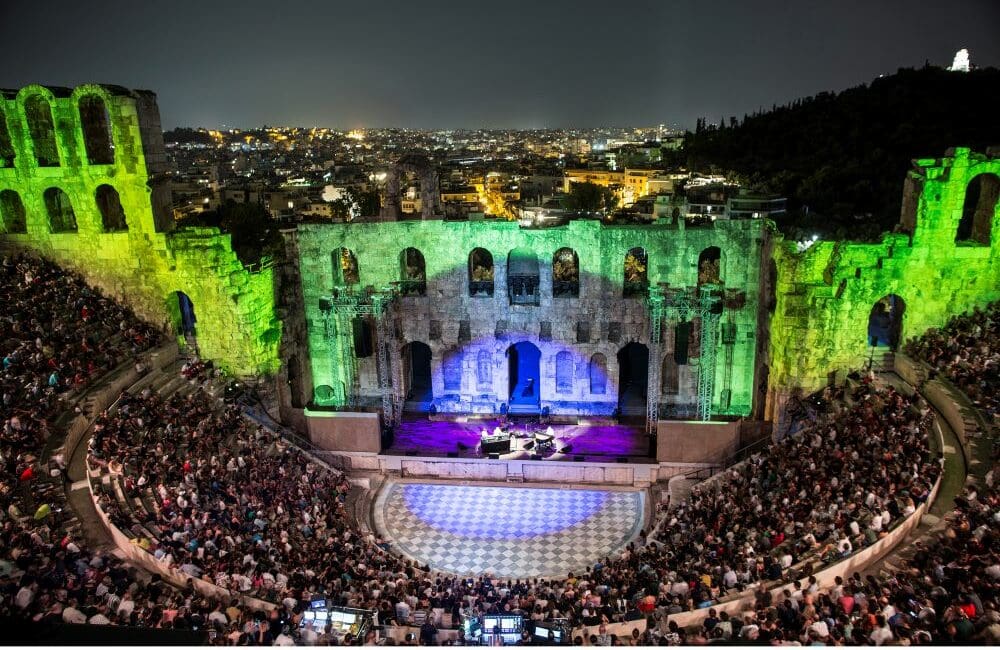 Photos & Slideshow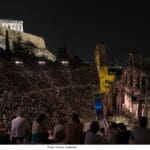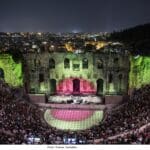 ---
Recently, the iconic Odeon of Herodes Atticus amphitheater in Greece deployed a 360-degree d&b Soundscape system. The system served producer and artist Brian Eno and his brother Roger Eno, a solo recording artist and film/TV music composer. This was their first ever joint live performance.
Brian Eno's reputation as a musician and producer precedes him. In fact, he has worked with the likes of David Bowie, U2 and Talking Heads. Moreover, he has enjoyed a long career as a pioneering solo artist, especially in the field of ambient music. Recently, he recently collaborated with his brother, Roger, to release their first ever joint album, titled "Mixing Colours." That project, of course, spawned this live show.
d&b Soundscape in a Legendary Amphitheater
The Odeon of Herodes Atticus housed their first live performance as a duo. The renovated stone amphitheater was originally constructed in the year 161 CE. Therefore, it is no exaggeration to call the open-air performance space legendary.
Chris Hamilton, front-of-house engineer, cites the amphitheater's age and size. He comments, "I thought that it would be a real challenge to analyze how the sound spreads in the space and how we would manage coverage and reflections." Hamilton adds, "Luckily, because it's such a historic venue, [many] studies [have been] done on it, and someone had previously conducted a full audio study for the space…." Therefore, the team had great audio information to work with.
Previously, Massimo Carli of BH Audio had introduced Hamilton to Soundscape. Thus, he suggested using it to achieve power and clarity for this challenging outdoor venue. This, he believed, therefore, would make this historic musical moment unforgettable for the audience.
"I spoke with management about the opportunity we had to do something really special here," Hamilton explains. Indeed, he says it was something that no one had ever done before. According to Hamilton, "The challenge was more reassuring them that this will be simple, easy to install and reliable — and the audience won't even know it's there, but they will hear it." On that point, he acknowledges that the team took a risk. However, Hamilton adds, "…there was trust, and the results spoke for themselves."
Powered by d&b audiotechnik Technology
d&b Soundscape, from Backnang, Germany-based d&b audiotechnik, is powered by the DS100 Signal Engine. That audio system processor is based on a Dante-enabled signal matrix. Importantly, it provides creative potential through its two software modules: En-Scene and En-Space.
d&b En-Scene is a sound-object-positioning tool. Thus, it enables individual placement and movement of up to 64 sound objects. Moreover, it accurately depicts stage scenarios so that each sound object corresponds both visually and acoustically. d&b En-Space is an in-line room emulation tool. Thus, it creates and modifies reverberation signatures for any space. These reverberation signatures are emulations derived from acoustic measurements of nine internationally renowned performance venues and convolved within the audio processor.
For many, including Hamilton, this was their first show back since COVID-19 restrictions' relaxation. Thus, anticipation was high. Nevertheless, even with high audience expectations, fans received the audio and performance very well. In fact, the band, too, praised the show.
"After the show, everyone was beaming and saying how good it sounded," Hamilton remembers. "The future for me is all about spatial audio tools such as Soundscape." He adds that Soundscape helped him not only build volume but also spread and movement as the show built. Hamilton continues, "It's definitely something I'm looking to bring in for more shows with other artists in the future."
"There is nothing like experiencing 360-degree audio for the first time," Carli declares. He talks about introducing Hamilton to Soundscape in BH Audio's studio in Italy. Carli concludes, "I'm pleased he finally [tried it out] in the 'real' world — and with such compelling results."
For prior Commercial Integrator coverage of d&b audiotechnik, check out our site archives.
Click on "View Slideshow" on upper-right corner for images of the amphitheater. All images courtesy of Thomas Daskalakis.