VUE Audiotechnik CST Keeps the REO Speedwagon Tour Rolling with al-Class Line Arrays
Leave a Comment
The REO Speedwagon and Chicago co-headlining tour recently made a stop in Primm, Nev., where the local production company used a VUE Audiotechnik CST al-Class line array system to reproduce the classic rock bands live sound.
H.A.S. Productions, a Las Vegas-based production company, set up the system to maximize the audio manufacturer's Continuous Source Topology (CST) technologies.
According to VUE Audiotechnik and H.A.S., CST allows for the use of different al-Class line array products to be combined to best cover an audience without the disruptions associated with more conventional mixed element arrays.
"The VUE line arrays always amaze me with their configurability and headroom," says Larry Hall, CEO of H.A.S. Productions.
"REO's FOH [front of house] engineer was very impressed, like so many engineers who get their first chance to mix on a VUE rig when they come through this venue. After the show it goes straight to their rider."
VUE Audiotechnik CST ties together all the REO Speedwagon Tour tech
H.A.S. Productions employed left and right CST clusters that included eight large-format al-12 elements above four medium-format al-8 elements that served as down fill.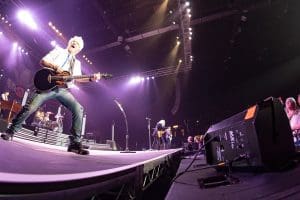 Two al-4 arrays provided the evening's side fill, with the arrays using eight subcompact al-4 elements each respectively.
A total of 10 VUEDrive V6 series and two V4 series system engines powered the arrays, and the company's VUEDrive DSP helped to facilitate the setup and configuration of the VUE Audiotechnik system.
Related: Death Wish Soundtrack Recording Relies on Royer Labs Ribbon Mics
H.A.S. Productions also recently deployed a VUE Audiotechnik system at the the Star of the Desert Arena in Primm, Nev., on June 30 to help Alicia Villarreal sound her best during her show stop in Nevada.
REO Speedwagon and Chicago continue their co-headlining tour throughout the rest of this year with stops in Toronto, Denver, Boston, Atlanta and Nashville.
The co-headlining tour wraps up this December at the Deadwood Mountain Grand Hotel and Casino in South Dakota.
Learn more here