AV News Roundup: Products, Projects and People in New Places
Here's a closer look at some of the AV news this week, including an integrated camera solution, an LED videowall project, promotions and more.
Leave a Comment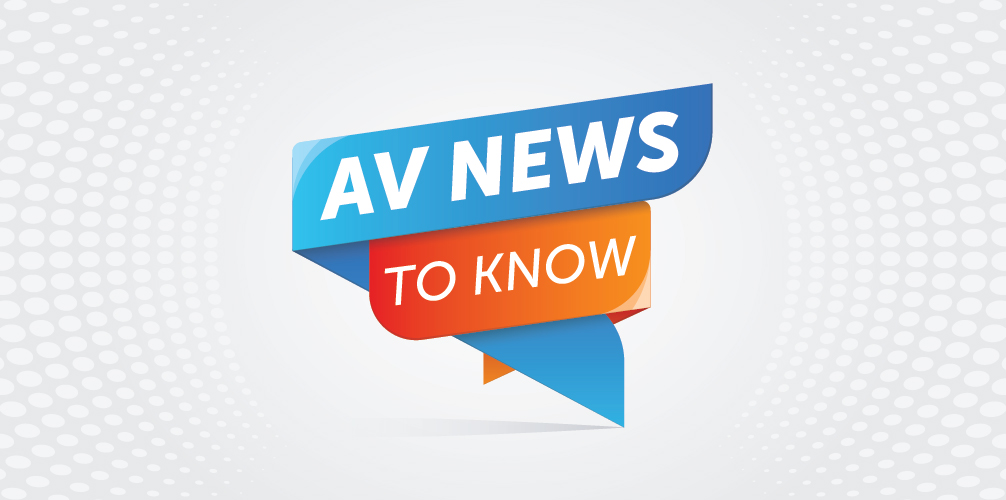 New Products
Yamaha's ADECIA Solution Now Integrates with 1 Beyond's Automate VX Solution
Sudbury, Mass.-based Yamaha Unified Communications announced its ADECIA Ceiling Solution integrates seamlessly with Massachusetts-based 1 Beyond's Automate VX voice-activated camera switching solution to provide a highly accurate speaker-tracking experience. The integration uses a web-based room design software that requires zero programming. It is now available for corporate, university and government meeting spaces.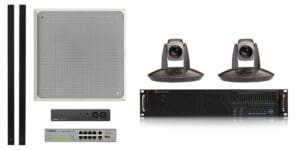 Per Yamaha, its ADECIA ceiling solution is engineered with its quality audio technology and expertise. Phil Marechal, the VP of business development and product management, Yamaha Unified Communications, also expands on 1 Beyond's solution. According to Marechal, 1 Beyond is prominent in the field of intelligent camera and automated camera switching. He then goes on, "Similarly, Yamaha's ADECIA leverages our dynamic beam tracking technology to pick up and deliver conversations clearly to the far end. This combination of best-in-class voice tracking and audio processing ensure conference participants have the clearest communication possible for an all-around productive meeting."
Features of 1 Beyond Automate VX Solution
The company states that hybrid meeting experience is best when in-room participants are seen and heard clearly. 1 Beyond's multi-camera Automate VX solution creates this optimal hybrid experience by showing the active speaker. As different participants speak, the system cuts cleanly from camera to camera. It does not have any observable camera movement or switching. It also features an optional Conversation Mode that shows the two most recent speakers in a side-by-side view.
The Automate VX solution supports up to 12 cameras placed strategically around the room and multiple ADECIA ceiling units. This allows for automatic camera switching in a wide variety of room types, including large and complex spaces.
Rony Sebok, CTO of 1 Beyond, adds that the 1 Beyond solution can take advantage of ADECIA microphone's unique features. One such feature, says Sebok, is its Human Voice Activity Detection technology that differentiates voice from noise. Sebok adds, "…This, together with reliable audio position information from the mic, enables the Automate VX solution to aim cameras accurately for talkers in the room whether they are seated or standing and to ignore extraneous noise."
Advantages of ADECIA solution
Further, ADECIA utilizes four beams to automatically track voices around the room simultaneously. Thus, it enables uncompromised communication with no dead spots. At the same time, it also allows endless table arrangements in multi-purpose spaces. The ADECIA features a dynamic, multi-beam tracking technology. The microphone innovation can also overcome the common challenges faced by integrators such as implementation, configuration, and room acoustics. It does so by providing all components required for a successful installation and automatic technologies. Thus it helps reduce setup time, costs, and complexities.
Moreover, the solution automatically detects components, configures devices and optimizes audio performance for the room environment. Some examples include adjusting for reverberation characteristics, echo behavior, speaker/mic position and more.
Yamaha Unified Communications' full product portfolio is available at uc.yamaha.com. For more information on the 1 Beyond Automate VX Solution visit https://www.1beyond.com/automate-vx/.
Audio Visual Projects
Metropolitan interactive and Mitsubishi Electric DiamondVision Deliver on Sports Bar Videowall
Metropolitan interactive (Metinteractive) recently partnered with Mitsubishi Electric DiamondVision. Together, they delivered a massive LED video canvas in the WynnBET Sports Bar at the new Encore Boston Harbor hotel and casino. Metinteractive is the Oxford, Conn.-based provider of strategic solutions for architecture, communication and technology.
The 123 x 10-foot Mitsubishi Electric LED videowall comes with a sports ticker below. It emerged the showpiece of the venue with its rarified size and resolution. In fact, it is one of the biggest, fine pitch LED displays located outside Las Vegas, per a statement. The elevated, wraparound screen immerses customers in sports content as they enjoy a full-service bar and cuisine close to the gaming floor.
Solid Partnership
Metinteractive expands on its previous relationship with Wynn Resorts where it was part of the original construction team for Encore Boston Harbor. It also teamed up with Mitsubishi Electric on the AV install for the WynnBET Sports Bar. "Metinteractive and Mitsubishi Electric have worked in tandem on projects for more than five years," notes Michael Mascari, North American sales manager for Diamond Vision Systems at Mitsubishi Electric Power Products, Inc.
He adds that this was the first partnership with Wynn Resorts and consultants in delivering a solution to meet the facility's needs. According to Mascari, Mitsubishi and Metinteractive complement each other's strengths. "[As] a leader in the large-scale LED market for over 40 years, we brought our strengths in manufacturing and quality assurance to the table. Metinteractive focused on putting pixels where they needed to be and developing the user interface to deliver the complete user experience," he explains.
Features of the LED Videowall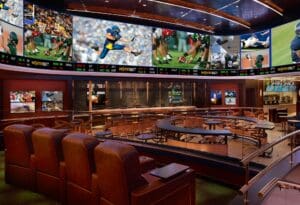 The nearly 20K Mitsubishi Electric direct-view 1.56mm LED videowall, has a pixel resolution of 19,800 x 1,680. It also comes with full 10-bit HDR-ready display for sharp image quality and color fidelity. The wall thus spans three walls of the sports bar with two 90-degree wraparound corners.
"It's built off of our Flagship XL Series including custom curves on the fine pitch with zero clearance technology," Mascari explains. "It installed quickly with precision connections and did not need a custom mounting frame behind it, which helped reduce costs." Mascari adds that the custom bracketry also allowed creation of smooth corners with the angles and radius.
What's more, the sports ticker below is the same Mitsubishi Electric LED product as the main screen. It has a 19,840 x 180 pixel resolution. The ticker streams scores driven by C-Scape's data service as well as custom content.
A Collaborative Process
"The challenge for the physical display was fitting it within the bar's architectural design and construction to minimize changes and cost," says Mascari. According to Mascari, delivering content to a large screen was the next challenge. He adds that Metinteractive designed a content system and a graphical interface that made operation easy for non-AV staff.
Mascari then explains that the collaboration was key to the whole project. This included delivering resolution within budget and displaying content as per the clients' needs. It also involved installing the display without disturbing the costs and schedules along with providing an architectural fit and finish to match a very architecturally aesthetic building.
"It was a very collaborative process from start to finish," adds Metinteractive senior engineer, Richard Gold, "…This was a large wall to install in an area where there were many trades working, but we were still able to get it up in under two weeks."
Flexibility of Content
Metinteractive's project manager, Don Ellis, also echoes the success of the installation. He then expands on the flexibility of the screen content. "The main screen offers a choice of eight layouts each composed of windows, which can be filled from a list of 50 or more sources," Ellis adds.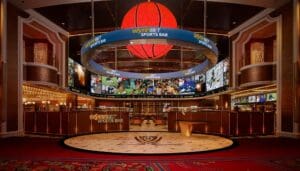 He also points out that Metinteractive designed the system's user interface so the average employee without AV training or experience could easily deploy it. "The 24-inch touch control panels are graphical with simple iconography instead of programming," he explains. "They are easy to use and configurable: If you can pick out a movie on Netflix, you can use this." Per a statement, touch panels and iPads are available outside the control room to bartenders and wait staff. They can then can fill customers' requests for different content.
Metinteractive and Mitsubishi Electric also collaborated on a double-sided LED video ring. The ring encircles a huge hanging LED sphere near the entrance to the venue. This ring displays promotional content or the sports ticker feed.
Future Partnerships
Additionally, Metinteractive installed 24 channels of distributed audio throughout the lounge, two bars and two restaurants. It also installed 95 flat-panel displays, including seven in the control room. "Any sources available to the system can be sent to any TV on the floor through a unified control interface," says Gold.
Metinteractive and Mitsubishi Electric both acknowledge that the showcase WynnBET project helped pave the way for future partnerships. "Our partnership can provide a complete, end-to-end solution for customers," says Mascari. "We can deliver the kind of polished experience premier clients are looking for – and at a surprisingly affordable price."
"This is a model for the future," Ellis predicts. "Together we can deliver an entire AV solution from distributed audio and video to LEDs for all markets – performing arts, sports, corporate, public spaces."
Gold observes that he's "never seen a project go as well and as smoothly as this one did," and in this era of supply chain delays that's saying something. "A lot of manufacturers are having on-going issues with the supply chain, but we have never had to implement a force majeure clause," notes Mascari. "We delivered the screens on time and kept all of our promises."
People and Places
Riedel Appoints Craig Thompson as Executive Director of Customer Success Department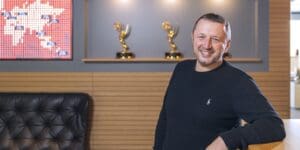 Germany-based Riedel Communications announced that Craig Thompson will serve as executive director of its new Customer Success Department. In his new role, Thompson will oversee operations for the department, which was created to deliver a frictionless experience for customers. Per Riedel, he will handle initial demo and system design along with training, delivery, and post-sales support. At the same time, he will also expand the company's services portfolio and associated revenue streams.
Rik Hoerée, CEO, product division at Riedel Communications, expresses his excitement on Thompson's hire. He remarks, "With an impressive record of improving customer satisfaction, exceeding sales targets, and managing world-class services teams, Craig is a natural fit to lead our Customer Success team, and we're thrilled to welcome him to Riedel."
Thompson has over 20 years of management experience in the media production and broadcasting industries. He previously worked at Grass Valley. There, he served as VP of customer success and business transformation. He also held the position of head of global services at Snell Advanced Media (SAM) and served as the global head of commercial sales at both SAM and Quantel.
Previously, Thompson was with Ericsson Television (formerly Tandberg Television) for nearly 18 years. He joined in 1997 and headed its Australasia Services department. He ended his tenure as director of operations and services, EMEA. Here, he was responsible for the delivery, support and sales growth for the company's media and software service solutions within the region.
"It's an exciting time to be joining Riedel, as the company delivers on its commitment to our customers with the new Customer Success Department," Thompson states. He underscores Riedel's robust services in consulting, technical support and training courses. He then adds, "…I'm looking forward to expanding our portfolio even further to ensure a seamless customer experience."
Hall Technologies Adds Two New Rep Firms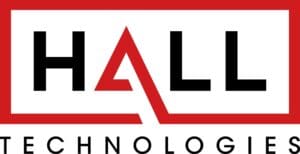 Coppell, Texas-based pro AV manufacturer, Hall Technologies, appointed two new manufacturers' reps in the Rocky Mountains, Northern California and Nevada. CB Electronic Marketing and Western Rep Associates announced the addition of Hall this week as part of their offerings.
CB Electronic Marketing will represent Hall in the Rocky Mountain regions of Colorado, Utah, Arizona, New Mexico, Wyoming, and Idaho. Meanwhile, Western Rep Associates will cover the northern regions of California and Nevada.
"We're happy to expand upon our growth strategy into these regions with the appointment of CB Electronic Marketing and Western Rep Associates," says CEO of Hall Technologies, Jason Schwartz. He adds that both firms bring over 55 years of combined AV experience. Schwartz underlines that this experience aligns with the company's sales goals. It will also help in gaining more opportunities in these territories.
"Both firms offer complimentary lines that will elevate projects with a comprehensive solution. Working with the rep channel has been a great model for Hall, and we will see continued growth because of these relationships," he says.
"We are looking forward to working with the great folks at Hall Technologies to increase awareness of their innovative products to the Northern California AV Community," says principal of Western Reps, Dave Herget.
Larry Bickford, president of CB Electronic Marketing also expresses his excitement. He says, "…what's really unique about Hall is their mission to reimagine the way people live, work and play with their catalog of solutions," adds Larry Bickford, president of CB Electronic Marketing.
He concludes, "…Our Rocky Mountain clients will soon be introduced to a great technology portfolio."
Nanolumens Partners with Megapixel VR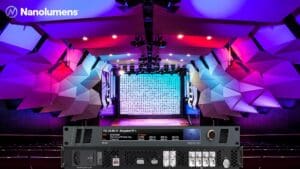 Atlanta, Ga.-based Nanolumens, creators of creative LED displays, has partnered with Megapixel VR, innovators in LED technology. Through this partnership, the companies will offer customers greater reliability and quality when selecting their displays.
Per a statement, the partnership brings a secure and complete product offering with video performance and easier control for large and/or multiple displays. Both U.S.-based manufacturers look to bring unsurpassed video performance for LED video wall projects with this alliance.
"…We're thrilled to collaborate with Megapixel VR and offer our clients a strong ecosystem alliance. Like our products, Megapixel VR's products are TAA and NDAA 889 compliant. [This] offers our clients a complete end-to-end solution for secure environments," says Brice McPheeters, VP of product and planning, Nanolumens.
John Youngson, VP of Sales from MegapixelVR also expresses his enthusiasm on the alliance. According to Youngson, the client base will be thrilled with this strategic partnership. "Many industries that we work with need a dynamic duo of LED and video processing to power their projects. Companies in Themed Entertainment, Control Rooms, Government, Corporate, and Entertainment venues can rest assured that their video wall content will be clear, and their brand's messaging and data will be secure," he says. He adds that this collaboration enables delivery of 8K resolution and beyond with full HDR and dynamic color gamut settings.
If you enjoyed this article and want to receive more valuable industry content like this, click here to sign up for our digital newsletters!