AV News to Know July 10, 2020: New Products, Cool Projects and People in New Places
In this week's edition: Z-Band launches charitable initiative, AVI-SPL installs digital signage at Tampa Airport and Hall Research announces new CEO.
Leave a Comment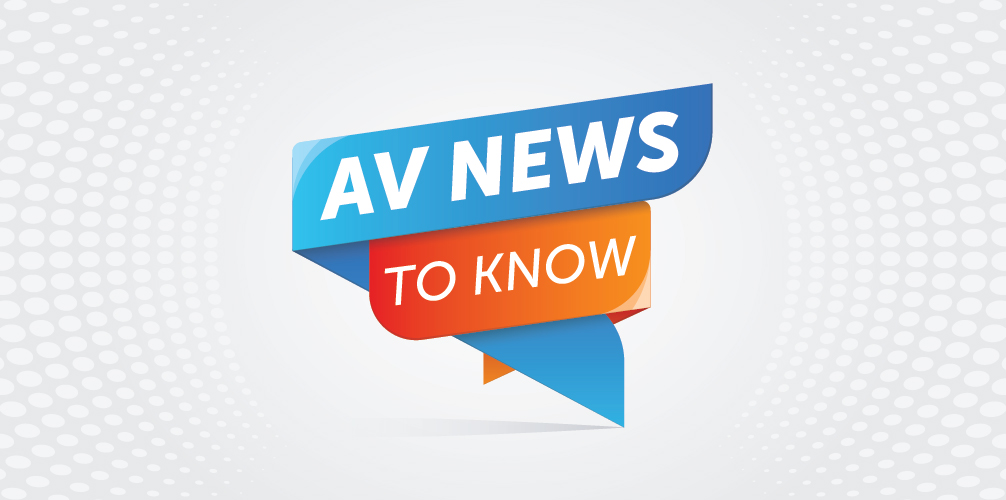 Here's a closer look at some of the AV news, products and projects you might have missed this week. We call it AV News to Know:
New AV Products
Z-Band Technologies Launches Be a Good Sport Initiative
Z-Band Technologies is launching its latest product, Z-IP Encode LS, along with an ongoing initiative to support Good Sports, a national nonprofit that donates new sports equipment, apparel and footwear to youth organizations to increase access to play for kids in need.
The Z-IP Encode LS is a live-streaming HD encoder that enables users to send broadcast-quality video out to multiple content delivery networks simultaneously and share live events like concerts, sporting events, and religious services.
The Be a Good Sport initiative will help draw attention to the Restore Play campaign, which has a goal of raising $2 million to deliver $15 million in new sports and fitness equipment to the communities who have suffered the most from COVID-19.
AVer Information Inc. USA Releases First in Series of AI Auto-Tracking Cameras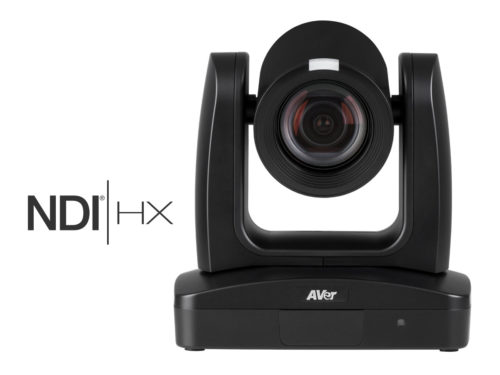 AVer Information Inc. USA this week announced the company has released the TR311HN AI Auto Tracking 12X NDI PTZ Streaming camera, the first of its new generation of tracking cameras.
The automated TR311HN features 12X optical zoom and 12x digital zoom, full HD 1080p60 and AVer's most advanced artificial intelligence (AI) auto tracking technology with Human Detection algorithm.
The tracking offers two specific modes, Presenter Tracking (full- or half-body) and Zone Tracking without requiring any physical lanyard.
Extron Announces Mobile Lesson Recording Control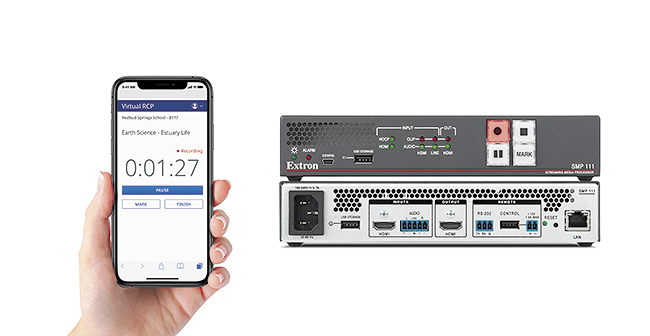 Extron recently introduced vRCP, a new virtual remote control panel that enables remote control of any Extron SMP streaming media processor using the browser on any mobile device. Install the free vRCP FlexOS App on your SMP Series products to give users access to common functions including starting, stopping, pausing and marking recordings.
With the vRCP FlexOS App, users can remotely control SMP Series products without the need for a physical RCP 101 remote control panel, or it can be used in conjunction with an RCP. This enhancement empowers presenters to walk around a room while using their personal devices for control and operation of SMP devices.
Blackmagic Design Announces New ATEM Advanced Panels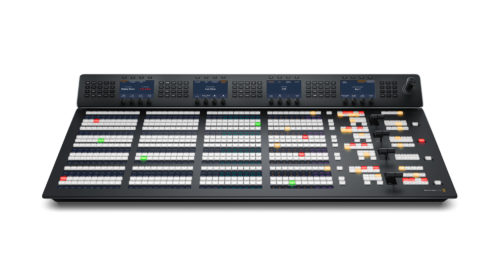 Blackmagic Design this week announced the new ATEM 2 M/E advanced panel and the ATEM 4 M/E advanced panel. A new family of hardware control panels designed to work with all ATEM switchers.
The ATEM advanced panels are large enough so the user has dedicated controls for the largest ATEM switchers. Features included up to four M/Es, up to 24 separate LCDs for custom button labels, four separate system control LCDs, four T‑bar fader controls and more.
The new panel design allows both desktop use or inset mounting for a flat control surface.
ATEM Advanced Panels are available immediately from Blackmagic Design resellers worldwide from $5,995.
Hall Research Releases 4K Video and USB HDBaseT 2.0 KVM Extender
The new Hall Research UH18 extends HDMI video, USB, IR and RS-232 on a single CAT6 cable to over 100 meters. It employs proven HDBaseT 2.0 technology. The UH18 allows users to access and control PCs from a distance as well as locally at the PC.
The system is OS independent and no software drivers are needed. The remote user location shows the same PC screen and users can connect keyboard, mouse or touchscreen to the UH18 Receiver to access the PC.
The UH18 supports 18 Gbps video bandwidth and resolutions up to and including 4K @ 60 Hz 4:4:4 (UHD). The product is in stock and available for shipment.
Audio Visual Projects
AVI-SPL Delivers LED Digital Signage for Tampa International Airport
Tampa International Airport enlisted the services of AVI-SPL to design and integrate new public signage throughout the airport's terminals and parking areas.
Airport officials challenged AVI-SPL to come up with a digital solution that makes navigating the airport more engaging, informative and easier. The project involved installing new LED display systems powered by RGB Spectrum's MediaWall V video processors and NanoLumens LED video walls.
The video walls are installed and scheduled in multiple locations throughout the airport: the main terminal with four Meet and Greet lobby signs, eight baggage claim areas, a terminal Event Wall, two parking areas, four passenger shuttles signs and a Network Operations Center (NOC) training room.
These provide the public and employees with key information, such as flight schedules, baggage collection guidance, terminal directions, transportation information, advertising, and public safety messaging.
The Mediawall V processors helped AVI-SPL combine visuals from a variety of sources and present them on each video wall display. Content includes the airport's flight information display system, CATV feeds, advertising, weather radar, emergency notifications and public safety messaging.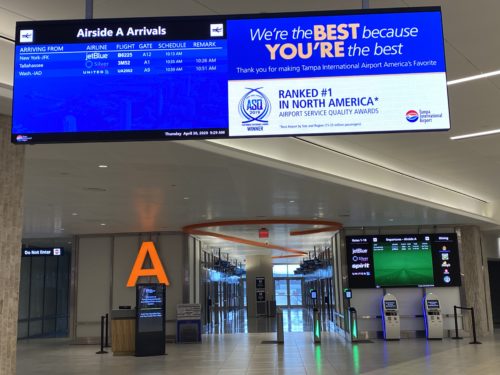 The processor consolidates these various sources and displays them in windows of any size, anywhere on LED display area. The visuals are arranged in preset display layouts relevant to the messaging requirements. Operators can instantly switch individual sources and choose from up to 60 customizable layouts.
MediaWall V's embedded architecture fits the airport's 24/7 mission-critical operation. Its processor supports all types of video walls: an image overlap capability is available for projector-based video walls, custom output timings accommodate the special resolutions of LED walls, and bezel compensation optimizes viewing with LCD video walls.
DAS Audio Loudspeakers are Ideal Match for the Canopy by Hilton
As a bright and fun landmark in the heart of energetic West Palm Beach, Fla., the Canopy by Hilton is a new boutique lifestyle hotel with a stunning glass façade and fiber optic art hanging in the atrium.
With close proximity to a wealth of shopping, dining, entertainment, and more, the Canopy by Hilton is the place to be. To ensure the best possible sound reproduction for their guests, management invested in the installation of a healthy assortment of loudspeakers from DAS Audio of Valencia, Spain.
"Skinny" Greg Gilman, who is involved in a wide range of sound and music endeavors throughout the West Palm Beach area, including being a well-known DJ, was contracted to manage the Canopy's sound system installation.
Working in conjunction with Oakland Park, Fla.-based TM Sound, an AV design/build firm, the combined team deployed an assortment of DAS loudspeakers that drew from the company's WR, Quantum, and Artec Series catalogs.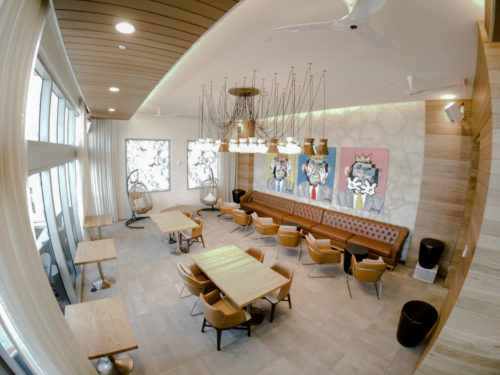 "Most of the install inside the hotel is a blend of a stereo sound system reinforced by distributed audio," said Gilman. "The entryway of the lobby has two Quantum 23-TW loudspeakers, which provide guests entering the premises their first taste of the venue's high-quality sound.
"Inside the Banter restaurant, there are two Artec 310.96-W loudspeakers that fill the room effortlessly—without the need for increased volume. This setup provides balanced sound, enabling servers to interact comfortably with their guests, and for the guests to enjoy fine dining accompanied by great sound," he said.
"Moving up to the 13th floor, the Treehouse is intended to offer guests an exquisite nightlife experience without having to leave the hotel, so we installed four Artec 506-W loudspeakers, one in each corner facing toward the center of the room, said Gilman.
These are accompanied by two Quantum 10-W subwoofers, which reside next to the couches. Treehouse also features an outdoor bar and patio area, which is equipped with four DAS WR-8826-DXW loudspeakers.
"Our greatest challenge in this area was to offer incredible sound and high energy—without disturbing the neighbors," said Gilman. "For the pool, we installed six WR-6412-DXW loudspeakers and supported them with two WR-322-DX subwoofers, which are hidden in the planter areas.
"This is where the owners asked us to ensure the sound would be very high energy," he said.
The new DAS Audio sound systems were installed during February and they went live immediately. Since that time, both hotel management and guests have been impressed with their performance.
"Everyone who hears the system for the first time is in complete awe," said Gilman. "One of my favorite moments of this build was the day we finished tuning the pool deck. We had the volume turned up for testing and the general manager approached us grinning from ear to ear to inform us that his wife called to tell him that the system sounded amazing.
"This really has been a win-win experience for everyone involved," he said.
People and Places
ClearOne Names Scott Fike, Ashanti Long as Associate VPs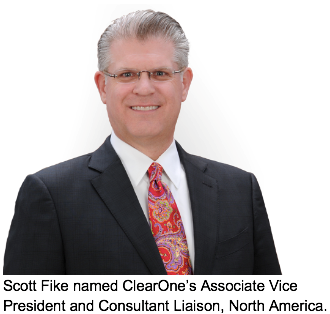 ClearOne recently appointed industry veteran Scott Fike as associate VP, responsible for business development with industry influencers throughout North America.
Fike will be dedicated to collaborating with architects, designers and engineers to develop and secure ClearOne solution specification in major technology projects. He will also interface internally with sales management, product managers and executive leadership.
He joins ClearOne with more than 22 years of professional audiovisual experience. He has recently served as consultant liaison for both HARMAN International and Crestron Electronics.
Prior to working with manufacturers, Fike spent 12 years as an audiovisual consultant, creating global standards and executing complex construction projects with firms including Waveguide Consulting and CMS Innovative Consultants.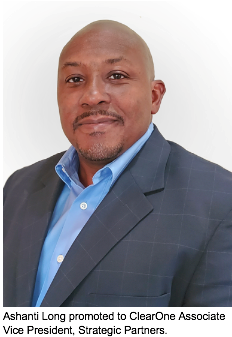 ClearOne also recently announced the promotion of Ashanti Long to associate VP, strategic partners. Long's increased responsibility will enable him to further develop business opportunities with these key partners.
Long joined ClearOne April 2018. He most recently served as director of sales, strategic accounts and consultant services. Prior to this role, he served as ClearOne director of sales, strategic accounts for pro AV and has stints as senior director of pro AV sales with Optoma and global VP of commercial and federal sales and marketing at Black Diamond Video.
Control Concepts Adds Tammy Fuqua as Account Manager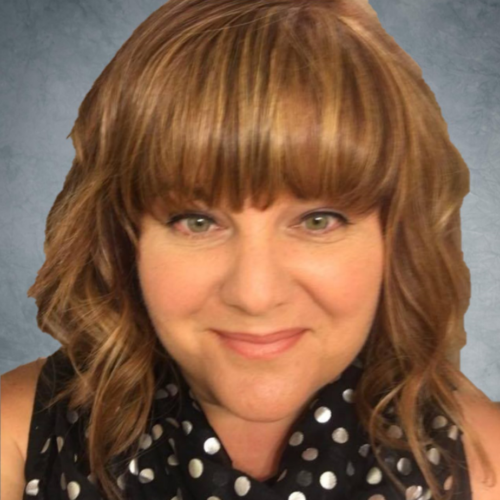 Control Concepts recently welcomed Tammy Fuqua to the role of account manager.
Fuqua has established herself an integral part of sales and marketing teams in the AV industry since 2005, working for manufacturers and integrators. She is also an active industry volunteer serving as a co-leader of the Los Angeles and Orange County chapter of the AVIXA Women's Council.
L-Acoustics Announces Leadership Team of New Americas Region
L-Acoustics recently announced the appointment of audio industry expert Alan Macpherson to head the newly formed Americas division, encompassing sales, application, support, fulfillment and finance activities for all countries in North, Central and South America.
The company further reinforces the new division with the promotion of BJ Shaver to business development director for the installation market and the appointment of William Cornell as business development director for the rental market.
Macpherson brings to L-Acoustics more than two decades of top managerial experience, primarily with Yamaha, where he most recently served as VP for Yamaha Corporation of America's Integrated Marketing Group in Buena Park.
Shaver has spent more than seven years developing the southwestern U.S. market as regional sales manager for L-Acoustics, heavily invested into the house of worship vertical market. Prior to joining L-Acoustics, Shaver was VP of installation at Elite Multimedia in Memphis, Tenn.
Cornell comes to L-Acoustics after spending almost 15 years with d&b audiotechnik, where he rose to the position of CEO of the manufacturer's U.S. subsidiary.
Hall Research Announces Jason Schwartz as New CEO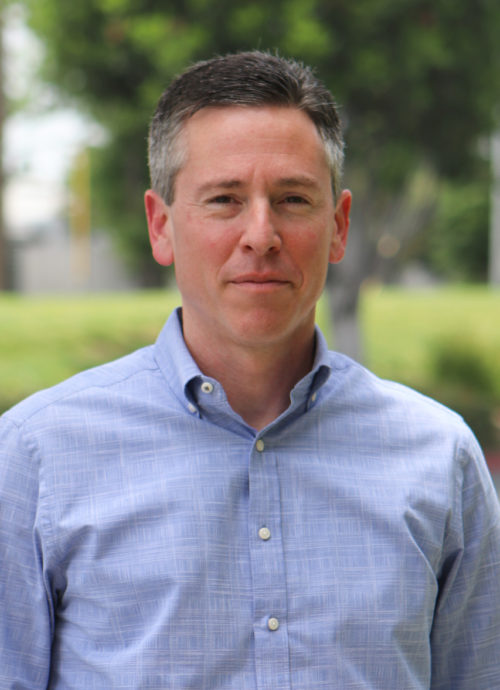 Hall Research recently announced the appointment of Jason Schwartz as CEO.
Schwartz will have the overall responsibility for creating, planning, implementing and integrating the strategic direction of the organization to advance its market share both domestically and internationally.
This leadership transition comes in conjunction with the planned retirement of Ali and Gail Haghjoo, founders of Hall Research, who will be retiring July 31.
Schwartz has more than 20 years of C-suite experience. Most recently, he was the head of cloud and mobile gaming at Razer Inc. Schwartz has additionally held leadership roles at Incipio Group, BAMKO, Zagg Inc., Sanyo North America and Marindi Consulting Group.