AV News to Know March 13, 2020: New Products, Cool Projects and People in New Places
In this week's edition: Kramer and Netgear host AV-over-IP training, Cardi B counts on Avolites and Emmis Communications acquires Lencore Acoustics.
Leave a Comment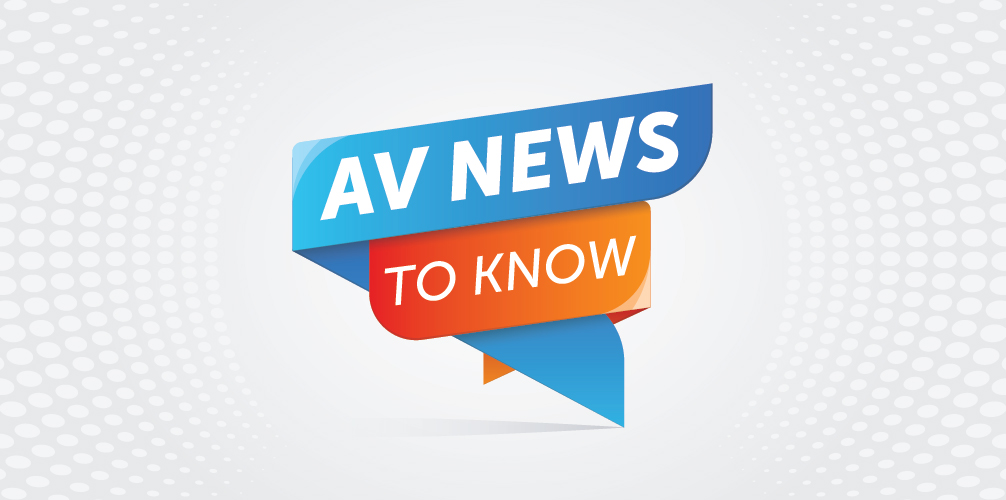 Here's a closer look at some of the AV news, products and projects you might have missed this week. We call it AV News to Know:
New AV Products
Matrox QuadHead2Go Q155 Controller Appliance for Video Walls Now Shipping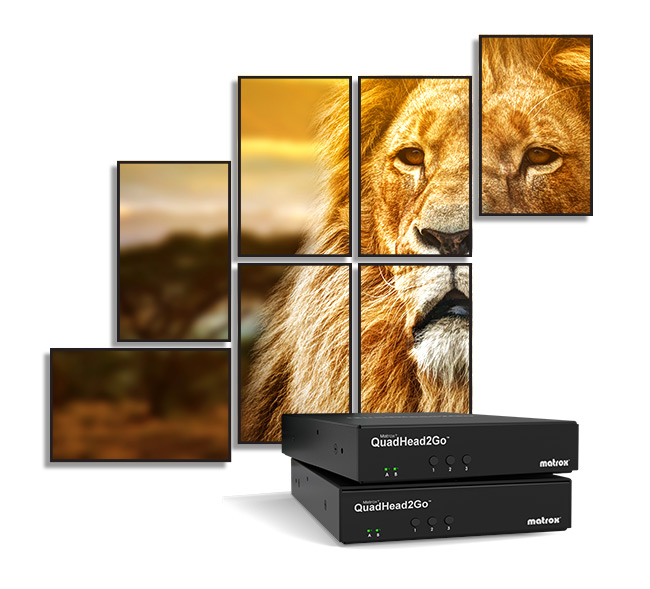 The Matrox QuadHead2Go Q155 multi-monitor controller appliance is now shipping.
Featuring HDMI input support, the units are designed to drive four Full HD displays from a single 4K HDMI source—including HDCP-compliant devices—offering a simple plug-and-play approach to video wall designs.
OEMs, system integrators, AV installers, and professional users can also combine multiple QuadHead2Go Q155 multi-monitor controllers to deploy video walls of any type and size for a wide variety of applications, including digital signage, control room, broadcast and more.
SYNNEX Launches COLLABSolv
SYNNEX Corporation this week announced the launch of SYNNEX COLLABSolv, which is designed to provide increased and specialized support to SYNNEX customers working to address modern collaboration needs and the rise of the anytime, anywhere work culture in the U.S. and Canada.
SYNNEX COLLABSolv unites AV, IT, CE, UC, cloud, mobile and secure networking technologies for enterprise, video and team collaboration. It supports a range of platform options for customers with applications for remote workers, BYOD, hot-desking, huddle rooms, meeting spaces, collaboration rooms and customer experience centers.
SYNNEX COLLABSolv supports technology solutions for vertical markets including corporate, healthcare, education, public sector and house of worship.

BenQ Expands InstaShow Wireless Presentation System
BenQ continues the growth of its InstaShow family of wireless presentation systems with the release of the InstaShow S WDC20.
The InstaShow S button can connect to nearly any device using the HDMI port, can securely mirror the screens of up to four sources at 4K resolution, and allows presenters using an interactive flat panel (IFP) display to annotate their presentations on Windows computers directly from the IFP's touchscreen.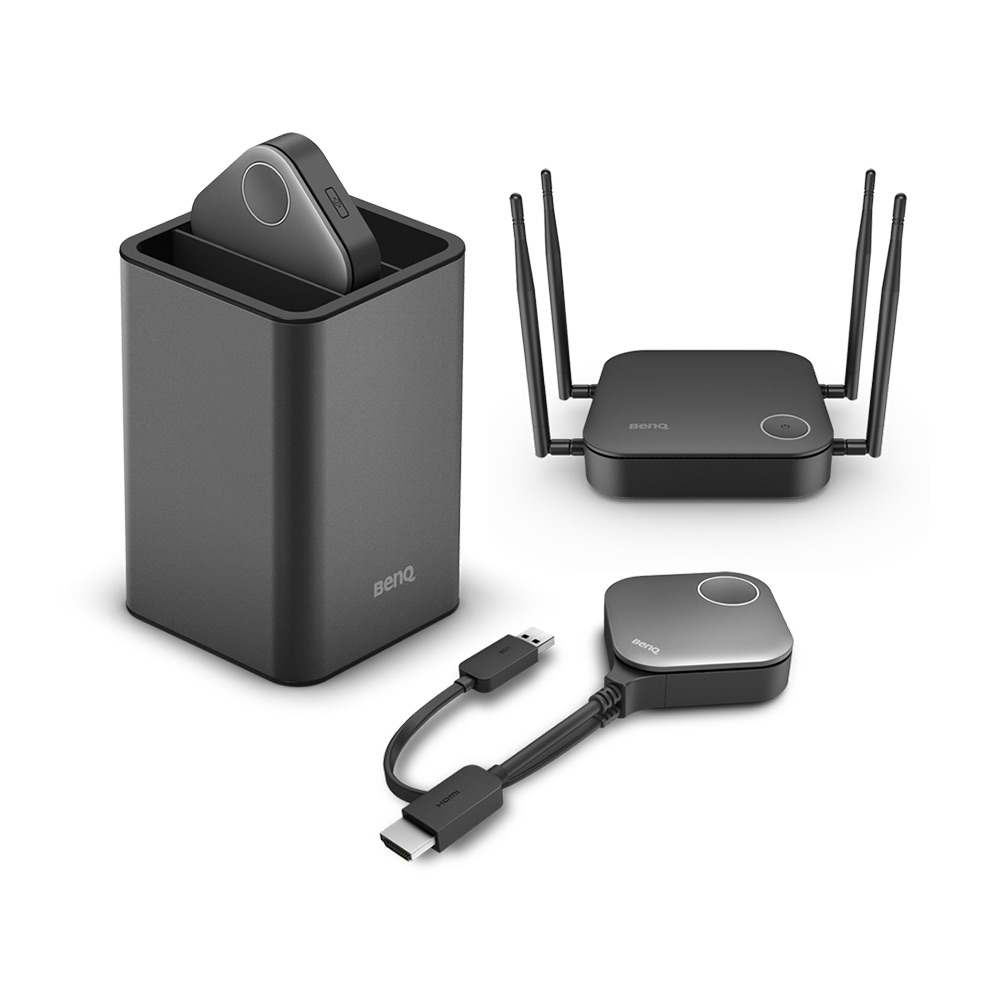 ClearOne Upgrades Cloud-Based Collaboration Software
COLLABORATE Space announced the addition of two new features: webinar hosting and Web RTC.
COLLABORATE Space Pro and Enterprise meeting plans can now be upgraded to include the Webinar feature, allowing session hosts to conduct video and audio presentations. Presenters can share video and content to interact with the audience using a very easy and intuitive interface for Q&A sessions, hand-raises and microphone control.
The new webinar licenses are flexible and can scale to the needs of any session; supporting options up to 1000 participants in a single meeting.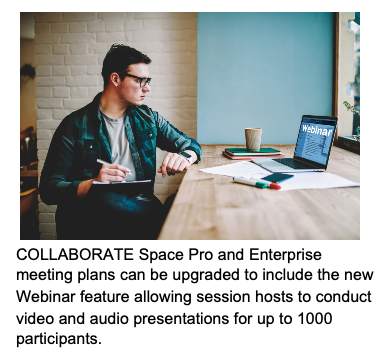 Kramer and NETGEAR Host AV over IP Training

Kramer and Netgear are teaming up for a free AV-over-IP training event on April 9 at Kramer USA headquarters in Clinton, N.J.
During this technical training, you will learn how to design, sell and deploy the latest AV over IP solutions from Kramer and NETGEAR. When the training is complete, you will walk away with the knowledge and confidence to put AV on the network and some AVIXA CTS Renewal Units.
Audio Visual Projects
Cardi B Takes on the World with Avolites Ai in Control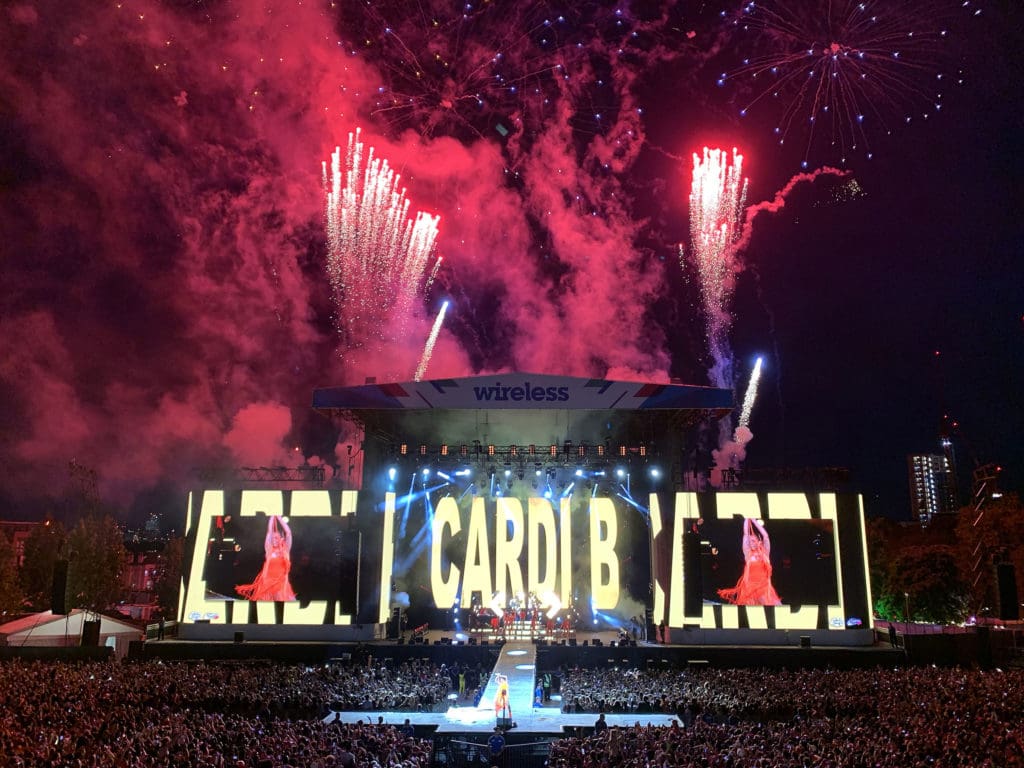 Cardi B has been going from strength to strength since her debut onto the scene, and last summer she took her eclectic show across the globe, including stints in Nigeria and Ghana. Behind the production was a team of experienced video operators using Avolites Ai to control the show.
The production relied on video content created by several design houses. The tour itself was a mixture festivals and large arena shows of varying size; therefore, it was vital that the system be flexible and powerful to provide the best performance in all situations.
Zachary Burton of IKONIX, who worked on many of the tour dates, including the U.K. shows, used the Avolites Ai Miami license on a laptop running Ai V11 for the shows.
Avolites will be releasing Ai v12.1 with the Pioneer PRO DJ LINK Bridge integration software in the spring.
Emmaus Media & Design Install Danley Jericho Sound Reinforcement at Christian Life Assembly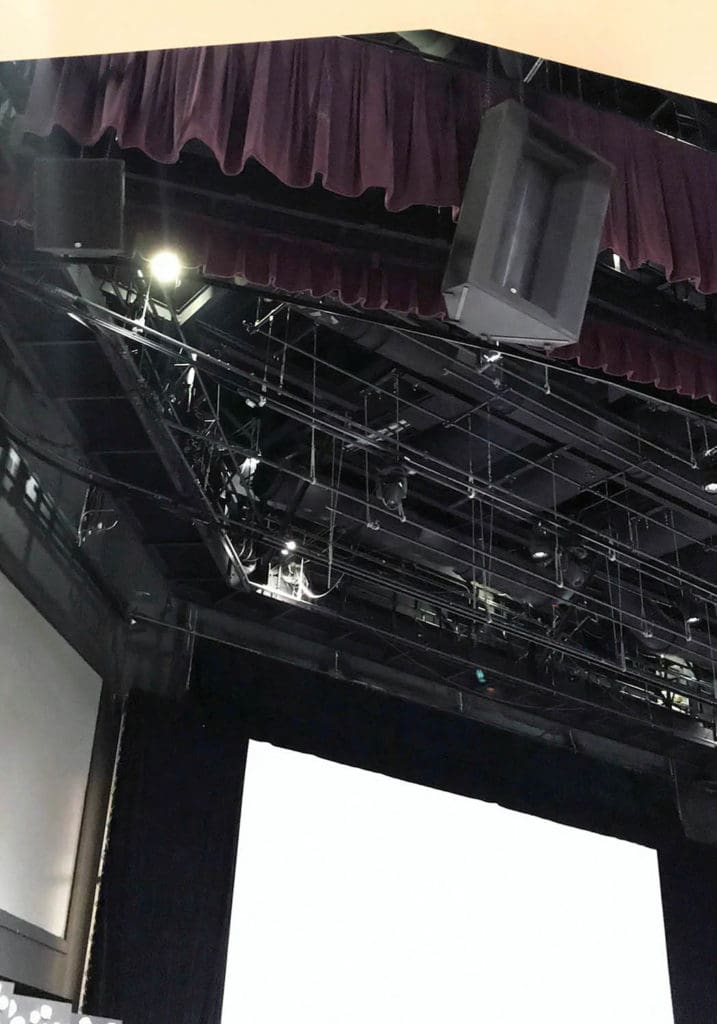 Christian Life Assembly in Camp Hill, Pa.'s pie wedge-shaped sanctuary seats approximately 2,000, a capacity that is met many times over during the staging of its regionally-famous Christmas pageant.
However, the church struggled to deliver high-impact services and feedback-free performances. Its 38-box distributed loudspeaker system couldn't deliver the goods.
Local AVL integration firm Emmaus Media & Design came up with a plan to replace those 38 loudspeakers with five Danley boxes, including two Danley J2-96 Jericho Horns, as well as new Danley systems in the youth and the kids' rooms.
Christian Life Assembly had been considering an upgrade for years and were finally pushed to do so as more and more of the existing system's components failed. Emmaus designed the system he had always wished for when he was the technical director.
The main sanctuary has a stereo pair of Danley J2-96 Jericho Horns, each powered by its own 20,000-Watt Danley DNA 20k4 Pro amplifier with integrated DSP and model presets.
A pair of Danley SH60's provide mezzanine fill, and a Danley BC415 subwoofer flown in the center of the room gets underneath the Jericho Horns. Ashly DSP provides the front-end conditioning and Powersoft amplifiers power the fills and subwoofer.
Four Danley SM100M loudspeakers serve as monitors at Christian Life Assembly, giving the performers on stage the same sound that the congregants now enjoy. The youth room benefits from Danley loudspeakers: two Danley SM96s and two Danley SM60F combined with a repurposed subwoofer.
Even the kids' room – the church's original sanctuary – has four Danley SM100 loudspeakers.
People and Places
Lin Buck Joins MSE Audio as Business Director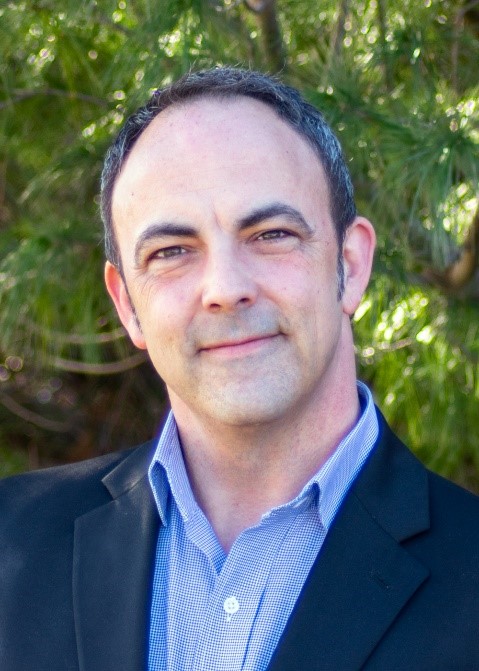 MSE Audio, parent company of SoundTube Entertainment, Soundsphere, dARTS, Phase Technology, Induction Dynamics, SolidDrive and Rockustics, announced the appointment of Lin Buck as director of U.S. sales and global business development.
Buck provides 20-plus years of sales experience to MSE Audio in the professional audio video markets.
He has worked as an independent manufacturer's rep and directly with Bosch (Electro-Voice), Harman Professional and Adamson Systems.  
Emmis Announces Acquisition of Lencore Acoustics' Sound Masking Business
Emmis Communications Corporation this week announced the acquisition of the sound masking business of Lencore Acoustics Corporation.
Based in Woodbury, N.Y., Lencore has 33 employees who will become Emmis employees, including the sound masking business' leadership team.  The offices will remain in Long Island.
Datapath Adds Steve Leyland to Board of Directors
Datapath this week welcomed Steve Leyland to its board of directors.
Leyland runs a consulting practice, advising technology companies on growth, international expansion and go-to-market strategy.  He is also chairman of Electrosonic Group, CI's 2014 Integrator of the Year, and a board member of Helvar Oy Ab.
Leyland was a member of the executive leadership team at Barco and president of their control rooms and simulation division and chief commercial officer.
Previously, he was president of Polycom EMEA, held executive roles at Intel Corporation in Europe and was a general manager at Dialogic Corporation prior to the company's acquisition by Intel.
Kris Jackson to Head KLIK Export Sales
Kris Jackson has joined the KLIK team as global head of export sales., joining the company after a stint as head of export sales for Audio Precision.
In this role, Kris will be the first point of contact for all sales and marketing initiatives between KLIK and its distribution and marketing partners outside of the USA.
Jackson has global sales experience running his own firm, in addition to roles at Audio Precision, Otari and Mackie Designs.
Henri Cohen Appointed Co-President of Mixware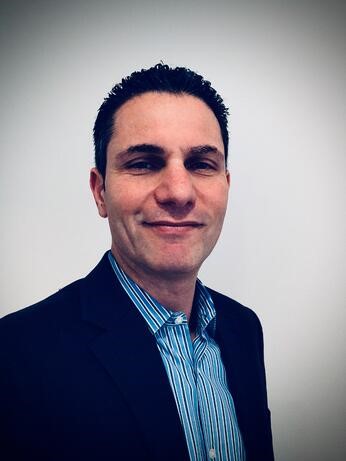 Mixware this week announced the appointment of Henri Cohen as co-president, effective immediately.
Cohen has more than two decades of experience in the DJ, MI and pro audio industry, having served most recently as the VP of worldwide sales at Loud Audio.
Cohen—brother of Mixware founder and co-president Laurent Cohen—will have responsibility for providing leadership and deployment of sales strategies, developing brand marketing strategies and improving the customer experience for Mixware.